News > Idaho
'Barn Again' coming to CdA Museum
Sat., March 5, 2005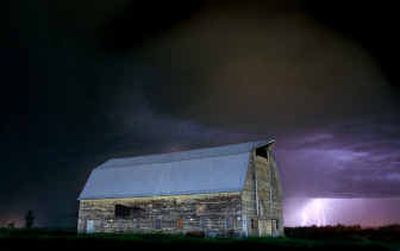 If you sneaked your first kiss in a barn, puffed your first cigarette behind one, or took your first "flight" by zipping off a barn roof on a tricycle fitted with wings, Dorothy Dahlgren wants to know about it.
The director of the Museum of North Idaho is seeking stories like these and other local lore to spice up an exhibit that's coming to Coeur d'Alene this spring when the museum will host the Smithsonian Institution's traveling exhibition "Barn Again! Celebrating an American Icon."
Dahlgren describes the barn as a symbol of America, like the town hall and the skyscraper.
The exhibit, she says, will give visitors new ways to view that symbol. She explains it will cover the agricultural changes that led to architectural adaptations on the farm following major movements in our nation's history such as the 19th century immigration from Europe and westward migration.
Dahlgren says the exhibit will feature the origin and fate of the barn in its various roles as warehouse, factory and legend. It will examine local and regional barn styles to be augmented by tales provided by locals.
"And we guarantee anonymity to those who want it," she promises.
The show is part of the Smithsonian's Museum on Main Street project, which recently sponsored an exhibit in the Hayden Library on early 20th-century predictions of how future Americans would be living life.
The upcoming exhibit, Dahlgren says, will explore barns in all segments of American life, from their agricultural forms to their use in advertising.
She notes that advertising professionals, politicians and artists frequently use barn images to convey such American values as dependability, hard work, independence and traditionalism.
"Barns have been central to rural life," she explains. "Often they were built before the house and provided shelter and the resources for the family to build the house.
"Not only were they used for the storage of hay, feed, equipment and livestock, but they often served as social halls for dances, traveling performers, religious meetings and lecturers."
To traditional farmers, Dahlgren says, the structures are the soul of the farm; to the general public, they represent America's rural past and our agricultural present.
However, the old barn is no longer the center of industrial and community life it once was, she says. Those of traditional size aren't big enough to store the enormous machinery and harvests of today's large-scale farms.
Furthermore, all over the nation, farms and their outbuildings are falling victim to development and urban sprawl, she notes.
Nevertheless, many people recognize the beauty and history of barns, Dahlgren says, and some are looking for ways to make them useful again. She's looking for local barn adaptations, for instance, their use as offices, studios or for recreational equipment.
She hopes that, through the exhibition, "We'll preserve not only our important agriculture history, but also the barn itself."
The museum has a good collection of barn photos, she says, but she'd like more, "And we're especially interested in tales of how barns fitted into the lives of folks who grew up here."
In addition to photos and stories about area barns, Museum of North Idaho Director Dorothy Dahlgren is also seeking artifacts that relate to life on farms and ranches in the vicinity of Coeur d'Alene. If you have such, contact her at the museum, 115 Northwest Blvd., phone 664-3448.
The museum will open April 1 with an exhibit called "Life by the Barn" featuring local agricultural history and life, to run through Oct. 29. It will house the Smithsonian exhibit from April 23 through June 4.
Local journalism is essential.
Give directly to The Spokesman-Review's Northwest Passages community forums series -- which helps to offset the costs of several reporter and editor positions at the newspaper -- by using the easy options below. Gifts processed in this system are not tax deductible, but are predominately used to help meet the local financial requirements needed to receive national matching-grant funds.
Subscribe now to get breaking news alerts in your email inbox
Get breaking news delivered to your inbox as it happens.
---