Sports
Mead dashes by U-Hi
Fri., Sept. 16, 2005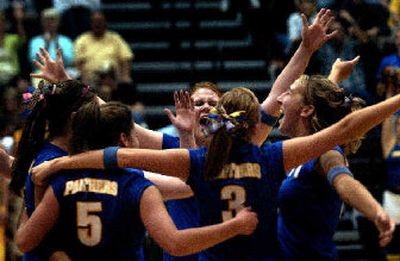 For an early-season Greater Spokane League volleyball showdown there were a lot of smiling faces Thursday night at University High School.
Judy Kight, coach of two-time defending State 4A champion Mead smiled after her Panthers swept past the Titans 25-15, 25-20, 25-20 in front of a boisterous crowd of University fans. U-Hi brought home a sixth-place trophy from last year's state tournament.
Mead ran its record to 4-0 in the GSL – tied for first place with Lewis and Clark. The teams meet Tuesday at LC
"University is a quality program," Kight praised. "This is easily the best test we've had so far, and I'm pleased with the way we performed."
U-Hi coach Amanda Velasquez was just as pleased with the play of her young Titans, now 2-2 in the league.
"I'm happy with the way our young players responded," she said. "We let Mead run away a little at times, but I was pleased with the way we reacted."
Mead got off to a fast start behind senior setter and team captain Amy Herron, who served six straight points to bring the Panthers back from a 1-0 deficit to a 7-1 lead in the first game.
Mead took control of the second game in much the same fashion, breaking out of a 3-3 tie to lead 22-15. U-Hi rallied to trail 24-20 before sophomore Karyn Mockel closed out the game.
U-Hi held a 15-11 lead in the deciding game and rallied to tie at 20.
Kight had high praise for Herron, who has taken over for Lacey Anderson, who now sets for North Idaho College.
"She is just a great kid who only cares about helping the team win," Kight said. "This is her third year on varsity and her first chance to play. Last year she didn't play much at all because it was Lacey's year. She does a lot with a mediocre pass and does a nice job distributing the ball."
Herron passed out 41 assists in the three-game sweep, setting up middle hitter Mara Ryan for a game-high 17 kills.
The Panthers offense found open spaces in the U-Hi defense all night.
"Our kids do a really good job of listening to what we tell them," Kight said. "They hear one another tell them what's open and then do a good job of executing. You don't see that very often."
Velasquez was pleased with the way senior setter Kara Crisp ran the offense, dishing off 16 assists and setting up middle hitter Jillian Wilson for a team-high five kills.
"(Sophomore) Kasey Jurich did a nice job digging the ball out for us. (CV transfer) Ashlee Lupfer is fitting in nicely," Velasquez said. "A match like this one will make us better. That's exactly what you want in this league."
U-Hi's next league match is Tuesday at home against Central Valley, which is in a four-way tie for third place.
•In other GSL matches, Janae Forney had match highs in kills (12) and blocks (eight) as Lewis and Clark swept West Valley 25-19, 26-24, 25-15 at Lewis and Clark. Ivy Bush added 11 kills, two aces and seven digs for the Tigers (4-0). Mel Dossey led the Eagles (1-3) with 11 kills, two blocks and an ace. … Kristin Telin and Heather Troyer had six kills and Telin had four of the team's 11 aces as Central Valley (3-1) swept East Valley (1-3) 25-17, 25-17, 25-22 at Central Valley. Rachel Bonertz led East Valley with six kills and five blocks and Kayla Reilly added four blocks for the CV. … Maddy Lorenz had a match-high 16 kills and Jessica Bates added 11 as Ferris (2-2) beat Rogers 25-12, 19-25, 25-15, 25-18 at Rogers. Melanie Humphries had six kills and four blocks for the Pirates (0-4). … Janie Rasmussen and Annie Kitchens recorded seven kills apiece and Renee Schultheis added seven aces and a block as Mt. Spokane (3-1) routed Clarkston 25-17, 25-7, 25-23 at Mt. Spokane. Jaimie Berghammer had four kills and two blocks for the Bantams (0-4).
Local journalism is essential.
Give directly to The Spokesman-Review's Northwest Passages community forums series -- which helps to offset the costs of several reporter and editor positions at the newspaper -- by using the easy options below. Gifts processed in this system are not tax deductible, but are predominately used to help meet the local financial requirements needed to receive national matching-grant funds.
Subscribe to the sports newsletter
Get the day's top sports headlines and breaking news delivered to your inbox by subscribing here.
---