News > Idaho
Scholarships, drive to succeed, fuel Rebecca Nixon
Sat., Sept. 17, 2005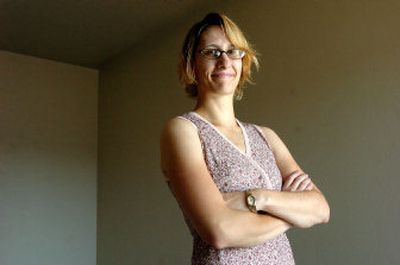 Single mom Rebecca Nixon is raising four children, has a job and is attending college, to better support her family.
And to honor her late father.
It's a daunting task for the 25-year-old, but Nixon has lots of help and support in her pursuit of her goals, which include an AAS in pre-allied health.
"I'm a single mom, but not 'on my own,' " Nixon says.
Much of that help comes from friends who baby-sit children Stephanie, 9; Harmony, 5; Julie, 3; and 1-year-old Matthew, and from Sherry Fagerness from Idaho School for the Deaf and the Blind, who works with Julie, who is profoundly deaf.
Financial help comes from hard work. Until recently, Nixon worked 60 hours a week, helping her boss at Coeur d'Alene Place Self Storage.
"My manager broke her back, and I was the only one available to run the largest storage facility in Coeur d'Alene," Nixon says. "Working every day, I got an 'F,' in a class, because of time missed, but I'm going to retake it. I'm probably the only honor student around with an 'F' on my transcript. But I got 'A's' in the other two classes."
Now, Nixon only works weekends and is receiving scholarships.
She received an advising scholarship of $100 last spring for her idea to resolve parking problems at North Idaho College; she will receive the Molstead Family Memorial Award of $944 this fall (and again in spring if her grade-point average is maintained), and a Pell Grant.
Adding to that, Nixon was awarded a $1,500 scholarship from the NIC Alumni Association for the 2005-06 academic year. The scholarship was formed by alumnus Doug Bell, who created the Doug and Jan Bell Memorial Scholarship. Nixon was awarded the scholarship at the Association's fall awards reception.
"The scholarships help me help others," Nixon says.
Her scholarship savvy led to her nomination as NIC's Phi Theta Kappa scholarship coordinator (her chapter is Delta Kappa), assisting other students to find and apply for scholarships.
Before receiving aid, Nixon survived tough times.
"When I started last fall, I didn't have a car. One day, I couldn't carry a lunch, as I had my son in a car seat on one arm, a bag full with books on the other, Julie's backpack, Matthew's diaper bag, and Julie needed carrying. My stomach growled all day."
But NIC personnel, among others, have reached out to Nixon.
"At Christmastime, I wanted my VA check early to buy my kids presents, but it wasn't possible. Then, before Christmas Eve, the VA coordinator at NIC showed up at my door with many gifts for my kids, courtesy of Delta Kappa."
Even NIC office staff has helped.
"The other day, my son had to go to the ER with a sudden problem. There weren't extra funds, so NIC office staff gave me $48 for a prescription, out of their own pockets," Nixon said.
When Nixon finds time for fun, she writes poetry (she's a finalist for poetry.com's scholarship), and plans to write for the college paper, The Sentinel. She also plays golf, reads scary books, and walks Tubb's Hill. She takes her kids to Skate Plaza, and watches cartoons and Disney movies with them.
"And I shoot pool in the Student Union Building."
Nixon grew up largely home-schooled, due in part to her military family's constant moves. She attended Lake City High School, her freshman year and received her GED from Southeast Community College when living in Lincoln, Neb.
"I wanted to take the high school equivalency tests but discovered SCC offered a scholarship for GED students. I took the pretests, GED, and college entrance exams all in one day, when I was 16. I had a beautiful little girl to support, so I wasn't wasting time."
After working in Minnesota for Bayliner, U.S. Marine, as a patch and detail technician, a job Nixon hated, she moved back to North Idaho. Pregnant with Matthew, she waited until after his birth to attend college.
Despite obstacles, Nixon's happy.
"I've wanted to go to college since I was 5 years old."
After her father Al Nixon died, she discovered he joined the military for the financial benefits that would someday enable his children to attend college, Nixon says. She receives $803 a month in VA benefits.
"That's what my dad died for, so it makes me want to go to college even more."
Nixon's father was in the Army, Navy, and Marines, and served in World War II, and the Korean and Vietnam wars. Nixon said her dad died from complications associated with the defoliant Agent Orange, so named because of the orange-colored barrels containing dioxin.
"My father gave his life for our country and for my education," Nixon said. "I'm in college to honor my father, support my family and to inspire the will in others to strive to achieve excellence."
Nixon hopes one day to obtain her doctorate in pharmacy and do research in chemotherapy.
"I would tell other people, and especially moms, wanting to educate themselves, 'Don't give up!' "
Local journalism is essential.
Give directly to The Spokesman-Review's Northwest Passages community forums series -- which helps to offset the costs of several reporter and editor positions at the newspaper -- by using the easy options below. Gifts processed in this system are not tax deductible, but are predominately used to help meet the local financial requirements needed to receive national matching-grant funds.
Subscribe now to get breaking news alerts in your email inbox
Get breaking news delivered to your inbox as it happens.
---