Sports
UNC shocks Duke
Sun., March 5, 2006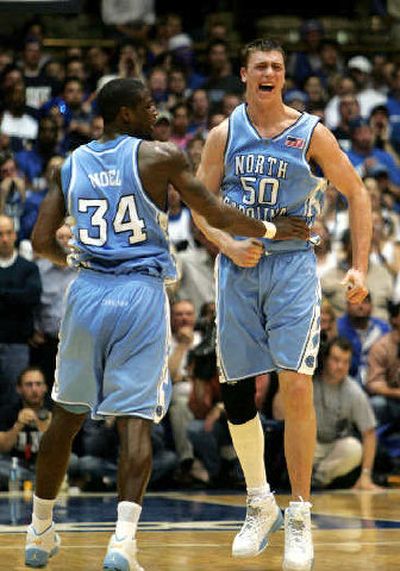 DURHAM, N.C. – Perhaps it was a six-game winning streak. Perhaps it was the maturity Roy Williams has seen all season from his four star freshmen. Whatever the reason, the North Carolina coach truly felt his team could finish out the regular season with an improbable victory at Duke.
"I hope it isn't cockiness, but I told them that I thought we were the only team in the country that could come in here and win this game," Williams said. "I believed that we could if we played."
And play they did.
Tyler Hansbrough scored 27 points, fellow rookie Danny Green came up with the key defensive stop and the 13th-ranked Tar Heels held off No. 1 Duke 83-76 Saturday night in the final home game for J.J. Redick and Shelden Williams.
Bobby Frasor, yet another first-year player, converted two clutch free throws with 23 seconds remaining, and Hansbrough later made two more. That made it a five-point game, and the Blue Devils (27-3, 14-2 Atlantic Coast Conference) were done when DeMarcus Nelson missed everything on a 3-pointer at the other end.
"When I knocked down those free throws, it hit me that we'd just come in here and beat Duke," Hansbrough said. "It doesn't get any better than this."
The Blue Devils completed the regular season with their first loss to North Carolina in Cameron since 2001 and will almost certainly drop from the top spot in The Associated Press poll on Monday after losing two in a row. Florida State stunned Duke earlier in the week.
Marcus Ginyard, the fourth freshmen in the rotation for the Tar Heels (21-6, 12-4), added 12 points and Frasor finished with 10. Green stripped Duke's Sean Dockery on a drive in the final minute when the margin was only three points.
"We've got a lot of guys contributing and that makes us a dangerous team," Green said. "I think this proves we're capable of beating anybody."
Redick scored 18 points despite missing 15 of his final 16 shots, and Shelden Williams had 18 points, 15 rebounds and six blocks. In his past four games, Redick is shooting 23 for 80 from the field, only 29 percent.
"It was a weird night," he said. "I'm just not shooting the ball well right now. I'm getting great looks, but they're just not going in."
The Blue Devils wrapped up the No. 1 seed in the ACC tournament before their recent struggles, and they head there looking for their seventh title in eight years.
"Sometimes it's not bad to hurt," Duke coach Mike Krzyzewski said. "Sometimes you don't want things until you get hurt. We got hurt today, let's see what we do."
For the first 30 minutes, this one appeared that it would be decided in the final seconds, as so many games are in this Tobacco Road rivalry. It was 59-59 midway through the second half – the eighth tie – when the Tar Heels surprisingly took control.
An 11-0 run did it, with little-used senior Byron Sanders leading the way. He got a pair of nifty assists from reserve point guard Quentin Thomas for his only two baskets of the game, and when Thomas fed David Noel for a jumper, North Carolina led by 10.
It was 70-59 when Reyshawn Terry added a free throw, but the Tar Heels made a couple of inexplicable errors to let Duke back in it. Frasor had a layup blocked easily by Shelden Williams, and Terry unleashed an off-balance jumper early in the shot clock that bounced off the side of the backboard.
"We put ourselves in a bad position by being stupid," Roy Williams said.
Local journalism is essential.
Give directly to The Spokesman-Review's Northwest Passages community forums series -- which helps to offset the costs of several reporter and editor positions at the newspaper -- by using the easy options below. Gifts processed in this system are not tax deductible, but are predominately used to help meet the local financial requirements needed to receive national matching-grant funds.
Subscribe to the sports newsletter
Get the day's top sports headlines and breaking news delivered to your inbox by subscribing here.
---