News > Spokane
Jurors reach murder verdict
Wed., Nov. 1, 2006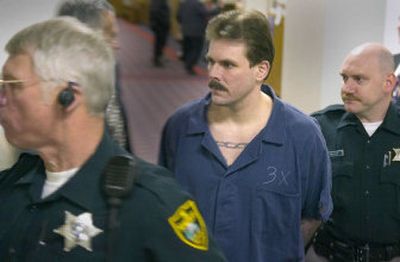 Three hours before his son graduated from kindergarten last year, 22-year-old Elijah Bishop was shot in the head in what a prosecutor described as an execution-style killing.
A jury decided on Tuesday that 37-year-old Clifford M. Meyers fired that bullet. Already a felon several times over, he now faces about 45 years in prison at his Dec. 7 sentencing for his conviction of first-degree murder.
As jailers led him from the courtroom, Bishop's mother, Denise Bishop, told Meyers: "I hope you rot in jail. You took my baby's life."
For hours as police processed the scene on June 13, 2005, in the Wal-Mart parking lot near Shadle Park High School, early-morning commuters and students got a full view of Bishop's limp body slumping out the open door of a stolen Nissan pickup.
Spokane County Deputy Prosecutor Deborah King repeatedly showed the jury of five men and seven women the gruesome photograph of Bishop, still strapped into the seat belt, with his left arm resting on the blood-soaked pavement.
It's an image that Denise Bishop could not bear to watch during the two-week trial that ended Monday.
"I tried to look away. I don't want to remember him like that," Bishop said. "It's been a nightmare."
Her son's life began to slide in 2004 when he began using drugs, Bishop said.
"About a year before this happened, he started having some problems with methamphetamines," she said. "He was a good kid up until that time."
His addiction put Bishop in contact with Spokane's criminal underworld, where burglaries, car break-ins and identity thefts fuel a burgeoning drug trade.
Witnesses at the trial indicated that on the day of Bishop's murder, one of a group of drug users learned his vehicle had been burglarized near Ely and Upriver Drive in Spokane Valley.
That group, including Meyers, gathered and began searching for the man they assumed had stolen the leather jacket, car stereo and CDs belonging to Sonny Wiggins.
They piled into two cars and drove to a shop in Hillyard where they knew they could fence stolen goods for cash. When they arrived, the group encountered Bishop in a stolen pickup loaded with stolen tools. According to court records, Wiggins saw that Bishop was wearing his stolen watch.
After admitting that he was a drug fiend and was stealing to support his habit, Bishop agreed to retrieve the items he stole from Wiggins, according to testimony and court records. The group then followed Bishop in two cars to the Wal-Mart at Wellesley Avenue and Belt Street.
As they waited for Bishop's contact to arrive with the stolen goods, Meyers briefly got into the pickup to wait with Bishop. Meyers then returned to Wiggins' Ford Mustang. In her closing statement, King said that one of the people in the Mustang remembered Meyers say that Bishop had called him a "punk."
Meyers, according to a surveillance video, then returned to the truck to wait with Bishop.
Witness Ryan Kraus testified that moments later, as he was driving through the parking lot, he saw Meyers pull a gun and place it at Bishop's head. Kraus said he heard the blast and saw the glass blow out of the truck's window.
Kraus "didn't see a struggle," King said. "This, ladies and gentlemen, was an execution."
Defense attorney Tim Trageser reminded the jury about his client's testimony. Meyers previously took the witness stand and said that it was Bishop who pulled the gun when he got into the pickup the second time.
"What is ridiculous, actually, is that Mr. Meyers would go into Mr. Bishop's car without having a problem and execute him," Trageser said. "That's the state's theory … because (Bishop) called him a punk. That's ridiculous."
Angela Rose Cook and her boyfriend, Brandon Carter, testified earlier in the trial that they saw Meyers bend over before he got into the truck the second time and grab what looked like a gun.
"But when tested under cross-examination, they seemed to fold," Trageser said, "which in my estimation is how the state's case went the last two weeks."
Meyers had testified that when he got into the truck the second time, he saw Bishop pull a gun, and he grabbed for it. They struggled over the gun, Meyers squeezed and it went off, striking Bishop in the temple, said Trageser, recounting Meyers' testimony.
"What's a more plausible understanding of this event? That my client got in the truck … because he had nothing better to do and wanted to execute somebody?" Trageser asked.
Meyers also testified that he wiped the gun down. Investigators later found Meyers' DNA on the magazine of the gun, King said.
"Mr. Trageser said his client had no reason to want (Bishop) dead," King said. "Ladies and gentlemen, sometimes people don't need a reason. Sometimes it's inexplicable."
Nobody claimed that Bishop was a saint, King continued. "But Mr. Bishop was scared of this dude," she said as she held up a photo of Meyers showing how he looked when he was arrested eight hours after the killing.
Sheila Bolton agreed with King that her boyfriend of six years may not have been a model citizen, but he was a good father to 7-year-old Mason and 6-year-old Madison.
Meyers "doesn't deserve the rest of his life," Bolton said after the guilty verdict. "He took a life."
Three hours after Bishop was killed, Mason graduated from kindergarten, Bolton said.
"They cry all the time for their dad," Bolton said of her kids. "It took me about three months to finally tell them what happened just because it was so hard to do that."
Bolton, 27, said Bishop never brought his troubles home.
"They still don't understand why he can't be at their birthday and why he's not going to be there for Christmas and why he's not there anymore when they get hurt," she said. "It's going to be a long road."
Local journalism is essential.
Give directly to The Spokesman-Review's Northwest Passages community forums series -- which helps to offset the costs of several reporter and editor positions at the newspaper -- by using the easy options below. Gifts processed in this system are not tax deductible, but are predominately used to help meet the local financial requirements needed to receive national matching-grant funds.
Subscribe now to get breaking news alerts in your email inbox
Get breaking news delivered to your inbox as it happens.
---