News > Idaho
Romney praises Palin, backs fix for economy
Thu., Oct. 2, 2008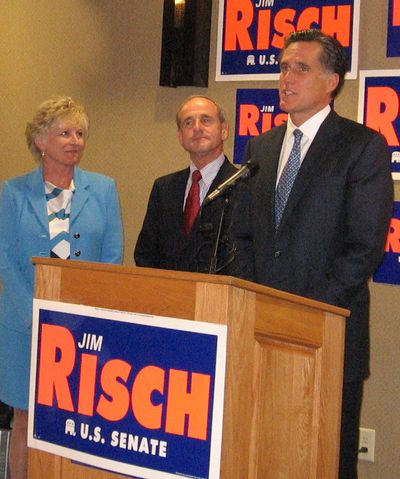 BOISE – On the eve of the vice presidential debate, former candidate Mitt Romney touted GOP vice presidential nominee Sarah Palin's chances in what's expected to be a much-watched debate tonight between her and Democratic VP nominee Joe Biden.
Romney, who stopped in Boise on Wednesday to campaign for GOP Senate candidate Jim Risch, said, "I'm hopeful that as we watch the debate … that her plain-spoken, common-sense approach will contrast sharply with Joe Biden's, oh, wallowing in the words of Washington."
Idaho Democratic Party spokeswoman Julie Fanselow called that "a mischaracterization of who Joe Biden is." She added, "I think from Idaho's perspective, Mitt Romney was probably the better choice for vice president. He had such a support base here, so there are probably a lot of Idahoans who are kind of disappointed that he's not the one that will be debating Joe Biden."
Romney said, "Neither my wife nor I pine for that opportunity right now." He said he ran for the top spot on the GOP ticket, and "I wouldn't have gotten into the race if I didn't think I was the right one for that job, but I lost that fair and square and John McCain won."
Romney is highly popular in Idaho – fundraising for his presidential campaign in the state still surpasses that of any other candidate, including both Democratic nominee Barack Obama and Republican nominee John McCain – but by the time the Idaho GOP primary rolled around in late May, he'd already conceded the race and he wasn't on the ballot.
"He's being a loyal soldier for the party now, and that's great, but I see Mitt Romney giving it another go in four years," Fanselow said. "I think he's going to be in a good position to run again in 2012 when McCain loses and Barack Obama wins in five weeks."
Palin, the governor of Alaska, has been a controversial pick for McCain, but she has Idaho ties herself, as a Sandpoint native and University of Idaho graduate.
Romney said, "I think Sarah Palin has done a masterful job in reuniting the base of the Republican Party with the kind of enthusiasm that we had hoped for. She brought to the race, I think, the energy and the respect of the Republican base that John McCain wanted to draw, and as a result, you've seen large crowds, enthusiastic response, a spike in fundraising."
Asked by reporters about the nation's current financial crisis, Romney said he thought the reality of the problem was "communicated very ineffectively to the American public."
"Describing something as a bailout for Wall Street will have about a 0.1 percent approval rate in this country, because no one wants to bail out the fat cats on Wall Street, and that's how it was communicated for the first several days, week. That's what we heard – bailing out Wall Street."
But, he said, "What Congress and the Senate is trying to do is instead stabilize our economy and particularly our system of credit, so that small businesses and large businesses are able to get the credit they need to operate their enterprise and to pay their employees, and so people can buy cars and finance school and buy their home."
The former governor of Massachusetts said, "The administration and Congress, Republican and Democrat, are working hard to fashion a stabilization fund that will protect the American economy, and I support that effort."
Local journalism is essential.
Give directly to The Spokesman-Review's Northwest Passages community forums series -- which helps to offset the costs of several reporter and editor positions at the newspaper -- by using the easy options below. Gifts processed in this system are not tax deductible, but are predominately used to help meet the local financial requirements needed to receive national matching-grant funds.
Subscribe now to get breaking news alerts in your email inbox
Get breaking news delivered to your inbox as it happens.
---