A&E > Food
Bargain buffs
For many expert savers, search for coupons involves as much clicking as clipping
Wed., April 22, 2009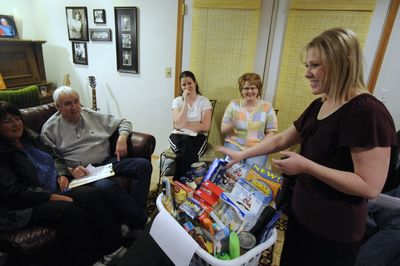 These aren't your mother's coupons. Don't waste time cutting out a mountain of coupons that will never get used. Spend less time clipping and a little more clicking to find serious savings. Did Mom ever get paid to take some toothpaste home from the store with her?
That's what is happening for Tianna Abel, a North Spokane mom with six kids ages 16 years to 20 months. "I never really used to be much of a coupon shopper," Abel says. "I always felt like I could get a better deal on an off-brand, so why bother."
Now, she's stocking up using a combination of sales, store coupons and manufacturer's coupons, and sometimes register incentives and rebates. And she's sharing the tips with others by teaching coupon workshops for BeCentsAble.net, where she learned the strategies.
"If I ever have to go to the store and pay full price for something I just about die," she says.
Liberty Lake mom Crystal Rodgers is using many of the same techniques to slash her family's household bills. The mother of three children ages 4, 2 and 7 months, started a blog in December to share the great deals she was getting with her friends at frugalchicliving.blogspot.com/.
"I think people would be surprised to find out that I don't actually clip the coupons," Rodgers says.
Not at first anyway. Both women pull the Sunday coupon inserts out of the newspaper, write the date at the top, file them away in an accordion file and wait. Then they use different Web sites to watch for the best time to use the coupons, stacking sales with store coupons and manufacturer's coupons to get fabulous deals.
Abel uses the "Grocery Gathering" feature at www.becentsable.net to see what's on sale at national chain stores. (Locally based stores such as Yoke's and Rosauers are not included. You can check their weekly ads online.) The site is organized by store and includes links to sites that have information about the best deals of the week, including the date and flier name in which the coupon appears. Most include links to any printable online coupons and tips on the number of items to buy to get the best deal.
For example, from now until May 5 Safeway stores are having a promotion on Living Well products. Those who buy $30 of participating products will get a coupon worth $10 to use the next time they shop.
BeCentsAble bloggers include links to printable coupons that will help save even more on those products and a spreadsheet of what's included in the sale. The site is free to use, but those who become members – either by taking a $25 workshop in person or $20 online course – can access more information.
Abel uses the site to make her shopping list for the week. She says her planning and shopping time varies, sometimes she'll hit every store she can to get the great deals, other weeks she's too busy to do much shopping at all. If anything, she says, she's faster in the store now since she's done all of her planning beforehand.
"I'm as busy as anybody I know," Abel says. Her children are 16, 14, 9, 7, 4 and 20 months. "If I can do it, anybody can – you just do what works for you."
Rodgers watches www.hotcouponworld.com for many of her deals. The site allows you to type in the name of a product and it tells her where to find coupons for it in the fliers she's saved in the accordion file. Then, she only clips the coupons for those great deals.
She also checks manufacturer's sites for more coupons and looks at the Web sites for the coupon inserts – such as www.redplum.com and www.smartsource.com – for even better coupons.
Rodgers recently posted the details on her blog about how she was able to combine coupons and sales for incredible savings using the Living Well promotion at Safeway.
First, she bought Bertolli Premium Pasta Sauce packages on sale and got a $10 coupon off Living Well items and $26 worth of Catalina coupons for more Bertolli pasta sauce. (Catalina coupons are the thin paper coupons that print out from a separate machine at the cash register.)
On her next trip to the store, here's what she bought: four packages Yo Plus, Blueberry Acai, one package South Beach Living Fiber Fit bars, 1 Kashi Sweet and Sour chicken entrée, two boxes Jolly Time Popcorn, two boxes Bright Green tissue, one St. Ives Apricot Scrub and one bottle Kraft Caesar Vinaigrette with Parmesan salad dressing. Regular price it would have cost $31.21.
After using her coupons including some from manufacturers, the mail, the Sunday newspaper, online printable coupons and the $10 Living Well coupon … Rodgers paid $1.62 for her groceries and got another $10 off coupon for the Living Well promotion. Score.
Not impressed? She also bought an entire year's worth of Walgreen's diapers for $12 using a sale and coupons offered at the store.
Rodgers says she spends about an hour each week on her shopping plans and doesn't spend anymore time in the store than she did before. In addition to her accordion file, she keeps clipped coupons in a three-ring binder. They're organized by categories – such as "baby" and "cleaning" and she puts them into sheets with plastic protective pockets designed for baseball or trading cards. It zips closed so she doesn't have to worry about dropping it.
"It is a little big, which embarrasses my husband (and I'm sure eventually my kids) but I carry it proudly," she writes on her blog. "I hear that cheap is the new chic."
She started her Web site because so many of her friends wanted to hear how they could get the same great deals, but the transactions were too complicated to explain on the phone.
Others are sharing their successes and finds there, too. Pamala from Liberty Lake shared a picture of her holding the 7-foot, 4-inch register tape from her shopping trip to Albertsons where she bought $696.44 worth of groceries for $96.80.
According to Rodgers' post, Pamala used coupons and a promotion that offered $10 in free meat for each $25 spent. (Unfortunately, that deal has already expired.) "She bought 208 items including eight steaks, two packs of Italian sausage and a whole pork loin," Rodgers writes.
"The readers have been so helpful. Now they're sending me all kinds of deals, too. It's a nice big collaborative effort," Rodgers says.
Before Abel became an educator for BeCentsAble she and her friends had a "good deals club." She said they would e-mail each other the great deals they were finding. Now, she sends periodic notes to friends and those who have taken her coupon workshops to share savings strategies. She likes the Couponizer to organize her clipped coupons. They can be found online at www.couponizer.com or Abel sells them during her workshops.
The founders of the BeCentsAble Web site and workshops have been featured on "Good Morning America," "Inside Edition" and a segment about them is scheduled to appear on the "Early Show."
The founders are stay-at-home moms, Chrissy Pate and Kristin McKee, who started the site to be a one-stop shop for the strategies they used to cut their household budgets in half.
Rodgers says one of the best parts about saving more on groceries is that she's been able to share goods with others. She used some of her stockpiled shampoo to send to troops overseas and she'll buy extra boxes of cereal (why not when it only costs $.07 per box) to give to local food banks.
BeCentsAble and Abel also encourage people to buy extras if they have great coupons and share the wealth with the food bank.
Rodgers is still learning all the tricks and calculating the best way save on things like toilet paper, paper towels, foil and other kinds of goods. She's working on research to see if she can find a better deal than buying it in bulk at Costco. She'll post the results on her blog when she's done.
Local journalism is essential.
Give directly to The Spokesman-Review's Northwest Passages community forums series -- which helps to offset the costs of several reporter and editor positions at the newspaper -- by using the easy options below. Gifts processed in this system are not tax deductible, but are predominately used to help meet the local financial requirements needed to receive national matching-grant funds.
Subscribe to the Spokane7 email newsletter
Get the day's top entertainment headlines delivered to your inbox every morning.
---
Subscribe and log in to the Spokesman-Review to read and comment on this story