News > Features
Many leaning toward less-invasive, single-incision surgeries
Health benefits are debatable
Tue., Feb. 24, 2009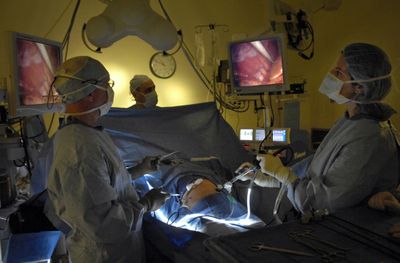 BALTIMORE – After less than 30 minutes of surgery, Dr. Gina Massoglia removed Caren Eckwerth's gallbladder by squeezing it out through a tiny incision in her belly button.
A colleague followed with three small stitches in the navel, covering the wound with a bandage. In a week, no one but her doctors will know the 57-year-old Annapolis woman even had surgery.
An operation that once required a six-inch cut under the rib cage – and went on, with the spread of laparoscopy, to be a less-invasive surgery involving three or four small slits – is becoming a practically scarless procedure in the hands of a small but growing group of surgeons.
After years of experimentation, doctors have been announcing the removal of gallbladders, kidneys and appendixes through the navel. Some weight-loss surgeries also have been done through a single incision, as have some hysterectomies.
But as this next generation of minimally invasive surgeries becomes more common – and as a handful of surgeons experiment with the truly scarless removal of organs through natural orifices such as the mouth and vagina – some wonder if there is any benefit to the patient beyond the cosmetic, and whether that is enough to justify its use.
"We need to determine which is in actuality an advance in health care versus a fad that is not," says Dr. Mohamad E. Allaf, the director of laparoscopic and robotic urologic surgery at Johns Hopkins Hospital. "It's important that we don't use 'less invasive' as an advertising mechanism."
Late in 2008, Allaf became one of the first surgeons to remove a kidney – an organ roughly the size of a human fist – through the navel. Although he has performed about a dozen of the surgeries and is pleased with the results, he says it's too early to tell whether this incremental advance will improve patient outcomes.
Before laparoscopy went mainstream two decades ago, the mantra of surgeons was "big surgeons, big incisions." They needed to open up the body, get their hands in and feel everything as they got to work, performing operations large and small.
But laparoscopic surgeries – done with the aid of a camera and special tools placed in the abdomen – brought about a revolution with smaller and smaller incisions, much less pain and shorter recovery time for patients.
"If you told me 20 years ago I'd be taking a pancreas out laparoscopically, I would have told you that you were insane," says Dr. Adrian Park, chief of general surgery at the University of Maryland Medical Center and a pioneer of laparoscopic surgery.
"Many of us can recall 15 years ago and more having everything but tomatoes thrown at us, so strong was the resistance to laparoscopy," says Park. "So many said it was a flash in the pan."
But in time, he says, "the data bore us out."
There is no data yet on what is being called SILS, single-incision laparoscopic surgery.
Massoglia, who practices at Anne Arundel Medical Center in Annapolis, was invited last year to see surgeons in Florida remove a gallbladder this way. She wasn't sure it was possible to improve upon gallbladder surgery, a 20- to 30-minute procedure she does hundreds of times a year using four small incisions to allow room for the camera, as well as various instruments to help retract and take out the gumball-sized organ.
But after seeing the single-incision operation – and being taught how to do it – she decided she wanted to offer SILS to her patients and removed her first gallbladder this way in October.
"The goal is to offer something to the patients without compromising the case you normally do," Massoglia says. "Here, it's not taking longer. There's no change in risk. The benefit is, it's scarless."
As a side benefit, she says, her patients aren't complaining of as much pain. And if she finds she is having trouble removing the gallbladder with a single incision or port, or she is worried about a patient's safety, she can always make extra incisions and do the surgery the more traditional way.
As she removed Eckwerth's gallbladder, Massoglia was aided by the use of stitches threaded through the skin to hold the gallbladder in place as she dislodged it from its spot tucked in behind the liver. The pricks made by those stitches, smaller than needle sticks, won't even be bandaged.
Stacey Slack, 39, had her painful gallbladder removed in November. When Massoglia – who had operated on Slack's hernia a few years earlier – suggested the single-incision surgery, she says she "was definitely willing to try it."
"She said it was new. I didn't expect new as in me being one of the first," says Slack, a neonatal intensive care nurse from Bowie, Md. "You can't even tell I had it done. It'll be perfect for bikini season."
At the Cleveland Clinic, surgeons pioneered single-incision kidney removal. They also have used SILS to harvest kidneys from kidney donors for transplantation and hope this method will encourage more people to donate.
"The goal here is not only cosmetic," says Dr. Jihad Kaouk, a urologist there. "The goal here is the overall wellness of the patient."
He knows that the idea of taking a kidney – or any other organ – out through the navel might seem like an unnecessary advance. But he says there has been great demand from other surgeons to learn how to perform the procedure, including a class in May that drew 350 instead of the 100 expected.
"There are skeptics, yes," Kaouk says. "It comes from a lack of long-term data. We don't have it so far because it's a young procedure."
Not everyone has even bought into laparoscopy yet, Allaf says. Although 90 percent of the kidneys removed at Hopkins are done laparoscopically, he says, the figure is closer to 30 percent nationally.
Allaf says he believes SILS will be seen as an improvement. So far, he says, patients use fewer painkillers and return to work faster.
"If you can do something with one hole and do it just as good as with more, then why not?" he says.
Allaf likens the advance to upgrading your television set. You can watch a program on an old grainy black-and-white set and still laugh at the jokes, he says; still, many people opt for the 50-inch, full-color screen with surround sound.
He isn't satisfied with single-port surgery, though. When it comes to kidney cancer, he says, regardless of how many large or small cuts are made, the procedure remains basically the same as it was 100 years ago: Surgeons remove the diseased kidney.
Allaf and his colleagues want improvements in kidney cancer treatment to be even more meaningful to patients by eliminating the need for any surgery. They are working on ways to freeze the cancer without removing the kidney, as well as looking at using ultrasound and electricity to kill tumors – all without increasing recurrence rates.
At Anne Arundel Medical Center, Massoglia wraps up her third gallbladder surgery of the morning – two single-incision operations and one using four ports.
She is still figuring out which patients make the best candidates for her technique. She has started with thinner patients, whose anatomies tend to make surgeries less difficult, and has slowly offered it to more.
What she's doing still startles some of her colleagues. She tells of one patient – a 21-year-old bartender with a belly button ring – whose scar was essentially invisible soon after Massoglia removed her gallbladder.
When the woman went to see her primary care physician, Massoglia says, "he didn't believe that she'd had it done."
Local journalism is essential.
Give directly to The Spokesman-Review's Northwest Passages community forums series -- which helps to offset the costs of several reporter and editor positions at the newspaper -- by using the easy options below. Gifts processed in this system are not tax deductible, but are predominately used to help meet the local financial requirements needed to receive national matching-grant funds.
Subscribe to the Coronavirus newsletter
Get the day's latest Coronavirus news delivered to your inbox by subscribing to our newsletter.
---