Sports
Ex-Giant Estalella to testify
Fri., Jan. 30, 2009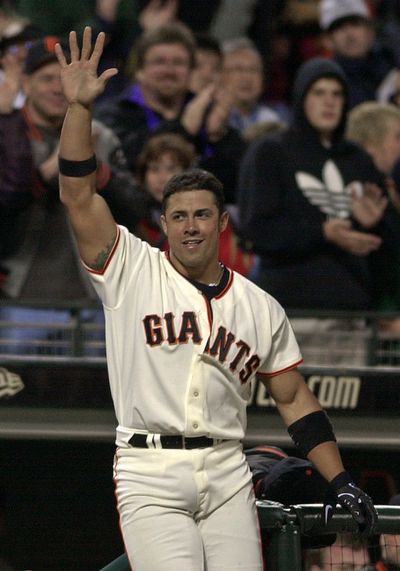 Former major league catcher Bobby Estalella has been subpoenaed by federal prosecutors to testify at Barry Bonds' trial, ESPN.com reported Thursday.
Estalella, who was on the San Francisco Giants with Bonds in 2000 and 2001, is expected to testify to firsthand knowledge that Bonds used steroids, the Web site said, citing an unidentified source with knowledge of the evidence. The Web site attributed knowledge of the subpoenas to two unidentified sources.
Estalella testified before a federal grand jury in November 2003. He admitted to the grand jury that he used using performance-enhancing drugs, the San Francisco Chronicle reported in December 2004.
The book "Game of Shadows," by two Chronicle reporters, says Estalella received a drug schedule from Greg Anderson, Bonds' trainer, advising him to use human growth hormone, the steroids "the cream" and "the clear," and the female fertility drug Clomid.
Prosecutors also plan to call Jason Giambi and his brother, Jeremy, as witnesses at Bonds' trial so they can testify that Anderson gave them performance-enhancing drugs, The New York Times reported on its Web site.
The newspaper said prosecutors want to use testimony from the Giambis, teammates in Oakland from 2000-01, to show that Anderson developed doping calendars for them. Then the prosecutors could argue that Anderson made similar calendars for Bonds, the Times said, citing an unidentified person briefed on the government's evidence.
Bonds pleaded not guilty to charges of lying and obstruction of justice in connection with his grand jury testimony in December 2003. Bonds, who in his testimony denied using performance-enhancing drugs, is scheduled for trial starting March 2 in U.S. District Court in San Francisco.
Around the majors
Jason Kubel and the Minnesota Twins agreed to a $7.2 million, two-year contract, avoiding salary arbitration. The designated hitter gets $2.75 million this year and $4.1 million in 2010. The Twins have a $5.25 million option for 2011 with a $350,000 buyout. … Right-hander Russ Springer agreed to a one-year contract with the Oakland Athletics that is worth about $3 million. Springer went 2-1 with a 2.32 ERA last season for St. Louis. … Jon Garland and the Arizona Diamondbacks have finalized a one-year contract that will pay the right-hander at least $7.25 million.
Local journalism is essential.
Give directly to The Spokesman-Review's Northwest Passages community forums series -- which helps to offset the costs of several reporter and editor positions at the newspaper -- by using the easy options below. Gifts processed in this system are not tax deductible, but are predominately used to help meet the local financial requirements needed to receive national matching-grant funds.
Subscribe to the sports newsletter
Get the day's top sports headlines and breaking news delivered to your inbox by subscribing here.
---