Sports > Spokane Indians
Extra innings foil Indians again
Spokane drops sixth straight
Wed., July 1, 2009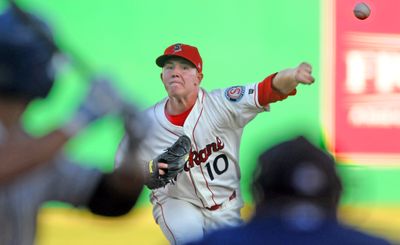 The Spokane Indians have developed a perplexing habit of treating their fans to free baseball – but precious few victories.
That was the way things played out again at Avista Stadium on Tuesday night as the Indians used a two-run homer by Miguel Alfonso to tie the game in the bottom of the ninth inning, but dropped another extra-innings affair to Northwest League rival Tri-City 6-5.
The loss, witnessed by a crowd of 4,343, was the sixth straight for Spokane (3-8) and the fourth they've dropped at home in extra innings this year.
"We did come back again and had a chance to win, which was nice," Indians manager Tim Hulett said, after watching his team squander an early 3-0 lead and then claw back late. "But we need to find a way of getting past just playing the extra innings and learn how to win in extra innings."
Spokane jumped ahead in the bottom of the first inning by scoring three unearned runs following a two-out error by Tri-City shortstop Matthew Sanders. Jared Prince's two-run double highlighted the Indian's quick start, which also included a run-scoring single by Clark Murphy.
But Tri-City erupted for five runs in the top of the sixth to ruin another impressive outing by Spokane starter Robbie Ross.
Ross, a second-round draft pick of the Texas Rangers in 2008, was dominant early, much like he was in the Indians' season opener when he struck out nine and allowed only two runs in five innings of work in a 5-3 win over Yakima. But after giving up just three hits in the first five innings, the 19-year-old left-hander ran into some major trouble in the sixth – thanks, in part, to a one-out error by Murphy at first base.
After striking out Shane Lowe to open the inning, Ross coaxed Matthew Sanders into hitting a routine groundball to second. But Murphy muffed the low throw from Danny Lima, setting the stage for the Dust Devils' surge when the next batter, Kent Matthes drove a Ross fastball deep over the wall in center field for a two-run homer.
Michael Zuanich, who had two home runs in Sunday night's 11-6 win over the Indians, followed Matthes' blast with a solo shot of his own to tie the game at 3 and chase Ross. And shortly after the next two batters reached base against Indians reliever Geuris Grullon, Austin Rauch blooped a two-run double to right to put Tri-City ahead until Alfonzo made things interesting – albeit briefly – with his first home run of the season in the ninth.
Ross, despite his sixth-inning meltdown, finished with some impressive numbers, striking out nine and allowing only five hits and two earned runs. Of the 69 pitches he threw, 49 were strikes.
"He was really good, even through that sixth inning," Hulett said of Ross. "Those two guys who hit him hard are really good hitters. He doesn't need to apologize for that. He pitched another great game."
Ross said he felt great the entire time he was on the mound.
"But God just has a way of humbling you sometimes," he added. "I'm O.K. with that, but it can be frustrating. Obviously, some bad things happened, and those two guys of theirs got some meat on it and really hit those balls hard.
"That's just the way it goes."
The Indians head back out on the road to open a three-game series against the Yakima Bears in Yakima tonight, and Hulett is hoping his team can find a way out of its recent funk.
"These guys seem to be resilient," he said. "It would be really easy to hang your head and give up right now, but I don't see that in them. They've been working hard, and we just keep preaching patience and telling them there's still a lot of the season left."
Boxscore, B4
Local journalism is essential.
Give directly to The Spokesman-Review's Northwest Passages community forums series -- which helps to offset the costs of several reporter and editor positions at the newspaper -- by using the easy options below. Gifts processed in this system are not tax deductible, but are predominately used to help meet the local financial requirements needed to receive national matching-grant funds.
Subscribe to the sports newsletter
Get the day's top sports headlines and breaking news delivered to your inbox by subscribing here.
---
Subscribe and log in to the Spokesman-Review to read and comment on this story