A&E > Food
Spokane's Natural Start Bakery owners harvest satisfaction
Entrepreneurs run organic farm near Cheney
Wed., June 17, 2009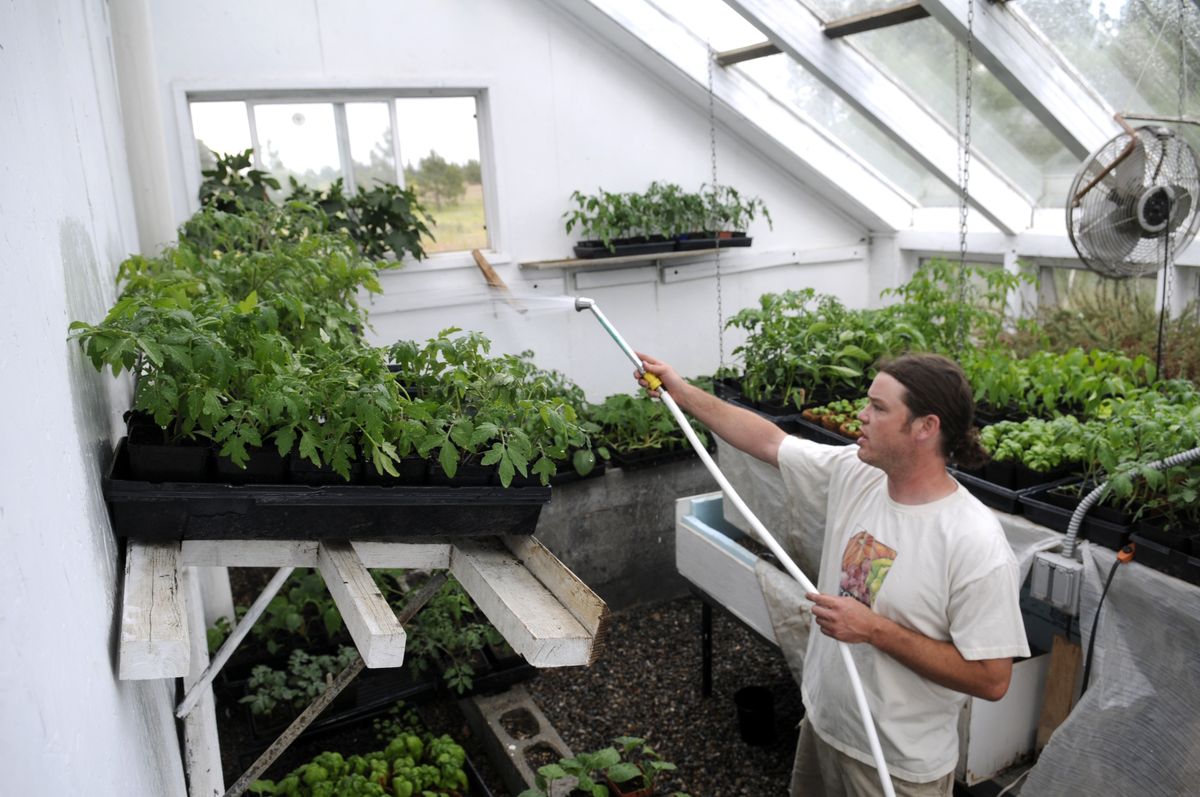 Marc Gauthier waters plant starts in the greenhouse at Pine Meadow Farm southwest of Spokane on Friday. (Jesse Tinsley / The Spokesman-Review)
Spokane's sky is hardly showing symptoms of dawn, but Alyssa Krafft and Marc Gauthier are already hard at work.
At Natural Start Bakery, the day's first batch of Morning Glory muffins are coming out of the oven, along with a host of other baked goods made from local, sustainable ingredients. Soon, the drip of fair trade Doma coffee will add its aroma to the mix, conjuring the perfect smell of morning.
And later, when the summer evening draws into twilight, Krafft and Gauthier will still be working – weeding and watering the massive organic garden on a small farm between Latah Valley and Cheney.
Between these two quiet rituals exists the rest of their day, forging a career together in that frenetically paced time that comes between starting a business based on one's passions and, with luck, seeing that business embraced by the community.
Along with third partner Gibb Sharpe, the couple opened Natural Start Bakery in March 2008 on Hamilton Street as an outlet to support both local farms and fair trade coffee. Like many small businesses, it exists in a state of precarious limbo.
For Gauthier and Krafft, their lifestyle echoes a larger societal shift they are trying to support: Americans are rethinking food – where it comes from, how it tastes, and how its production affects the environment. This transition is not only about rediscovering food (the organic movement is nothing new), but a higher percentage of people actually changing lifestyles based on their conclusions.
The arrival of another gardening season provides a chance for local residents to make some of these changes.
"Not everyone has to move out to the country and start an organic farm," Krafft says. "It's about community. Grow in your yard, but also shop at local farmers markets for what you can't grow yourself."
In addition to providing hard-earned freshness at your table, gardening provides a mental shift in how one approaches produce.
"Everyone should try to garden. Even if your food doesn't turn out perfect, you still get the benefit of appreciating it," Gauthier says. "Even turning a part of your lawn into vegetables, you learn how much work goes into your food."
In 2003, while they were both students at The Evergreen State College in Olympia, Krafft and Gauthier became interns at the same organic farm. The hours were long on the farm near campus, but their knowledge of organic methods grew exponentially. Recalling their first stint working side by side, Krafft says, "We grew into it together. We both wanted to know where the food was coming from that we were putting into our bodies."
It quickly became clear that it wasn't just a stage. Their internship presented them with a lifestyle they could continue after college.
"It is hard work, but it's a way of life," Krafft says. "We want it, and we're willing to work for it."
After college, life took them to Traverse City, Mich., near Marc's hometown. Gauthier found work managing a whitetail deer ranch while he and Krafft began their own organic farm on the side. Working someone else's ranch was less than fulfilling, Gauthier says.Then came what he recalls as the transitional moment of his life. Traveling with friends to film an environmental documentary in Costa Rica, his group was relaxing on the beach between attempts at surfing. In an instant, two swimming children were pulled out to sea by a strong rip current. Gauthier, a novice surfer, watched as the advanced surfers attempted a rescue. When it became clear that the surfers had miscalculated angles to the children, Gauthier felt he had no choice but to dare his own rescue. Learning from the others' mistakes, he paddled a surfboard at an angle that met with the children, a 5-year-old girl and a 9-year-old boy. They didn't have the strength to swim back in, so Gauthier paddled the surfboard in, with the children holding onto his legs. Because of the intensity of the surf, he lost the surfboard on the way to shore, but kept his grip on the children. When they finally reached shore, safe but exhausted, Gauthier was struck with a realization.
"Sitting on that beach after this near-death experience, I looked at the lush, green jungle right in front of me, at the edge of the sand," he recalls. "In that moment, I realized how short life is, and I said, 'I'm done at the (whitetail deer) ranch.' I realized I needed to follow the path of protecting the environment and start growing food full time."
Gauthier and Krafft plunged full-time into organic farming, buying and developing the Seven Generations Farm in Bellaire, Mich. With their first farm, they created a vision for their future by embodying an idea from Iroquois tribal philosophy. "Their saying is, 'With our every deliberation, we must consider the impact of our decisions on the next seven generations,' " he says. "The dream is to develop seven organic farms, all in different climates, all communicating and learning from each other. We want to prove that you can truly support a family with a small 10- to 12-acre farm. It's totally doable."
By raising trees for fruit and livestock for organic meat and eggs, and supplementing protein sources with wild game and fish, Gauthier envisions his seven farms living "off the grid" with respect to food, and being profitable by providing local produce for their communities.
Currently, Gauthier and Krafft are operating a farm on rented land near Cheney, while starting from scratch on farm two of seven, a beautiful canyon property they recently purchased in Tum Tum, northwest of Spokane. They still own the original Seven Generations Farm in Michigan, which they rent to another couple. The property is also being developed as a model and teaching facility for Michigan State University's organic farming program.
The transition from college interns to multistate organic farm developers was fertilized by major realizations that organic living is a rewarding way of life, and that providing local, sustainable food is important enough to demand their professional careers. Today, they have their fingers in every stage of local food production – from the dirt of their garden to the batter in their bakery.
Gardening the organic way may be new to some, but of course, it is as old as civilization.
"We have to remember: until a few decades ago, every person in human history ate organic. Jesus ate organic," Gauthier says. "The chemical solutions have just recently come on the scene. But Mother Nature has a nonchemical solution to everything."
Remembering this big picture is a start. The next step is to get outside and be attentive.
"I watch my plants closely. It's funny how they'll tell you just what they need," Gauthier says. "Tomatoes and squash are great indicator plants. When they curl their leaves down, it means they are thirsty. They're just taking those big solar panels out of the sun as a defense mechanism."
Gauthier recommends hand watering vegetables, and forming small, circular water troughs in the soil around the base of each plant, to hold water in place as it soaks in. "It saves water, because it's not running all over the place, or spraying where you don't need it, like with a sprinkler," he says.
Giving each plant a good evening soaking with the hose (a gallon or less, depending on the species) also gives gardeners a chance to examine each plant. Don't panic and run for the pesticides at the first evidence of pests.
"The main thing gardeners should know is not to be intimidated by bugs. There is an organic solution to every pest," Gauthier says. "Whether it's organic hot pepper spray for aphids, or picking potato bugs by hand for a few seconds a day, there is a way."
He recommends investing in a copy of Rodale's Pest and Disease Problem Solver Guide, a great resource for organic gardeners.
Watering and pest control are important, but the foundation of organic gardening, quite literally, is soil building.
Learning how to make organic compost with your yard and food waste is a great investment in your soil. "Organic composting is a long-term process, but it's worth it," Gauthier says, gesturing at the numerous compost heaps stationed in his garden.
Long-term, but worth it. For Gauthier and Krafft, this seems to be the major lesson of both organic growing and their vision for the Seven Generations farms.
"Everyone wants that quick 'Miracle-Gro' satisfaction. But those chemicals give a quick effect and then they're gone from your soil. But (supplementing soil's potassium with) greensand, for example, you're putting a mineral in your soil that is going to last," he says.
Building and maintaining an organic garden takes patience, creativity, and long-term vision. For many, this time of quiet solitude may start to feel like the true reward – that is, until that first delicious bite of sun-warmed tomato.
Alyssa Krafft of Natural Start Bakery provided the following organic recipes for Spokane's gardeners to get maximum flavor out of their home-grown produce:
Rhubarb Crisp
From Alyssa Krafft of Natural Start Bakery
1 1/2 pounds cut-up rhubarb
1/2 teaspoon salt
1 1/2 to 2 cups sugar (depending on the tartness of the rhubarb)
1/3 cup all-purpose flour
For the topping:
1/2 cup butter, softened
3/4 cup whole wheat flour
1 cup sugar
3/4 cup rolled oats
1/2 teaspoon salt
Preheat oven to 350 degrees. Combine rhubarb, salt, sugar and flour and arrange in an 8-by-8-by-2-inch square or 9-by-13-inch rectangular pan. Combine topping ingredients and sprinkle over rhubarb mixture. Bake until top is brown and rhubarb is tender, about 40 to 50 minutes. Serve with fresh whipped cream if desired.
Yield: 8 to 10 servings
Strawberry Coffee Cake
From Alyssa Krafft of Natural Start Bakery
For the cake:
2 cups sugar
1 cup butter, softened
4 eggs
2 cups sour cream
2 cups pastry or all purpose flour
2 cups whole wheat flour
1 tablespoon baking powder
½ teaspoon salt
1 to 1 ½ cups fresh or frozen strawberries or other fruit (strawberries, peaches, apples, etc.)
For the streusel:
¼ cup butter
½ cup sugar
½ cup pastry or all-purpose flour
Preheat oven to 350 degrees. Cream butter and sugar until light and fluffy. Add eggs, one at a time, beating well after each addition. Add sour cream and beat until well combined. In a separate bowl, combine dry ingredients. Add to butter mixture and fold in until just mixed. Spread into a 9-by-13-inch greased pan. Top with berries, then top with streusel. Cover and bake for 40 minutes, remove foil, and return to oven for an additional 10 to 20 minutes or until a toothpick inserted into the center comes clean. Cool slightly before cutting.
Yield: 8 servings
Summer Vegetable Quiche
From Alyssa Krafft of Natural Start Bakery
9-inch pie crust (frozen or from your favorite recipe)
1 tablespoon olive oil
1/2 to 3/4 cup fresh local vegetables of choice, chopped (spinach, swiss chard, broccoli, zucchini etc.)
2 tablespoons onion, diced
1 large clove garlic, minced
3 ounces cheese of choice, shredded (cheddar, swiss, pepperjack, etc.)
10 eggs
¾ cup milk
¼ tsp salt
Preheat oven to 375 degrees. If using a frozen pie crust, remove from the freezer and let sit at room temperature while you make the filling. If using a homemade dough, keep chilled until the quiche is ready to assemble. Cook olive oil and onion over medium heat for 2 minutes or until onion starts to sweat, then add garlic and other vegetables and cook for an additional 3 to 5 minutes or until they are soft. Remove from heat and set aside. In a bowl, combine eggs, milk and salt. Take out the piecrust and sprinkle it with cheese, then the vegetables. Pour the egg mixture into the pie crust and bake for 40 to 60 minutes until the quiche starts to puff up and a toothpick inserted into the center comes out clean.
Yield: 6 servings
Local journalism is essential.
Give directly to The Spokesman-Review's Northwest Passages community forums series -- which helps to offset the costs of several reporter and editor positions at the newspaper -- by using the easy options below. Gifts processed in this system are not tax deductible, but are predominately used to help meet the local financial requirements needed to receive national matching-grant funds.
Subscribe to the Spokane7 email newsletter
Get the day's top entertainment headlines delivered to your inbox every morning.
---