Sports > Outdoors
Roskelley duo chills out on icy waterfall climb
Slipstream route in Columbia Icefields requires bivouac
Sun., May 3, 2009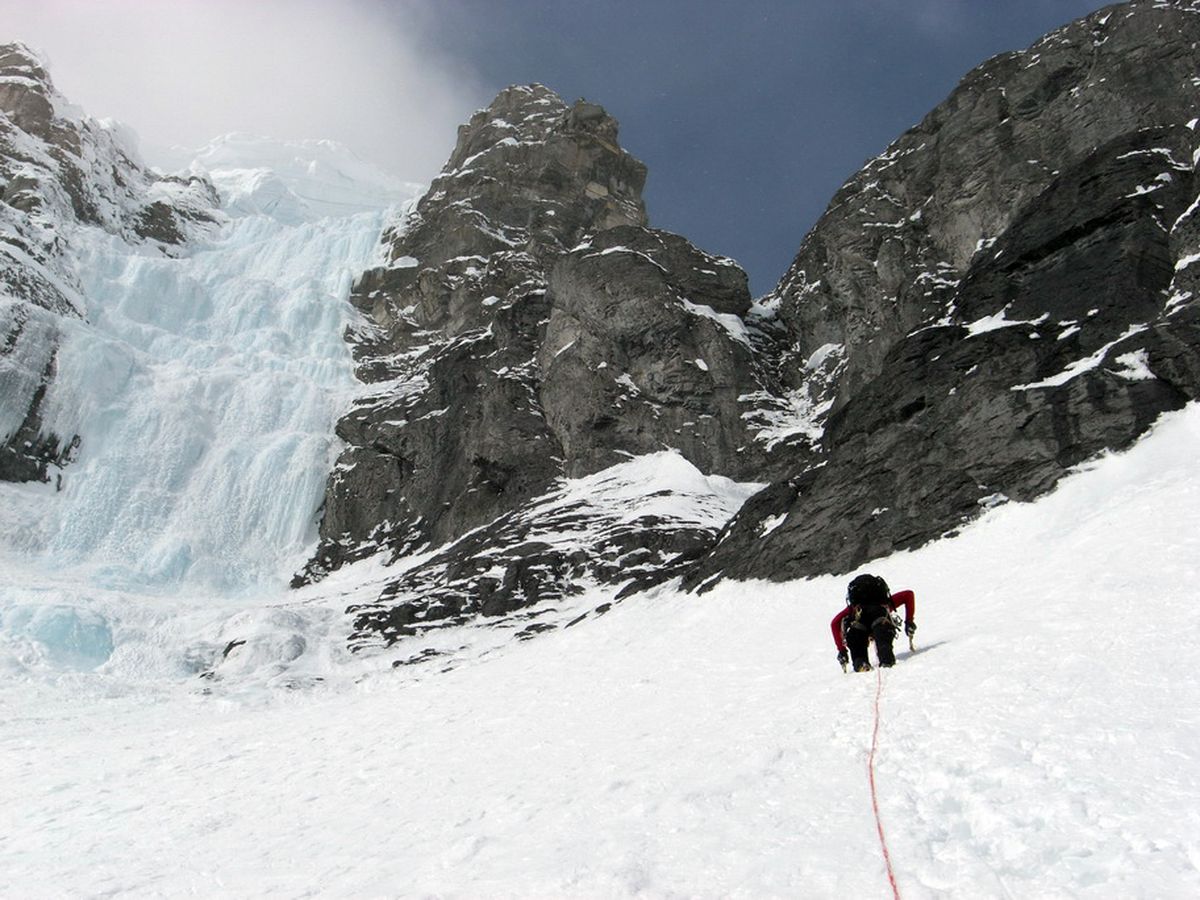 Jess Roskelley of Spokane ascends a snow and ice route called Slipstream toward the top of Snow Dome in the Columbia Icefields of Alberta's Jasper National Park. Courtesy of John Roskelley (Courtesy of John Roskelley / The Spokesman-Review)
Spokane climbers John and Jess Roskelley shared some quality time in a room with an incredible view last weekend during their visit to Alberta's Columbia Icefields.
The only price the father-son team paid was enduring the night at minus 10 degrees without sleeping bags huddled in a tiny snow cave on a vertical ice cliff.
Cheap.
"We just got caught out," shrugged John, 60, a former Spokane County commissioner and one of America's premier mountaineers in the 1970s and '80s. "These things happen occasionally when you climb challenging routes."
The Roskelleys were climbing a difficult snow, ice and waterfall route known as Slipstream (IV, WI4), which leads to the 11,322-foot summit of Snow Dome in Jasper National Park.
The pair had climbed Mount Everest together in 2003, when Jess, now 26, temporarily became the youngest American to climb the peak.
"We thought we were fast enough to get up it in a day, but a lot of little things added up," John said.
"It's considered one of the finest alpine routes in the Canadian Rockies and is seldom climbed because of the commitment, difficulties, and objective dangers, such as avalanche, falling ice and the massive cornice at the top, which breaks off occasionally, not to mention the very technical climbing."
Park rangers take notice when climbers log in at the Icefields Visitor Center to climb Slipstream.
"We started Sunday in really good weather, but by noon it was deteriorating. Clouds came in and it started snowing and we were getting a lot of spindrift avalanches down the face burying us on our belays and slowing us up.
"The ice climbing was very difficult up high and there was virtually no place to get out of the conditions. We were lucky to find a spot where we could kick out a snow cave about 200 feet from the top. It was the only place I spotted on the whole route where we could even sit down.
"It was a good climb," he said, summarizing the big picture.
Pressed for more details, he said neither of them slept during the night.
"We had our down coats to wear and stove to melt snow, but nothing else extra," he said. "We sat on one pack and put our feet in the other pack and just hugged each other and shivered all night."
Fortunately, the weather cleared into a spectacular, windless, starry night. Even though the temperatures plummeted, the snowfall stopped and kept the route from getting too dangerous.
Said Roskelley, "On Monday morning, the sun came up and low and behold it shined right into our cave with welcome warmth. That really helped us get moving and into our equipment and frozen boots."
The pair finished the last pitch of the climb and briefly enjoyed the stunning view under blue skies. As they were beginning their descent down the dome, toward an area of crevasses and a gully, a helicopter flew by.
"We were a day late, so I knew the climbing rangers might be concerned," Roskelley said. "I gave them a thumbs up to show we were OK, but they circled and landed anyway.
"They offered us a lift out, since they were already up there flying. It was the easiest descent I've ever made. In five minutes we were back at the Visitor Center. It saved us five hours of trudging and two rappels."
Local journalism is essential.
Give directly to The Spokesman-Review's Northwest Passages community forums series -- which helps to offset the costs of several reporter and editor positions at the newspaper -- by using the easy options below. Gifts processed in this system are not tax deductible, but are predominately used to help meet the local financial requirements needed to receive national matching-grant funds.
Subscribe to the sports newsletter
Get the day's top sports headlines and breaking news delivered to your inbox by subscribing here.
---