A&E > Food
Special treat for Mom
Cheesecake tart is easy, quick to make
Wed., May 6, 2009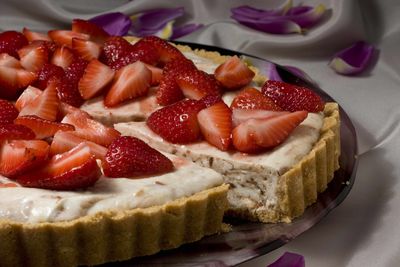 Perfect for Mother's Day, this almost no-bake strawberry cheesecake won't leave Mom feeling guilty for indulging on her special day. It's also easy enough that the kids can lend a hand.
Traditional cheesecakes are made from a blend of cream cheese and eggs, and thus require cooking. This easier version uses gelatin instead of eggs to set the filling, so no cooking is needed. Only the tart shell is briefly baked.
The cream cheese also is cut with thick, rich, yet fat-free Greek-style yogurt. This variety of yogurt has had much of the water drained from it, giving it a sour cream-like consistency. Don't substitute regular yogurt.
If Mom doesn't care for strawberries, the recipe can be adapted to the berry of her choice. Just swap out the jam and fresh fruit.
The crust is made from 2 cups of vanilla wafer cookie crumbs. To make that amount of crumbs, you will need about 75 cookies, which is about a 12-ounce box minus 12 cookies.
Almost No-Bake Strawberry Cheesecake Tart
For the tart shell:
2 cups vanilla wafer cookie crumbs
1/4 cup (1/2 stick) butter, melted
For the filling:
1/4-ounce packet unflavored gelatin
1/4 cup cold water
8-ounce bar cream cheese, softened
3/4 cup sugar
1 cup fat-free Greek-style yogurt
1 teaspoon vanilla extract
3/4 cup strawberry jam
Fresh strawberries, to serve
Heat the oven to 400 degrees.
To prepare the tart shell, in a medium bowl, mix together the cookie crumbs and butter. Transfer to a 9-inch tart pan with removable bottom. Gently press the mixture evenly across the bottom and up the sides.
Bake for about 6 to 8 minutes, or until set. Remove from the oven and set aside to cool.
To prepare the cream cheese filling, in a microwave-safe cup combine the gelatin and water. Set aside for 5 minutes, or until the gelatin is dissolved. Microwave the gelatin for 30 seconds or until it boils.
In a large bowl, use an electric mixer to beat the cream cheese and sugar until smooth, scraping down the bowl as needed to avoid lumps. Add the yogurt, gelatin and vanilla, then beat until smooth.
In a small bowl, use a fork to beat the strawberry jam until mostly smooth.
Add the jam to the cream cheese mixture and use a rubber spatula to just barely fold it in, stirring only once or twice.
Transfer the mixture to the cooled tart shell and, if necessary, use a rubber spatula to smooth the top. Cover and refrigerate until firm, about 2 hours. Serve with fresh strawberries.
Yield: 8 servings
Nutrition information per serving: 415 calories; 180 calories from fat; 20 grams fat (11 grams saturated; 0 grams trans fats); 51 milligrams cholesterol; 59 grams carbohydrate; 5 grams protein; 1 gram fiber; 232 milligrams sodium.
Local journalism is essential.
Give directly to The Spokesman-Review's Northwest Passages community forums series -- which helps to offset the costs of several reporter and editor positions at the newspaper -- by using the easy options below. Gifts processed in this system are not tax deductible, but are predominately used to help meet the local financial requirements needed to receive national matching-grant funds.
Subscribe to the Spokane7 email newsletter
Get the day's top entertainment headlines delivered to your inbox every morning.
---