Sports
Nuggets advance to Western Conference finals
Thu., May 14, 2009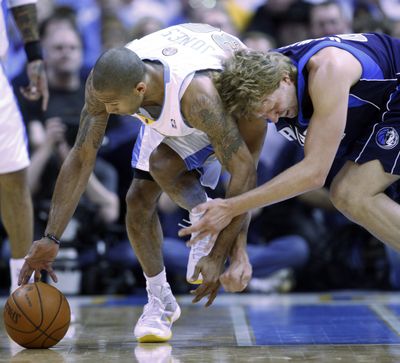 The Denver Nuggets are leaving all the animosity with the Dallas Mavericks' players, fans and owner behind and are heading to their first Western Conference finals since 1985.
Behind 30 points from Carmelo Anthony and 28 from Chauncey Billups, the Nuggets beat the Mavericks 124-110 on Wednesday night in Denver to wrap up their semifinal series in five feisty games.
The Nuggets, who are 8-2 in the playoffs after tying their franchise record with a 54-win regular season, will face either Los Angeles or Houston for the conference championship.
"It's special. We worked hard in the offseason and training camp and throughout," Anthony said. "We stuck to everything, we overcame adversity, we stayed humble and our hard work paid off.
Winners of 16 straight games at the Pepsi Center, where no opponent has won since March 9, the Nuggets would start their next series on the road if the Lakers win, and at home if Houston does.
•No punishment planned: The NBA won't punish anybody over the ugly incidents that occurred on and off the court in Games 3 and 4 of the series between the Dallas Mavericks and Denver Nuggets.
"Matter is closed," league spokesman Tim Frank told the Associated Press via e-mail before Game 5 tipped off in Denver.
•James leads All-NBA squad: LeBron James is a unanimous selection to the All-NBA team after leading the Cleveland Cavaliers to a franchise record for wins and a pair of playoff sweeps.
Joining him on the first team are Dwyane Wade of the Miami Heat, Kobe Bryant of the Los Angeles Lakers, Dirk Nowitzki of the Dallas Mavericks and Dwight Howard of the Orlando Magic.
•Woman faces theft charge: A woman arrested last week at Mavericks star Nowitzki's house has been transferred to another Texas county to face a theft charge.
Dallas County spokeswoman Kim Leach said 37-year-old Cristal Taylor was transported to Jefferson County in southeast Texas.
•Jordan considers Sixers: Former NBA coach Eddie Jordan has expressed interest in the Philadelphia 76ers head coaching job and hopes to meet with team president Ed Stefanski by the end of the weekend.
Hockey
Penguins oust Capitals
So much for all of the hype about Sidney Crosby vs. Alex Ovechkin, Penguins vs. Capitals, Game 7. The second-round series ended with a thud, thanks to a perfect performance by Crosby's Penguins.
Crosby scored twice to take his NHL-leading playoff goal total to 12, and Pittsburgh chased rookie goalie Simeon Varlamov early in the second period while shutting down Ovechkin most of the night in a 6-2 victory at Washington.
Pittsburgh's 4-3 series victory after trailing 2-0 moves it closer to a second consecutive trip to the Stanley Cup finals, something the team last did in 1991 and 1992.
The Penguins will face Boston or Carolina in the Eastern Conference finals.
Football
Vick wants new chance
Former Indianapolis Colts coach Tony Dungy said Michael Vick wants a second chance when he's out of prison.
Dungy met with Vick last week at the federal penitentiary in Leavenworth, Kan., where Vick is serving a 23-month sentence for bankrolling a dogfighting conspiracy.
Dungy spoke at a workshop in Indianapolis for offenders seeking jobs. He compared Vick's situation as he nears his release from prison to theirs.
•Stadium gets familiar name: The new $1.1 billion Dallas Cowboys stadium doesn't have an announced sponsor yet – but now it has a name.
Team owner Jerry Jones announced the venue in Arlington will be called Cowboys Stadium.
Colleges
Floyd stays mum
In the case of USC men's basketball coach Tim Floyd's recruitment of O.J. Mayo, it might come down to a case of he said vs. he said.
Louis Johnson, a former Mayo associate, has told federal and NCAA investigators that Floyd gave $1,000 in cash to a man who helped steer Mayo to the Trojans, according to Johnson's attorney, Anthony V. Salerno.
Floyd has yet to respond to the allegations, which first appeared in a Yahoo! Sports report.
•Woman pleads not guilty in Pitino case: A woman accused of trying to extort millions of dollars from Louisville men's basketball coach Rick Pitino pleaded not guilty in Louisville, Ky. She later defiantly announced she "will not break" while surrounded by supporters on the courthouse steps.
Karen Cunagin Sypher was mostly silent at her arraignment but proclaimed her innocence to reporters afterward. Her attorney indicated he might seek a change of venue because of extensive publicity.
Sypher's arraignment came one day after her indictment on federal charges of trying to extort money from Pitino and lying to the FBI.
A criminal complaint last month claimed her demands included college tuition for her children, two cars, her house to be paid off and $3,000 per month.
•Campbell plans to return: Campbell University of Buies Creek, N.C., will leave the Atlantic Sun Conference and return to the Big South in the 2011-12 academic year. Campbell was a charter member of the Big South in 1983, but left for what is now the Atlantic Sun in 1994.
•Southern Indiana forfeits: Southern Indiana of Evansville will forfeit its entire 2008-09 season after two players were declared ineligible and an internal investigation found five alleged NCAA violations by the men's basketball program.
Miscellany
PGA donations shrink
The PGA Tour estimates its donations to charity will decline by as much as 14 percent this year, the result of an economic downturn that is affecting everything from sponsors to hospitality sales.
•Renault may withdraw: Renault joined Ferrari in threatening to withdraw from next season's Formula One world championship because of the budget cap imposed by the sport's governing body.
•Roland Garros sets roof renewal: Plans for a new retractable roof at Roland Garros are moving forward. The roof is scheduled to be ready in 2011 to prevent rain delays at the French Open.
Local journalism is essential.
Give directly to The Spokesman-Review's Northwest Passages community forums series -- which helps to offset the costs of several reporter and editor positions at the newspaper -- by using the easy options below. Gifts processed in this system are not tax deductible, but are predominately used to help meet the local financial requirements needed to receive national matching-grant funds.
Subscribe to the sports newsletter
Get the day's top sports headlines and breaking news delivered to your inbox by subscribing here.
---