A&E > Food
Local restaurants will appear on Food Network next week
Capone's, Elk set for 'Triple D'
Wed., Dec. 8, 2010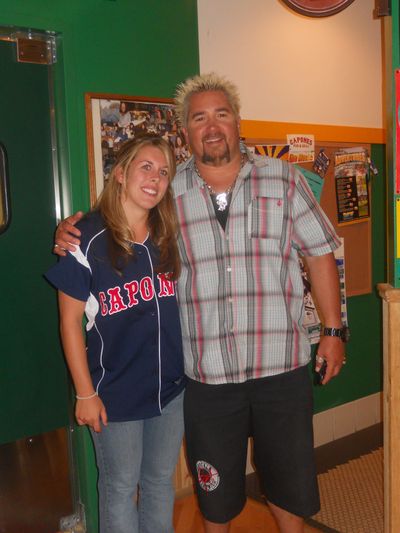 Two area restaurants filmed this summer for the Food Network's "Diners, Drive-ins and Dives" will make it on the air next week.
Capone's Pub and Grill will pre-empt its Monday night football watching to tune in to the episode featuring the Coeur d'Alene pub.
At the Elk Public House, there'll be a Guy Fieri look-alike contest Dec. 18 when "Triple D" showcases the Browne's Addition eatery.
Capone's manager Nicole Dines says the "Wings and Things" episode featuring Capone's and two other restaurants will air Monday starting at 9 p.m. Televisions at the pub, owned by Tom and Teresa Capone, will be turned to the Food Network.
Fieri, the star of the show, noshed Capone's Ultimate Cheeseburger, which is stacked with five cheeses; the Roasted Chicken Garlic Pizza, served on a from-scratch crust made from a Sicilian family recipe; and the Beef Philly Grinder, Dines says.
It looks like producers will be zeroing in on the garlic chicken pizza in the episode, which is described on the show's website as "a Triple D take on chicken."
A Mexican restaurant in New Jersey that serves wings and a Jamaican cafeteria at a farmers market in Nashville, Tenn., are also featured in the episode.
Fieri also spent some time visiting with World Series pitching legend Don Larsen, who lives in Hayden, Idaho, during the August shoot at Capone's, Dines says.
And Fieri fans have already been coming into the pub after reading about the filming on a blog devoted to restaurants visited by the bleached-blond star.
Capone's, which will celebrate its 20th anniversary in 2011, is at 751 N. Fourth St. in Coeur d'Alene. The 1921 building, originally a gas station, in the 1950s became Ben's Spudnut Shop. It was also Lee's Diner, The Dingy Dolphin and the Roadrunner Inn before the Capones bought it.
In addition to from-scratch food, they also have 42 rotating taps. There is a second Capone's at 315 N. Ross Point Road in Post Falls.
The restaurant's website (www.caponespub.com) has more menu details.
At the Elk Public House, 1931 W. Pacific Ave., in Spokane, Fieri tucked into the pub's traditional Reuben sandwich, stacked with corned beef, house-made sauerkraut and Thousand Island dressing, says manager Marshall Smith.
It will be featured on the "Sandwiches Plus" episode of "Diners, Drive-Ins and Dives" airing Saturday, Dec. 18.
Fieri also tasted the Swimming Angel, a traditional Thai dish with spicy peanut sauce, grilled chicken breast and steamed spinach, and the Barbecue Chicken Quesadilla, made with roasted chicken and the Elk's own barbecue sauce and served with smoked onion sauce.
Smith says he's already expecting a busy Saturday night and they'll be turning the televisions to the Food Network at 9 p.m. for the show.
He was still working out details for the look-alike contest, so potential contestants might want to check in at the pub to see whether the prize is worthy of doing the full-on Fieri with white blond hair.
Other area restaurants have been in contact with show producers in the last few weeks as they put the finishing touches on upcoming episodes.
Chef Dave Hill says he should hear this week about an air date for the episode featuring Hills' Restaurant and Lounge, 401 W. Main Ave. in Spokane. It is expected to be in mid-January.
The restaurant served its signature Elk Burger and the house-made mustard for Fieri. Hill also made a pasta dish with the restaurant's pancetta bacon, and the pulled pork sandwich along with his rub and barbecue sauce.
At Jimmy's Down the Street, 1613 E. Sherman Ave. in Coeur d'Alene, owner Jim Purtee says they've also been told their episode is tentatively scheduled for January. Fieri noshed on Jimmy's Chicken 'n' Dumplings, Southern Pecan Rolls and Chicken Fried Steak Skillet.
Owner Jane Edwards says the "Triple D" episode featuring her Picabu Neighborhood Bistro, 901 W. 14th Ave. in Spokane, should hit the television screen in January, too. The little bistro made its Cactus Burger, Potstickers and Fire Pasta for Fieri and the camera crews.
Waddell's Pub and Grille, 4318 S. Regal on Spokane's South Hill, has renamed a dish in the wake of Fieri and his crews.
Co-owner Michael Noble says they have a Guinness-braised lamb specialty that Fieri nicknamed the "lambstosity" during the shoot. They also made the Rube Waddell Burger and Big Dog Burger for the Food Network's big dog.
Stay tuned for more details on air dates and other restaurants. The Food Network website is www.foodnetwork.com.
Local journalism is essential.
Give directly to The Spokesman-Review's Northwest Passages community forums series -- which helps to offset the costs of several reporter and editor positions at the newspaper -- by using the easy options below. Gifts processed in this system are not tax deductible, but are predominately used to help meet the local financial requirements needed to receive national matching-grant funds.
Subscribe to the Spokane7 email newsletter
Get the day's top entertainment headlines delivered to your inbox every morning.
---