News > Washington Voices
Grow some fruit and veggies for food bank
Thu., June 9, 2011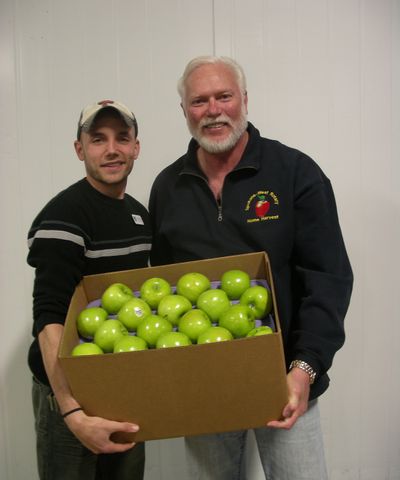 This is going to be a tough vegetable-growing year. Even the crops that tend to love the cooler spring weather are way behind. Things like tomatoes and peppers are just sitting in the ground. Basil? If it hasn't turned yellow in the cold, you are lucky.
These are all minor battles though when you compare them to the struggles many people in the community go through just to put food – any food – on the table.
Across the region, good people who have always worked hard to provide for their families are finding themselves on the losing end of the economy: Many of them are turning to local food banks for help. For families in these situations vegetables are often left off the grocery list in favor of cheaper items. The only place they may be able to afford them is at the food bank – for free.
So as challenging as the weather has been, let's take the challenge and turn it into an opportunity to beat Mother Nature's odds and help out the community. Put in some extra rows for the Plant a Row for the Hungry project.
Two groups have already taken on the challenge. The congregation at Beautiful Savoir Lutheran Church on Spokane's South Hill recently voted to develop a community garden on the site of the old Cayman's Greenhouse next to the church. "Half the beds will be dedicated to donations to the South Hill Pantry," said garden organizer John Baker. "It is a wonderful way to give back to the people that need it."
On another front, Second Harvest Inland Northwest is teaming up with the Spokane Rotary West to start the Home Fruit Harvest Program. People with backyard apple, plum and pear trees can register their trees with Second Harvest and receive information about caring for and harvesting their trees and then donating the fruit. To kick the program off, Second Harvest is hosting workshops on July 9 that will help you learn to manage and prune your trees as well as how to make compost and create worm bins. Contact Keith Burgeson, Harvest coordinator at (509) 252-6275 or at platnarow@2-harvest.org to register your trees and for more information on the workshops.
Produce and unblemished fruit can be taken to your local food bank or to Second Harvest's main warehouse at 1234 E. Front St. You can access a list of food banks at the Second Harvest website, www.2-harvest.org/ 2-harvest, under the Get Help section.
All vegetables or fruit are welcomed but sturdy vegetables and fruits that are commonly available in the grocery store are best. Fragile greens and herbs need to be delivered close to the day the neighborhood food bank is serving clients. Even a pound is welcome. Ask for a donation receipt. You can take a $1.50 a pound as a federal tax donation while the Plant a Row committee gets to brag about how great this community is when the chips are down.
Pat Munts is a Master Gardener who has gardened the same acre in Spokane Valley for 30 years. She can be reached by e-mail at pat@ inlandnwgardening.com
Local journalism is essential.
Give directly to The Spokesman-Review's Northwest Passages community forums series -- which helps to offset the costs of several reporter and editor positions at the newspaper -- by using the easy options below. Gifts processed in this system are not tax deductible, but are predominately used to help meet the local financial requirements needed to receive national matching-grant funds.
Subscribe to the Coronavirus newsletter
Get the day's latest Coronavirus news delivered to your inbox by subscribing to our newsletter.
---
Subscribe and log in to the Spokesman-Review to read and comment on this story