News > Spokane
Spokane soldier killed in deceiving attack in Afghanistan
Men dressed as police assaulted Lallier's unit
Wed., June 20, 2012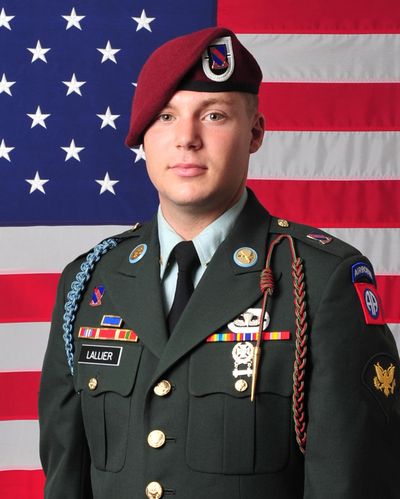 Spc. Jarrod Lallier always knew he wanted to serve his country.
"He said that since he was a little boy," said his mother, Kim Lallier. "As his mom, I always tried talking him out of it. As he grew up, we knew it was even a stronger conviction."
Lallier, a graduate of Mead High School, was killed in Afghanistan when men in Afghan police uniforms turned their weapons on his unit, according to the Department of Defense. He was 20 years old.
Kim Lallier said her son, who came from a family with military ties, loved soccer, his friends, fishing, camping and animals.
"Most of all, he was just a people person," she said. "He'd make a ton of friends no matter where he went. He was just a very likable person, easygoing. He made friends really easy."
Lallier was due to return from Afghanistan in early September. He would have turned 21 on July 3.
"He was making plans for when they did come back," she said, "what all the family would do."
She and her husband, Gary Lallier, were perplexed when they didn't hear from their son on Father's Day.
"It wasn't like him not to call," she said. "We couldn't understand why he didn't get a hold of his father on Father's Day."
They found out why when a soldier knocked on their door in north Spokane about 5 a.m. Monday to deliver the news that their son had been killed. Hours later, she and her husband were on an airplane to Delaware. "It's just still very surreal," said his mother as she awaited the return of her son's body at Dover Air Force Base on Tuesday. "He's a hero to us, but we'll miss him forever."
Lallier's mother said his unit has sustained heavy casualties, including the death of two of Lallier's close friends. "Only this time it was my son."
"They had lost a lot of guys and when we would talk to him, I'd ask him how he was doing, hoping that he would talk about it, work it out, but he just said, 'Ma, I don't want to talk about it. Tell me about Spokane. I miss home.'
"He knew the danger," she said. "They were in a really dangerous area that's a Taliban stronghold" – Zharay, in Kandahar province.
She said he suffered some hearing loss when his unit was attacked with an improvised explosive device about a month ago.
But, she added, "He wasn't afraid because he knew if something happened, he knew where he was going. I just wish he wasn't gone."
Lallier joined the Army on July 7, 2010. This was his first deployment to Afghanistan. He was a paratrooper assigned to the 1st Battalion, 508th Parachute Infantry Regiment, 4th Brigade Combat Team, 82nd Airborne Division, Fort Bragg, N.C.
"I'm going to miss him until the day I die," the soldier's mother said. "I know he's in heaven, and that's a really reassuring thing for our family. We're going to miss him until we go there."
His former principal at Mead, Ken Russell, called Lallier's death "a huge loss."
"He was a fantastic kid," he said. "He had one of those personalities that was endearing to everyone, both students and staff," he said. "He was very friendly and outgoing and positive."
Lallier's brother, Jordan Lallier, 19, and sister, Jessica Lallier, 23, also attended Mead.
His squad described him as shy and reserved but friendly to everyone, according to an Army news release. They said he was a competent and trustworthy soldier.
"Spc. Lallier was a quiet professional," Capt. Michael Kelvington, commander of the 508th Parachute Infantry Regiment, said in the release. "He impressed people with his deeds, not words."
Kelvington said Lallier was proud to serve.
"Never shying away from a challenge, his performance during operations over the past few months in combat has been everything that I could ask from a daring paratrooper," Kelvington said. "His example and love for his brothers will be deeply missed. We honor his memory by finishing the job that he and his brothers gave their lives for. It was a privilege to serve alongside him."
It is unclear whether the individuals that perpetrated the attack were actually Afghan police or just dressed like them. Jamie Graybeal, a spokesman for the International Security Assistance Force in Afghanistan, said Monday they are seeking three Afghan shooters who fled the scene.
U.S. Army Maj. Adam Wojack, an ISAF Joint Command spokesman, confirmed Tuesday eight others from Lallier's unit were injured in the attack. Most of the injuries sustained were minor, but two of the eight wounded were medically evacuated with more serious injuries.
Lallier's awards include the Bronze Star Medal, the Purple Heart, the National Defense Service Medal, the Afghanistan Campaign Medal, the Global War on Terrorism Service Medal, the Army Service Ribbon, the NATO Medal, the Overseas Service Ribbon, the Combat Infantryman's Badge and the Parachutist Badge.
As of Tuesday, 1,887 members of the U.S. military had died in Afghanistan since late 2001, according to the Department of Defense. Of those, 1,566 were killed by hostile action and 16,368 have been wounded.
"I just know that he always felt called to serve our country and he died doing that," Kim Lallier said. "All we have is the hope that we will see him again in heaven."
Local journalism is essential.
Give directly to The Spokesman-Review's Northwest Passages community forums series -- which helps to offset the costs of several reporter and editor positions at the newspaper -- by using the easy options below. Gifts processed in this system are not tax deductible, but are predominately used to help meet the local financial requirements needed to receive national matching-grant funds.
Subscribe now to get breaking news alerts in your email inbox
Get breaking news delivered to your inbox as it happens.
---