Sports
Junior RB West breaks through for WSU
Sun., Dec. 22, 2013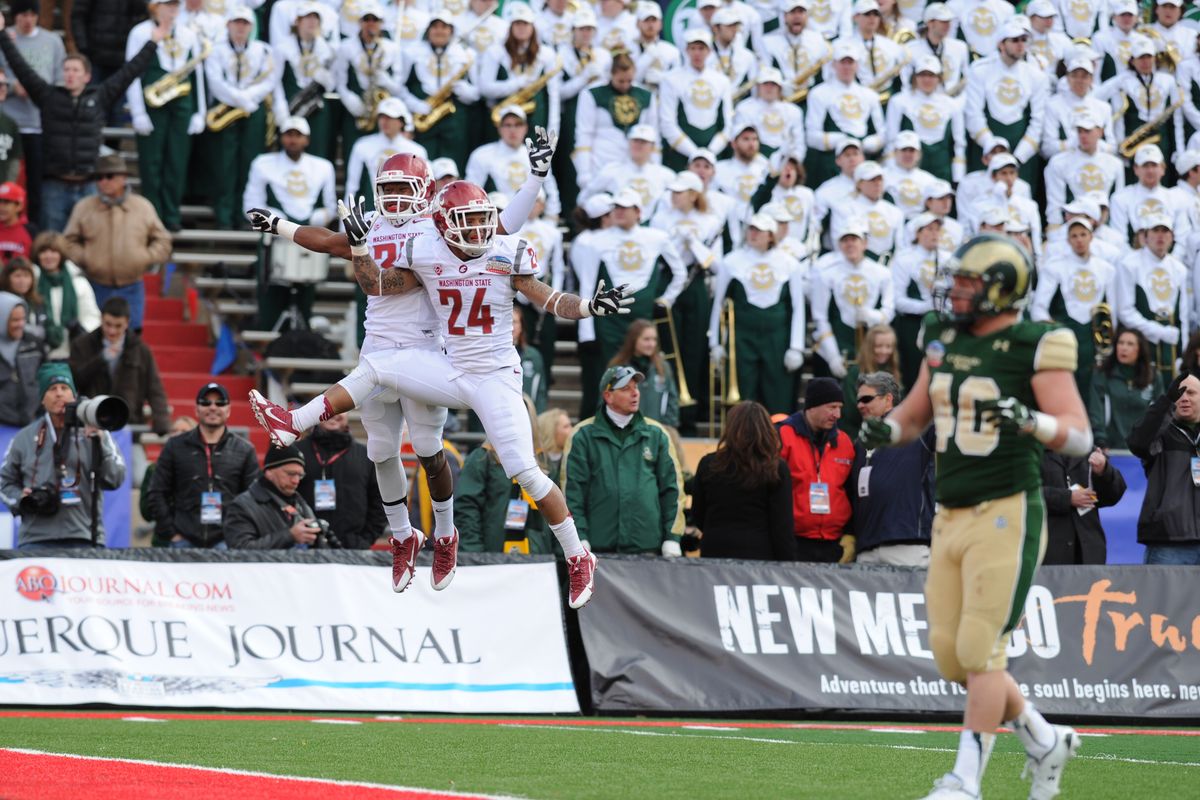 Theron West (24) celebrates his first-quarter touchdown reception against Colorado State in the Gildan New Mexico Bowl on Saturday. (TYLER TJOMSLAND PHOTOS)
ALBUQUERQUE, N.M. – Washington State didn't unleash much in the way of trick plays that the Cougars had hoarded especially for the Gildan New Mexico Bowl.
Just a "trick" player.
Little-used running back Theron West was a surprise weapon the Cougars decided to spring on Colorado State, and the redshirt junior had a big impact in the early going before things unraveled on the Cougars in a shocking 48-45 loss at University Stadium.
West had a big third-down reception that kept the Cougars rolling toward their first touchdown, juking two defenders on a 12-yard screen pass. He came back midway through the first quarter to score his first Cougars touchdown on a sensational 28-yard pass after quarterback Connor Halliday had bought some time against the CSU pass rush.
"We call it an outside zone," West said. "It's a screen to me, but they read it very well – I guess they learned from the first time. Then it was a just a scramble drill and I got up the middle and had a one-on-one with a linebacker. I felt that I could beat him and (Halliday) got it to me."
In between those two passes, West blocked a CSU punt in the end zone, sending the ball skittering out of bounds at the 5-yard line and setting up WSU's second TD.
"That goes back to technique and coaching," said West, diverting credit to special teams coach Eric Russell. "I was coached up very well.
"A guy chipped me. We had two guys to that side and he tried to get both of us, but it left me free a little bit."
West had played in all 12 regular-season games, but mostly on special teams – getting just a single carry for one yard in the win over Southern Utah.
But he said he had a feeling from about the Cougars' third pre-bowl practice that he'd have a bigger role Saturday, and finished with three receptions for 50 yards and three carries for 17.
"I was just put in a position where I was able to make plays," he said. "I can't wait to get back to it next year."
Statuesque
The two-point conversion the Rams pulled off to tie the game in their rally from 15 points down was in the grand tradition of bowl season trickery: a Statue-of-Liberty play.
It won't necessarily rank with the play that Boise State used to beat Oklahoma in the 2007 Fiesta Bowl, but it will linger a long time in CSU history.
"We practice it every Friday," said quarterback Garrett Grayson. "It works for the most part and it worked out today."
After faking the pass, Grayson handed off to running back Donnell Alexander, who headed for the left corner of the end zone and dove with the football toward the pilon before WSU's Xavier Cooper could drive him out of bounds. The on-field ruling was no PAT, but that was overturned on replay.
WSU linebacker Justin Sagote had a fairly heartbreaking view of the play.
"That was a good play by them," he said. "We didn't execute enough to keep the edge.
"When I first saw him look, I knew it was a draw because (Grayson) doesn't come straight up and just look (when he goes to pass). I'd already read it. I was already in my gap so all (Alexander) had to do was cut into my gap, but he saw me and bounced right back out. It was a good read by him."
Rams' aide apologizes
After Washington State scored its first touchdown on a 25-yard pass from Halliday, Colorado State defensive line coach Greg Lupfer was yelling provocative and potentially bigoted remarks profusely at the quarterback. Halliday walked over to Lupfer and responded before a CSU aide intervened.
After the game, Halliday said, "(He) grabbed me and said some profane things to me and that's all I'll say about it."
After the game, Lupfer issued a statement apologizing for the outburst and remarks.
"I am truly sorry for what I said. It was wrong and those words do not represent who I am and what I believe in," the statement read. "I apologize for this embarrassment I caused Colorado State University, this team and my family."
That was not the only moment when the hostility between the teams rose above that of a typical football game.
Early in the third quarter, CSU was called for a chop-block penalty that resulted in an injury to WSU defensive tackle Ioane Gauta, who left the field. On the next possession, Rams running back Kapri Bibbs burst up the middle for a 75-yard touchdown.
"They started playing a little dirty so we tried to get back at them by stopping them on defense," said linebacker Justin Sagote.
Local journalism is essential.
Give directly to The Spokesman-Review's Northwest Passages community forums series -- which helps to offset the costs of several reporter and editor positions at the newspaper -- by using the easy options below. Gifts processed in this system are not tax deductible, but are predominately used to help meet the local financial requirements needed to receive national matching-grant funds.
Subscribe to the sports newsletter
Get the day's top sports headlines and breaking news delivered to your inbox by subscribing here.
---