Sports
UCLA routs Washington State
Cougars have lost nine of their last 11 games.
UPDATED: Sat., Feb. 9, 2013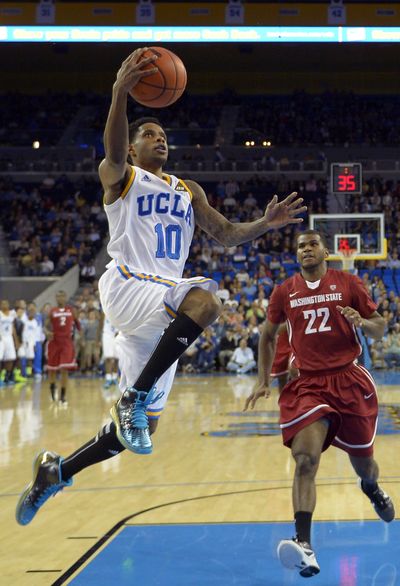 LOS ANGELES – The collapse came in the first half this time. Washington State never sniffed a second-half lead, never tensed up down the stretch. There was no stretch, really. And there was no chance for the reeling Cougars after an awful first half at the newly renovated Pauley Pavilion, where UCLA cruised to a 76-62 win on Saturday night before 10,090. It was UCLA's 54th win over WSU in Los Angeles in 56 tries, this effort aided by WSU's 19 turnovers and the Bruins' 62 percent shooting performance. "We just can't win that way," said sophomore guard DaVonte Lacy, who scored 10 points. They haven't won any way recently. The Cougars (11-13, 2-9 Pac-12) have lost four games in a row and six of their last seven, most of those coming in heartbreaking fashion after they've blown a late lead. Not last night. There was fool's gold for a while, as WSU made five of its first eight 3-point attempts and trailed only 18-16 with 13:10 left in the first half. But the damage had been done: the Cougars were trying to play at the Bruins' pace, UCLA was scoring easily and WSU was in the game only because of its 3-point shooting. "At first they were falling," Lacy said, "but you can't shoot 3s the whole game and hit like we were hitting the first four or five minutes, so I  think we relied too much on that." WSU coach Ken Bone said he told his team, "I'm happy that you guys made your 3s, but we've got to execute our offense and if we take a little bit of time off the clock, that's OK." They didn't. UCLA used its size to deny passing lanes and pressure the perimeter, forcing the Cougars to go 10:17 between field goals as they settled for errant jumpers. In the meantime, Shabazz Muhammad made a 3-pointer, Jordan Adams made a breakaway layup and added a free throw, Norman Powell dunked, Larry Drew II made a layup in transition, Kyle Anderson stepped back and made a jump shot and Travis Wear scored in the post. Additional points were not added to the Cougars' tally until a Mike Ladd free throw with 4:07 left in the half made it 32-17. WSU's next field goal was special. Sure, it was a simple tip-in by Will DiIorio. But it was also the Cougars' first 2-point field goal of the half, and it came with 3:41 remaining. So tortuous was the first half for the Cougars that they finished with eight made field goals – six of them 3-pointers – and 11 turnovers, which UCLA converted into 11 points. "It started because we didn't get stops," said forward Brock Motum, who led WSU with 17 points. "If we get stops in a row, that's going to translate into offense and we can be a little more fluid. But when we've got to rebound the ball out of the net, take it out and then get into our set, it just takes so much longer and it kills your momentum." During that deciding stretch, the Cougars were whistled for two shot-clock violations and looked thoroughly lost offensively. Their zone defense wasn't good enough to keep the Bruins out of the paint, where they outscored WSU 20-4 in the first half alone. Man-to-man defense didn't slow the Bruins, either. UCLA made 25 of its 34 field-goal attempts from inside the arc, and shot better than 60 percent (62.0) for the first time since a February 2010 win over WSU. "Every time I looked up, they were hitting a shot," senior guard Mike Ladd said. The Bruins' largest lead was 39-19, then 67-47 in the second half. A late 11-3 run kept WSU from getting embarrassed, as the Cougars trimmed UCLA's lead to 70-60 with 3:08 to play. They ran their offense better during that time, too, and outscored the Bruins 38-37 in the second half. But that first half … "There was no excuse to start like that, because our defense was so flat," Motum said. "We've got a lot of stuff to work on, but hopefully we can get the home sweep this week." Oregon State and Oregon visit Beasley Coliseum on Wednesday and Saturday.
Local journalism is essential.
Give directly to The Spokesman-Review's Northwest Passages community forums series -- which helps to offset the costs of several reporter and editor positions at the newspaper -- by using the easy options below. Gifts processed in this system are not tax deductible, but are predominately used to help meet the local financial requirements needed to receive national matching-grant funds.
Subscribe to the sports newsletter
Get the day's top sports headlines and breaking news delivered to your inbox by subscribing here.
---
Subscribe and log in to the Spokesman-Review to read and comment on this story