A&E > Food
Fusion Flours creators open take-out business with gluten-free foods
Wed., March 13, 2013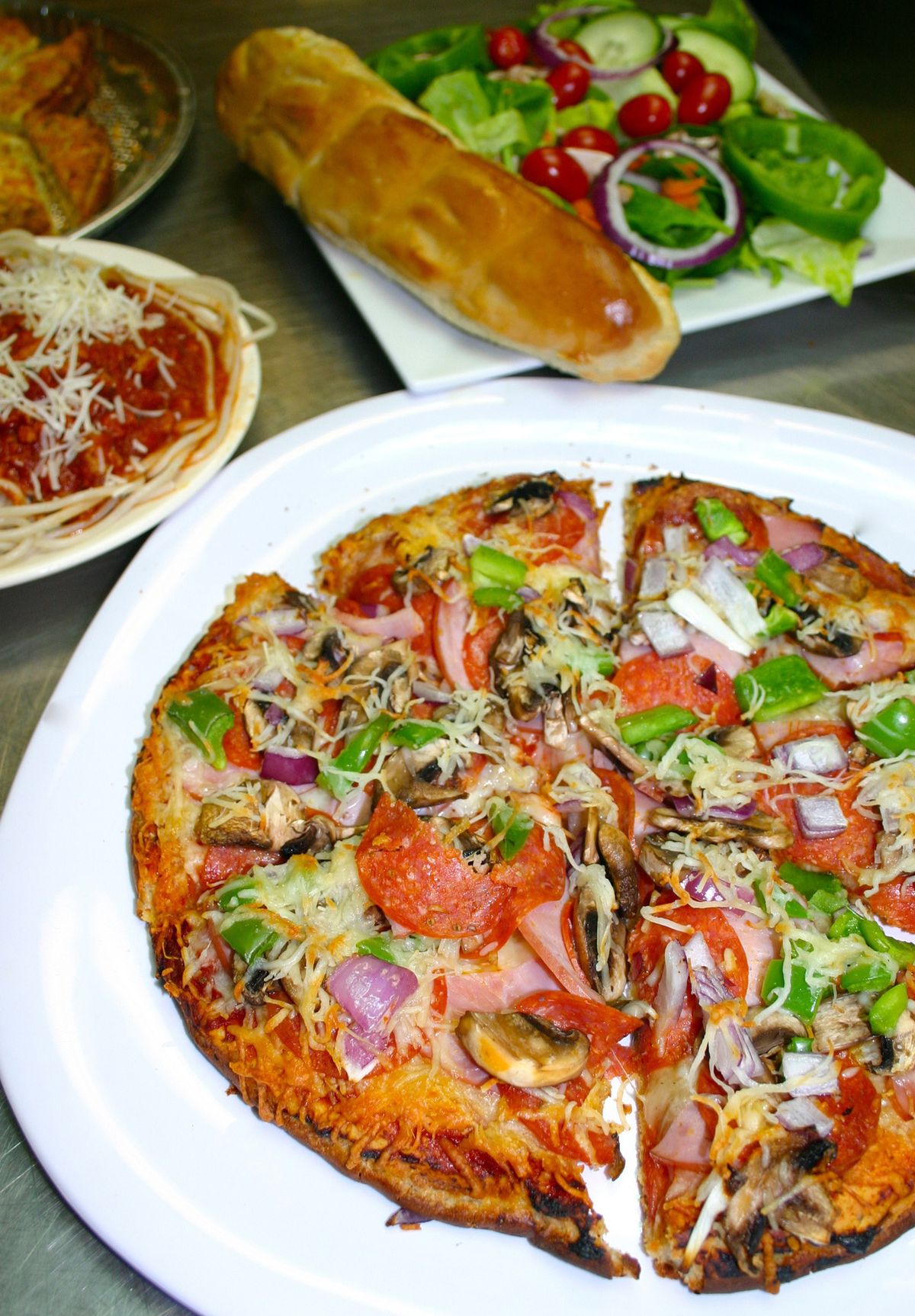 Fusion Flours made a name for itself by supplying gluten-free pizza crusts to many restaurants in Spokane. Now the gluten-free bakery is offering take-and-bake pizzas, lasagnas, pasta and other goodies at its new retail store at 120 E. Wellesley Ave., near NorthTown Mall. (Lorie Hutson)
It's no exaggeration to say that gluten-free eating saved Tara Wright's life. Now, she's hoping to help others who can't eat gluten with her new business.
Almost three years after starting Fusion Flours, Wright and her daughter Adriana Diaz have opened a retail bakery and take-out business for their gluten-free goodies. The shop, Fusion Flours Take & Bakery, opened Tuesday across from NorthTown Mall, 120 E. Wellesley Ave.
Fusion Flours is the result of Wright's recovery from the autoimmune and neurological damage caused by undiagnosed celiac disease. Until five years ago, she was bedridden most of the time by her symptoms: debilitating fatigue, along with severe joint and muscle pain. Her medical problems stumped doctors for years and kept getting worse. Some tried to convince her that the pain was all in her head. She recently recalled one heartbreaking meeting with a doctor who she said yelled at her for wasting their time. Wright said the doctor followed her as she left, scolding her the whole way out.
"I almost got to the point where I believed them," she said.
It wasn't until she kept a food journal at the request of local chiropractor that they noticed wheat and gluten seemed to make things worse. Just days after cutting it out of her diet, she felt better. By the time she had given up gluten for a month, even her neurologist couldn't deny the difference in her health and energy.
Cooking and baking – trying to find delicious ways to fill her cravings for the gluten-filled foods she could no longer eat – became Wright's therapy. After years in bed, she barely had the stamina to make one recipe before she was too exhausted to continue. Just holding her arms out in front of her to stir and mix was an effort.
Slowly she found ways to combine gluten-free flours for breads, pizza crust and scones with a delicious taste and texture. When she shared them with others, they were surprised to find they didn't have the gritty texture that rice flour can give to some gluten-free baked goods.
The former commercial kitchen where Wright and Diaz first started making the gluten-free pizza crusts, breads and scones has been converted into their new take-out store and bakery. The kitchen there is exclusively gluten-free to avoid cross-contamination. A rotation of baked goods, pizza, scones, bread, curries, lasagna and pastas are offered. Customers can purchase a single serving of the rotating gluten-free entrée specials or a family-size meal ready to be warmed and served.
Wright will also feature products from other businesses there. Curries and mango pudding made by local Thai cook Somkhit Buerger will be available. Buerger's products are also carried at Huckleberry's Natural Market on the South Hill. Natural Start Bakery will sell some retail teas and other gluten-free baked goods.
Rotating daily specials of breads, scones, brownies, cookies, cake pops and other goodies will be offered. The shop is open noon to 7 p.m. Tuesday through Saturday.
Fusion Flours baked goods and gluten-free mix can still be found around town, too. Bennidito's, Five Mile Heights Pizza, Manito Tap House, Hugo's On The Hill, Ferrante's Marketplace Cafe, China Dragon, Did's Pizza and Froyo, Monterey Cafe, Super 1 Foods, Rosauers, Huckleberry's and the Deer Park Farmers Market all carry Fusion Flours products.
Gluten is a protein found in wheat, barley and rye. People who have celiac disease can't eat gluten because the proteins damage the villi of the small intestine and prevent absorption of nutrients from food. If it is untreated, some people with celiac disease can experience the kind of autoimmune problems that Wright was having. A gluten-free diet is the only existing treatment for the disease. Some people are gluten intolerant and feel better when they eat a gluten-free diet.
Miso Fresh Asian restaurants open
The two former Edo Japan locations at the NorthTown Mall and River Park Square are now Miso Fresh Asian.
Owner Jay Underwood revamped and reopened the restaurants in late February.
Dishes include freshly prepared entrees and many healthy stir-fried options, including teriyaki with rice or stir-fried noodles with the choice of vegetables, chicken, organic tofu, beef or shrimp. Thai yellow curry and ramen served with or without Asian pulled pork are also featured. Dishes are still cooked to order in front of the customers, but now they're made in stir-fry pans. A Vietnamese banh mi sandwich is also on the menu. Snacks include steamed edamame and sweet potato fries with miso spice served with curry ketchup and Sriracha mayo.
The menu at Miso was designed by chef Curtis Smith, an instructor at the Inland Northwest Culinary Academy at Spokane Community College, who promised "Southeast Asian flavors never seen before in a food court" in a news release from the company.
Many dishes can be made gluten-free, vegetarian or vegan by request.
There are more menu details online at www.miso freshasian.com. Miso Fresh Asian restaurants are open 10 a.m. to 9 p.m. Monday through Saturday, and 11 a.m. to 6 p.m. Sunday.
New owners at Europa Restaurant and Bakery
Longtime owner Janice Maas recently retired from Europa, but the new owners of the downtown Spokane institution have familiar faces.
Jeff Engels served as Europa's chef for the past year, and his wife, Aja Engels, has worked at the restaurant for three years.
"We bought Europa because we believe it is a great restaurant that just needs a little bit of polishing. We don't really have any major changes planned," Aja Engels said.
Jeff Engels will make a few more of the dishes from scratch and they're planning to continue wine dinners. The dinners, held Wednesday evenings mid-month, were put on hold while ownership changed hands. The next dinner features six courses, served with six different Washington wines and will be at 6 p.m. March 20.
Europa is also planning to host Easter brunch for the first time this year.
Maas still owns the Wall Street Diner. She owned Europa for 22 years. The restaurant, one of the longest-running in downtown Spokane, opened in 1981.
Coeur d'Alene Dishcrawl debuts
A national start-up is debuting in Coeur d'Alene.
Dishcrawl is a traveling feast that takes diners to four local restaurants in one night. It's a chance to meet the owners and chefs at the restaurants while tasting a sample from their menus. Participating restaurants are kept secret until two days before the event, when the first location is revealed to ticket holders.
Dishcrawl coordinator Nicol Barnes said in a news release, "Coeur d'Alene has an amazing food community that we are looking forward to exploring." The progressive, prix fixe dinners are also offered in San Francisco, New York, Montreal, Ottawa, San Jose, Toronto, Philadelphia and Washington, D.C., among other cities.
The first Coeur d'Alene Dishcrawl is planned for March 26. Tickets are $45 per person. For more information, go to dish crawl.com/coeurd'alene or contact Barnes, (208) 660-1445 or nicolb@dishcrawl.com.
Small Bites
• The Metro Café has closed.
The restaurant, know for sandwiches made from meat roasted and carved on site, opened 25 years ago in the skywalk at 502 W. Riverside Ave. For the last couple of years, it was operated by Brian and Cami Hamilton, who subleased the restaurant from owner Andrew "Swanee" Swanson.
Metro Café served its last meals on Feb. 28. It announced the closure on Facebook the week before closing.
• Taste Spokane, a tasting event at the Northern Quest Resort & Casino that benefits the Wishing Star Foundation, will be 6 to 10 p.m. Friday.
It is the seventh annual event. Last year, more than $30,000 was raised to help grant wishes to ailing children.
Tickets are $35 in advance or $40 at the door. Admission includes five taste tokens and a wine glass. There is more information about participating restaurants, breweries, wineries and other businesses at www.tastespokane.com.
Tickets can be purchased online, at Mountain West Bank, 12321 E. Mission Ave., Spokane Valley, or by calling Northern Quest at (509) 481-6700.
Local journalism is essential.
Give directly to The Spokesman-Review's Northwest Passages community forums series -- which helps to offset the costs of several reporter and editor positions at the newspaper -- by using the easy options below. Gifts processed in this system are not tax deductible, but are predominately used to help meet the local financial requirements needed to receive national matching-grant funds.
Subscribe to the Spokane7 email newsletter
Get the day's top entertainment headlines delivered to your inbox every morning.
---