Sports
Vegas perfect fit for Pac-12 tourney
Wed., March 13, 2013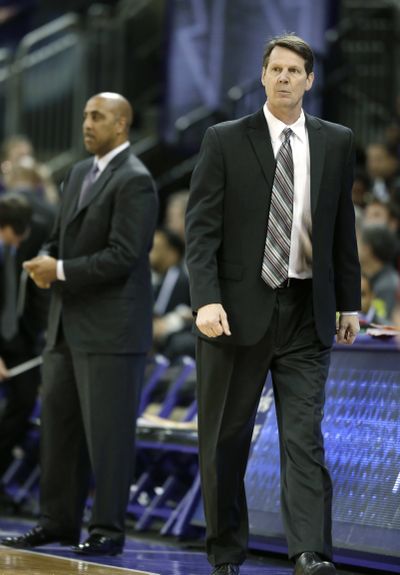 LAS VEGAS – The No. 1 basketball team in the nation just closed its show. The No. 1 conference in the nation has opened down the street.
Also here, for its first extended Las Vegas engagement, the Pac-12.
And why do we get the feeling of finding out that CeeLo, Celine and Cirque du Soleil are all sold out, but we can still get into see Carrot Top?
Yes, sorry, another Pac-12 joke.
Except this may be the most ideal match of city and tournament college basketball has ever seen.
Home to the highfalutin, the bluffers, the desperate and the ridiculous. A little seedy, a little sad, a dice roll away from deliverance – this is Vegas, and this is the Pac-12.
An example was Washington coach Lorenzo Romar, handicapping the event in the context of the Huskies' first-round opponent in tonight's late show, rival Washington State:
"If there was such a thing as momentum for this tournament," he said, "I'd pick them to win it."
Of course, moments earlier, he'd insisted that momentum has nothing to do with this tournament.
Nonetheless, it remains that the Cougars – roommates with Oregon State in the conference's basement studio – are the hottest thing going off their humiliations of Pac-12 champ UCLA and Spokane's newest downtown street bangers, USC. The notion that Wazzu is as equipped to run off four wins in four days as anyone seems insane, and yet.
"One week, one team is going to win the league – they're anointed the champ," Romar said, thinking back over the season. "The next week it all changes. There's someone else."
Of course, that the league's ultimate champion couldn't even find a stamp to mail it in against the Cougs on the season's final weekend is the sort of thing that keeps Pac-12 basketball a punch line, whether or not it's deserving.
Like the notion that because the Bruins staggered to the finish line with five conference defeats is Exhibit A for mediocrity and the lack of great teams. That four of the five other "power" conferences were won with four doesn't seem to elicit the same verdict.
At least the Pac-12's sad-sackage has ebbed from a year ago, when the NCAA committee could only find room for two teams and ignored Romar's regular-season champions completely.
And now, Vegas!
If you haven't noticed, Sin City has rebranded itself as Basketballville, home in the space of a week to four different conference tournaments. The Pac-12 is the come-lateliest of those Johnnys, having holed up this week at the MGM Grand Garden Arena as a warm-up act to Justin Bieber, Floyd Mayweather and other headliners who have been booked into the summer.
For this tournament, the joint is configured to accommodate 13,151, which is how many seats always seemed to be empty at the Staples Center when the tournament was L.A.'s afterthought.
"One of the things that didn't feel good about it," said Arizona coach Sean Miller, "is that kids waited their whole lives to be a part of March Madness and you're in this magnificent arena and it's not even half-filled. It's hard for us to validate that this is a 'stage' you can play on when the conference tournament isn't a big deal."
Until those seats start filling, though, it's difficult to assume they will. Yes, the WCC packs the much smaller house at the Orleans, but it wouldn't without the Rolling Thunder Revue that is the Gonzaga fan base, which would overrun Dickshooter, Idaho, just for the opportunity to wear a "Go Zags" shirt.
One good sign: Oregon State coach Craig Robinson reported that his school sold more tickets for this tournament than the past three combined at Staples.
"And even if your team is out in the first couple of days," he said, "people can still have a nice weekend."
Hey, maybe they don't even have to bother coming to the games at all.
"This ticket three years from now," insisted UCLA coach Ben Howland, "will be one of the hardest tickets in the country to get.
"I think it needs to stay there for the next 100 years."
Spoken like a coach who knows that losing the tournament out of town beats losing it in his hometown any day.
That the Pac-12 had to step out of its footprint in hopes of drawing an audience should still be a cause for red faces around commissioner Larry Scott's shop of merry marketeers, but you know what they say about desperate times. Now it's time to make this work, and Stanford coach Johnny Dawkins thinks there's a formula for that, too.
"It will pique people's interest," he said, "when you come to a tournament and feel anyone has the chance to win it."
Even the Cougs. Or Carrot Top.
Local journalism is essential.
Give directly to The Spokesman-Review's Northwest Passages community forums series -- which helps to offset the costs of several reporter and editor positions at the newspaper -- by using the easy options below. Gifts processed in this system are not tax deductible, but are predominately used to help meet the local financial requirements needed to receive national matching-grant funds.
Subscribe to the sports newsletter
Get the day's top sports headlines and breaking news delivered to your inbox by subscribing here.
---