News > Spokane
Front & Center: Sonna Brado, Jaazz Salon
Sun., Aug. 24, 2014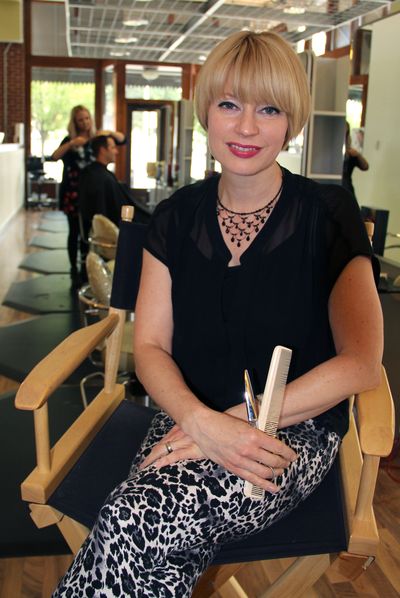 Sonna Brado's introduction to hair styling wasn't a baptism by fire – more baptism by smoke.
"I was about 14, and I hated the hair salon," she says, "because back then the stylist would light up a cigarette and put it right in front of you."
Brado envisioned a career in the food-service industry, but after high school her parents offered to pay her way through Cinderella Beauty School in Bremerton. She agreed, and discovered she loved it.
While working in Seattle several years later, she accepted a job at Jaazz Salon in Cheney. Soon after turning 21, Brado bought the two-station shop.
"We had a lot of fun. We cut hair barefoot," she recalls, "and played INXS so loud we had to turn it down to answer the phone.
"When I got married three years later, my husband, Mark, turned it into a real business."
Now based in downtown Spokane, Jaazz Salon grosses more than $1 million a year, and Brado travels extensively for KMS California Hair Products.
Her "contemporary classic" haircut entries recently won top honors at the North American Hairstyling Awards competition, which Brado describes as her industry's Oscars.
This fall, Jaazz Salon and Skin Care Center will move from the corner of Riverside and Washington to 421 W. Main, the former headquarters of Huppin's Hi-Fi.
During a recent interview, Brado discussed her career and offered advice on how to get the right haircut.
S-R: What were your interests growing up in Bremerton?
Brado: Playing outside. Climbing trees. In high school, I did gymnastics and took food-service classes at the skills center. I wasn't interested in hair at all.
S-R: When your parents offered to pay your tuition to cosmetology school, was that a life-changing moment?
Brado: It was. Back then, tuition cost $1,500 a year. Now it's $15,000.
S-R: What makes a salon successful?
Brado: No. 1 is customer service. You also have to have great technique, good teamwork and a lot of education.
S-R: When you started out in 1985, reputations were spread mostly by word of mouth. Now, anytime we Google a business, reviews pop up. Does that affect your traffic?
Brado: It definitely can. Mark personally responds to almost all reviews, and tries to rectify things if someone has a bad experience. We've had people actually come to the salon because of how we handled a complaint online.
S-R: Is there a busiest time of year?
Brado: It never slows down. But if someone calls today, we can usually get them in.
S-R: How has technology changed your business?
Brado: We send out confirmations via either text or email. And now a stylist can watch a Youtube video and immediately see how to do a particular cut.
S-R: Do movies and television generate interest in particular styles?
Brado: All the time. For a decade, everyone wanted Jennifer Aniston's Rachel hair. More recently, when Miley Cyrus cut off her hair, that was huge.
S-R: You recently won a big award for your "contemporary classic" haircuts. Describe that look.
Brado: Contemporary classic is taking a classic shape and making it feel new and fresh. The three pictures I entered were a classic bob, one called classic graduation – (figure skater) Dorothy Hamill had that way back when – and a real short kind of Twiggy look.
S-R: What's your role with KMS California?
Brado: I'm one of four artistic directors. I do major shows and stage presentations. I teach at their academy and in other salons. I'll be in Berlin in October presenting KMS's trends for next year. I travel about 100 days a year.
S-R: How did you land that job?
Brado: I'd been an educator for several other companies – TIGI and Brocato – and I love public speaking.
S-R: What's the best and worst part of traveling so much?
Brado: The best part is meeting up with my friends, because a group of us teach together. And spending time in New York's Meatpacking District isn't bad. The most difficult part is not getting a day off when I come home.
S-R: Do you train Jaazz stylists?
Brado: Everyone we hire goes through our apprenticeship program. It's eight to 12 months, depending on how fast they complete their requirements. We also have a company called Brado Education which offers four-hour classes to other stylists around the area.
S-R: What did you pay for Jaazz Salon in 1985?
Brado: $30,000.
S-R: What's the difference between buying a salon and starting from scratch?
Brado: That's what the lawyer wanted to know. I'd been working there and it had a lot of clientele, but I could have started one for a lot less.
S-R: What would it cost to open a salon the size of yours today?
Brado: Probably $300,000 to $500,000.
S-R: What do you like most about your job?
Brado: Making transformations. Our goal is for customers to look great and feel great.
S-R: What are you most proud of?
Brado: The stylists I've trained, and how many great hairdressers we have in Spokane.
S-R: What distinguishes a good stylist?
Brado: You have to smile easily and be helpful. I can train anyone to cut hair. I can't train them to be a nice person.
S-R: How much do your stylists earn?
Brado: Anywhere from minimum wage as an apprentice to $50 an hour, plus tips. We have a stylist who works 32 hours a week and earns almost six figures.
S-R: What's the career outlook?
Brado: Good. We're kind of recession-proof. We're a small luxury that women still allow themselves. But today's stylists have to be very business-minded.
S-R: What advice would you offer someone considering this career?
Brado: Visit a salon and shadow a stylist. A lot of people glamorize our industry, and it is fun. But we work our butts off. We're on our feet 8 to 10 hours a day. Our arms are always up. We're constantly working with chemicals. And we always have to be on – we can't have a bad day.
S-R: What would you recommend clients do to increase their chance of a good salon experience?
Brado: If you see someone who has hair like yours and you like their style, ask them who cut it. And I love it when people bring a few pictures with them, because pictures are a common language. Stylists need to know what you want on five different areas on the head: the nape, the sides, the crown, the top and the back.
S-R: What if clients want a haircut that's not right for them?
Brado: If they bring me a picture, sometimes I'll cover the face so we can go through all five areas of the haircut and see which parts they like. Usually it's just the front, so we can tweak the rest to fit them.
S-R: What mistakes do customers make?
Brado: Not being involved in the process. Those are the people who need the most thorough consultations.
S-R: What's you favorite customer reaction?
Brado: I just got done with a brand new customer, and she wanted to hug me. That's the best reaction.
This interview was edited and condensed. Spokane freelance writer Michael Guilfoil can be reached via email at mguilfoil@comcast.net.
Local journalism is essential.
Give directly to The Spokesman-Review's Northwest Passages community forums series -- which helps to offset the costs of several reporter and editor positions at the newspaper -- by using the easy options below. Gifts processed in this system are not tax deductible, but are predominately used to help meet the local financial requirements needed to receive national matching-grant funds.
Subscribe to the Coronavirus newsletter
Get the day's latest Coronavirus news delivered to your inbox by subscribing to our newsletter.
---