Mushroom mission
Hunt for chanterelles pays dividends in the kitchen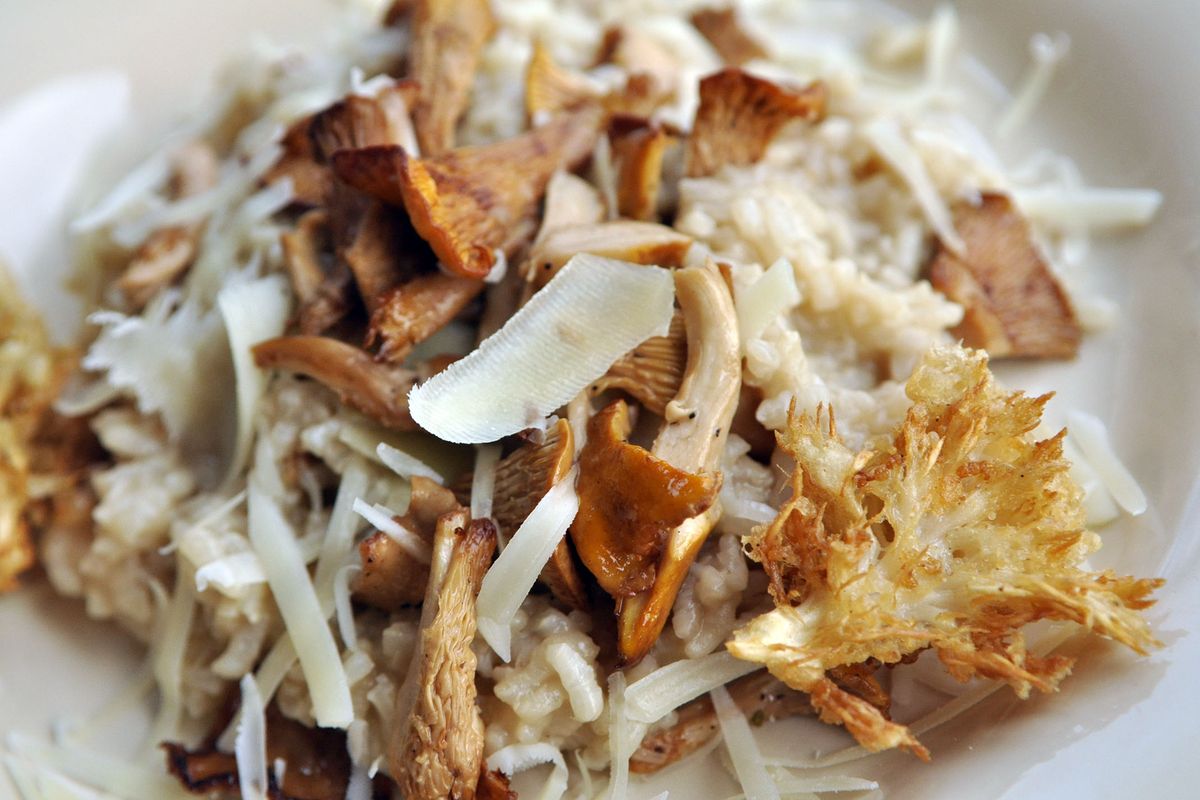 Off road, up an incline, in some shady, pine needle-covered place along the outer edges of the Coeur d'Alene National Forest, there's edible gold.
It pushes through the duff on the forest floor like half-hidden treasure, apricot-colored and ready for harvesting – that is, if you don't hike right over it.
Chanterelles – golden and glorious with a delicately nutty flavor – prefer the rich soil under the cover of Douglas fir and hemlock.
"They are sneaky, stealthy little things. I mean, they're bright yellow. But you've really got to look," said Chris Mueller, owner of Bistro on Spruce in Coeur d'Alene and an avid outdoorsman.
While he's no mycologist, he loves the thrill of a good mushroom hunt and the buttery, garlicky, sautéed reward.
To put it mildly, Mueller loves mushrooms.
In soup and risotto. On a toasted baguette. Even added to a pre-made, take-and-bake pizza.
While chanterelles aren't on the regular menu at his bistro, customers can find them in specials this time of year, and they can always ask to see if there are any on hand.
Chances are there will be.
Mueller goes mushroom hunting at least a half-dozen times each autumn. Prime chanterelle season runs from late August through the end of October, and he guesses he'll forage in the forest one or two more times before the frost comes.
"I love the treasure hunt and I love being out in the woods and I love eating them," he said. "They're delicious."
On a recent weekday morning, Mueller ventured to a hillside he hadn't visited since last year with Kylan Mckee, the chef at Bistro on Spruce, and Mckee's wife, Sumer. He didn't go to his usual, super-secret spot. "I'd have to blindfold you," he said.
Plus, he was there three days earlier, picking it over, likely for the last time this season. Mueller refers to it as "mushroom valley."
Around these parts – and probably most places – mushrooming is a lot like huckleberry picking: People usually won't share their special hunting grounds.
This foray takes Mueller and friends not quite an hour northeast of Coeur d'Alene to the slopes above Steamboat Creek in the western fringes of Idaho's Bitterroot Mountains.
"It's really about finding the right habitat," he said. "We're looking for north slopes, not too steep, and reasonable old-growth fir. It's like mining. You'll find them in pockets and veins and bands. You just have to find that little micro-climate, that perfect little spot, and boom. There they are."
But beware of the look-alikes. There are plenty of them, like funnel-shaped false chanterelles or poisonous jack-o'-lantern mushrooms, both similar in shape and color.
"I stick to the mushrooms I'm 100 percent sure of," said Mueller, whose parents went on forays with a local mushroom club when he was growing up. "They would drag me and my brother along, and it was kind of fun because it was kind of like an Easter egg hunt."
Born and raised in Spokane, Mueller graduated from Ferris High School in 1979 and started working in college at Eastern Washington University as a line cook at the now-closed Patsy Clark's restaurant in Browne's Addition. After managing eateries in Olympia and Portland, he returned to Spokane to help run Luna.
He went on to manage Beverly's at the Coeur d'Alene Resort before opening his bistro, which celebrates its seventh anniversary in November. He describes the menu as "casual Northwest with some influences from all over."
Popularized in France in the 1700s, chanterelles were served as a delicacy to nobility. Today, they're common throughout Europe and North America, where they grow in the wild.
An avid angler – if he's not mushroom hunting, he's fly fishing – Mueller rekindled his love for fungi foraging around 2008 when he went to Priest Lake with a friend who's an experienced mushroomer.
These days, he hunts morels in spring and chanterelles in fall – as well as the occasional lion's mane or pig's ear.
"It's pretty hard work. You're bending over. You're stepping over logs and slimy stuff. You're not on a trail. You're out there, thrashing around," said Mueller, 53. "I'm a geezer."
He brings a compass, long-handled knife, basket, water, a few field guides and his mutt, Bubba. He also picks up trash, typically a couple of beer cans, as he goes. "Forest karma," he said.
"Real mushroom pickers – and sometimes I think I am one – will carry a low-grade paint brush," he said. "You can kind of field-clean as you go and then you don't have as much to do when you get back to the ranch."
Mueller's never been lost in the woods. But, "Once in awhile I'll see a bear," he said. "They just run the other way."
There are no bear sightings on this trip, only a couple of hunters in bright orange – and plenty of evidence of deer and elk along game trails.
That's not what Mueller's looking for.
He spots a specimen, partially covered by pine needles and twigs, peeking out from the forest floor. It's egg yolk-yellow with a wavy, trumpet-like cap atop a thick, ridged stalk.
Mueller slices its base and holds it up.
"You see how pretty and ruffle-y that is?" he said. "It's just got that fluted, ruffle-y edge like pastry crust."
In the crevice of a tree root, he finds another treasure: a white and pom-pom-like lion's mane.
"There's no mistaking this," he said. "There's not another mushroom in the woods that looks like this. There's not a falsie."
On hands and knees, he pulls it from its shadowy home, places it in his basket and marvels: "Doesn't it look like a frozen waterfall?"
Sautéed Chanterelle Mushrooms
From Bistro on Spruce, Coeur d'Alene
8 ounces chanterelles, brushed and wiped clean
1 tablespoon extra virgin olive oil
1 fat pinch chopped shallot (about 1 teaspoon)
1 tablespoon unsalted butter
Kosher salt, to taste
Freshly ground black pepper, to taste
1 teaspoon finely chopped garlic (about 2 cloves)
2 to 3 teaspoons chopped flat leaf parsley
Slice small mushrooms thickly and cut the large ones into a large dice.
Heat olive oil in an 11-inch sauté pan. Add shallots and cook over low heat for 5 minutes, or until the shallots are translucent. Add butter, mushrooms, salt and pepper and cook over medium heat for 8 minutes, until they are tender and begin to release their juices, stirring often. Stir in the garlic and cook for 2 more minutes. Toss in the parsley, sprinkle with salt, and serve warm with toasted baguette slices.
Fall Wild Mushroom Risotto
From Bistro on Spruce, Coeur d'Alene
Risotto is one of those dishes that "likes to be baby-sat" while it's cooking, said Bistro on Spruce chef Kylan McKee. He recommends stirring constantly with a wooden spoon in a figure eight.
9 1/2 tablespoons butter, divided
1 1/2 pounds fresh wild mushrooms (like chanterelle, lion's mane, lobster, porcini, chicken of the woods, or coral mushrooms) sliced about 3/16-inch thick
7 cups chicken or vegetable stock
1 tablespoon extra-virgin olive oil
1 1/4 cups arborio rice
1/4 cup chardonnay
1/4 cup grated Parmesan, plus additional for serving
Melt 2 tablespoons butter in heavy large skillet over medium-high heat. Add ¼ of mushrooms and sprinkle with salt. Sauté mushrooms until tender and beginning to brown, 3 to 4 minutes. Transfer mushrooms to medium bowl. Working in three more batches, repeat with 6 tablespoons butter, remaining mushrooms, and salt and pepper.
Bring 7 cups chicken stock to simmer in medium saucepan; keep warm.
Melt remaining 1 ½ tablespoons butter with olive oil in heavy large saucepan over medium-low heat. Add rice and increase heat to medium. Stir until edges of rice begin to look translucent, 3 to 4 minutes. Add white wine and stir until liquid is absorbed, about 1 minute. Add ¾ cup warm chicken stock; stir until almost all broth is absorbed, about 1 minute. Continue adding stock by ¾ cupfuls, stirring until almost all broth is absorbed before adding more, until rice is halfway cooked, about 10 minutes. Stir in sautéed mushrooms. Continue adding broth by ¾ cupfuls, stirring until almost all broth is absorbed before adding more, until rice is tender but still firm to bite and risotto is creamy, about 10 minutes. Stir in ¼ cup grated Parmesan cheese.
Transfer risotto to serving bowl. Pass additional Parmesan cheese alongside, if desired.
Note: Bistro on Spruce likes to add a small bit of tempura-fried lion's mane mushrooms on top of the dish as a garnish.
Beer Batter for Tempura-fried Lion's Mane
From Bistro on Spruce chef Kylan Mckee
McKee gave me this recipe at the end of our recent mushroom hunt. In the end, I drank the beer and made a modified version of his recipe using soda water instead of IPA. (I just couldn't bear cooking with one of my last cans of Bale Breaker Topcutter IPA.)
Still, the result was light and crispy. I used a few to garnish the Fall Wild Mushroom Risotto, as suggested. But I also just enjoyed some lion's mane fritters by themselves as an appetizer while I waited for the risotto to finish cooking.
1 12-ounce, cold beer (like IPA or pale ale)
1 egg
Salt and pepper, to taste
1 to 2 dashes Tabasco sauce
1 tablespoon Worcestershire sauce
1 cup flour
1 teaspoon baking powder
1 teaspoon corn starch
Pour beer into medium mixing bowl. Add all ingredients through Worcestershire sauce and mix well. Stir in baking powder and corn starch. Sift in flour. (For a denser batter, add more flour, as desired.)
Dip pieces of Lion's Mane in batter, then fry in hot vegetable oil until lightly browned and crispy. Serve immediately as an appetizer or use as garnish for Fall Wild Mushroom Risotto.
Fall Wild Mushroom Bisque
From Bistro on Spruce in Coeur d'Alene
1 yellow onion, diced
1 pound crimini mushrooms, diced
1 pound chanterelle mushrooms, diced
2 tablespoons olive oil
1 tablespoon minced garlic
4 cups vegetable stock
2 cups heavy cream
1 cup grated Parmesan
Salt and pepper to taste
1/4 cup dry sherry
4 sprigs fresh thyme
1 1/2 cups roux (thick, warm paste – half clarified butter, half flour – whisked together in a sauté pan)
Sauté chopped yellow onion and mushrooms in 2 tablespoons olive oil in a stockpot until onions are translucent. Add garlic and bloom. Deglaze with sherry then transfer to a blender. Add 1 cup of stock and puree. Transfer back to stockpot, add cream and remainder of stock. Bring to a simmer and add the Parmesan cheese. Whisk in cheese and watch carefully, stirring constantly, being sure not to let the cheese burn on the bottom. Season with salt, white pepper and thyme sprigs. Slowly add roux, whisk well, and allow to simmer for about 30 minutes.
Note: The chefs at Bistro on Spruce believe all soups taste better if you let them sit overnight in the fridge.
Caramelized Onion-Chanterelle Tart
From Bistro on Spruce in Coeur d'Alene
1 pie crust (use your favorite recipe or store-bought variety)
1 tablespoon Dijon mustard
2 tablespoons butter, divided
2 medium onions, sliced lengthwise (The bistro likes to use Walla Walla Sweets.)
Sprigs of fresh thyme
4 ounces chanterelles, sliced lengthwise
2 eggs
1 cup half-and-half
1 cup shredded Gruyère cheese
1/4 teaspoon sea salt, freshly cracked pepper
Preheat oven to 350 degrees.
Roll out piecrust to fit a 12-inch tart pan. Place in pan and press into the sides. Coat surface with mustard, bake 10 minutes. Let cool.
Melt 1 tablespoon butter in deep skillet over medium heat. Add onions and sauté 15 minutes. Add salt, pepper and thyme leaves. Scrape into small bowl.
In the same skillet, melt remaining butter, add mushrooms, cook 10 minutes. Remove from heat.
Combine eggs and half-and-half, beat until well blended.
Sprinkle about half the cheese on the bottom of the tart shell. Spoon in onions. Pour in egg mixture. Place mushrooms all over the top along with remaining cheese.
Bake 40 minutes, or until tart is golden brown and filling is set. Serve warm or at room temperature.
---