News > Spokane
97-year-old Spokane woman dies in house fire
Wed., Oct. 29, 2014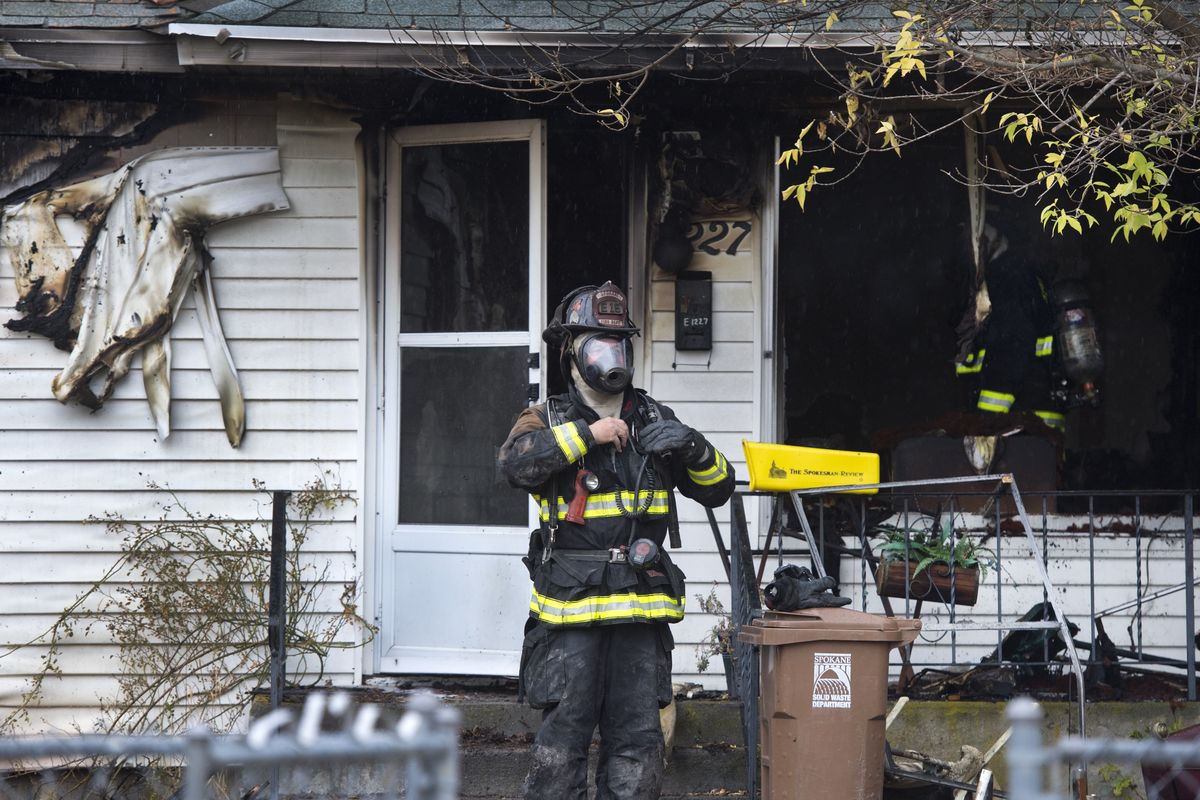 Spokane Fire Department crews work the scene of a fatal house fire at 1227 E. Longfellow Ave. on Tuesday morning. (Dan Pelle)
A 97-year-old woman died in a house fire on Spokane's North Side early Tuesday morning.
Neighbors identified her as Olga Ford and said she was a longtime neighborhood resident. She lived with her son, Trevor Ford, who was able to escape the house, 1227 E. Longfellow Ave., with minor injuries.
Neighbors reported the fire at about 7:15 a.m.
Jodi Elliot, who lives across the street, said her 9-year-old-daughter, Braelin Moyles, spotted the flames as she was getting ready for school.
Elliot said the fire filling her neighbor's house is a sight she'll never forget.
"The window was nothing but fire," she said.
Assistant Fire Chief Brian Schaeffer said Ford's son awoke to a knocking sound, opened his bedroom door, encountered smoke and went outside. He discovered that his mother was not outside and attempted to go back in to get her, Schaeffer said. At that point, it was too dangerous to re-enter the house, Schaeffer said.
Trevor Ford declined treatment or transport to a hospital. Schaeffer said Trevor Ford had some singed hair and smoke inhalation but was otherwise unharmed.
Fire crews made "heroic" attempts to save Olga Ford, but she died at the scene in the house's back bedroom, Schaeffer said.
The house did not have a working smoke alarm at the time of the fire, he said.
Neighbors said Olga Ford had lived in her home for at least 40 years. She made a living altering clothing and made dresses for prom and other special occasions.
The home was built in 1949, according to county property records.
The fire's cause has not been determined, Schaeffer said. Major crimes detectives from the Spokane Police Department were investigating, which is standard practice for any fatal fire.
Local journalism is essential.
Give directly to The Spokesman-Review's Northwest Passages community forums series -- which helps to offset the costs of several reporter and editor positions at the newspaper -- by using the easy options below. Gifts processed in this system are not tax deductible, but are predominately used to help meet the local financial requirements needed to receive national matching-grant funds.
Subscribe now to get breaking news alerts in your email inbox
Get breaking news delivered to your inbox as it happens.
---