News > Spokane
Family decries chance of murderer's release
U.S. Supreme Court ruling forces review of juvenile cases
Tue., April 14, 2015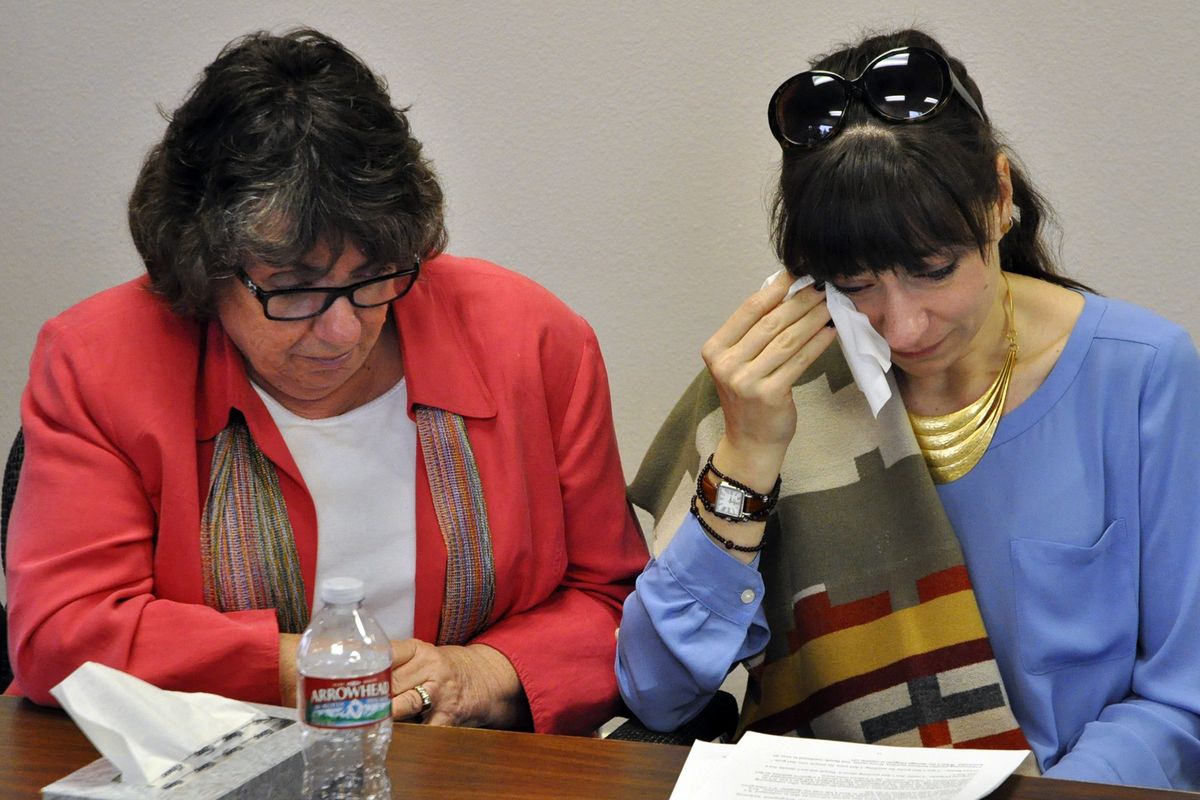 Marne Maykowskyj Nordean, right, pauses to wipe her eyes during testimony to the Indeterminate Sentencing Review Board as her mother, Judy Maykowskyj, looks on. (Jim Camden)
OLYMPIA – When Daniel Delgado ambushed Mike Maykowskyj and killed him for beer money nearly 25 years ago, he robbed a fiancee of a husband, an infant daughter of a father, a sister of a brother and parents of a son.
On Monday, Maykowskyj's fiancee, parents, sister and daughter – who is now grown and expecting her first child – urged a state board not to let Delgado out of prison early because of a change in state law prompted by a U.S. Supreme Court decision.
Delgado showed no remorse for the 1992 killing, they said, and hasn't reached out to apologize to the family.
Ashley Cavuto, who was 2 ½ when her father was killed while delivering a pizza in West Central Spokane, wept when she tried to tell the Indeterminate Sentencing Review Board what it was like to grow up without a dad to witness the major milestones of her life, from learning to ride a bike to graduating from high school and college to walking her down the aisle at her wedding.
"I can't do it. I'm sorry," she said between sobs during a telephone hookup from her home in New York state. She let her aunt finish her statement.
"I beg you not to take away the only justice we have," Marne Maykowskyj Nordean read for her niece.
Nordean and other family members recalled Delgado's comments to a Spokesman-Review reporter in a jailhouse interview that he couldn't feel any more remorse for killing Maykowskyj than he'd feel for killing a deer while hunting or stepping on a bug on the sidewalk.
'His life was stolen'
Delgado was 17 when he and two other Spokane residents ordered a Domino's Pizza to be delivered to a darkened home in West Central. They waited in the bushes until Maykowskyj got out of the car; Delgado shot him with a sawed-off shotgun. The three fled the scene without getting any money, and Maykowskyj died later at a hospital.
"His life was stolen at the hands of Daniel Delgado, the killer who wanted beer money for his gang," Nordean said. Afterward the three argued about who would get to shoot their next victim.
Maykowskyj's murder rocked Spokane and was sometimes called the pizza-delivery slaying, although the family says that diminishes his life as a loving father and family member and a Gonzaga law student working three jobs trying to make ends meet.
Facing a charge of premeditated first-degree murder with aggravating circumstances, which carries life in prison or the death penalty, Delgado took a plea deal. Because of the deception involved in the robbery and the ambush, Superior Court Judge John Schultheis sentenced him to 450 months in prison, which was in the high end of the standard range. Under that sentence, he'd be released in 2025.
But in 2012, the U.S. Supreme Court ruled that states cannot sentence juvenile offenders to life or extended sentences without considering them for early release because of "diminished culpability"; in other words, their youth might have been a mitigating factor in their guilt.
To comply with that ruling, the Legislature last year passed a law allowing reviews for prisoners convicted of murder committed when they were juveniles and sentenced to extended prison terms. The Indeterminate Sentencing Review Board, which also handles pardons and reduced sentences for other inmates, was given that responsibility. The law went into effect June 1, and Delgado filed June 2 for his sentence to be reduced. He's among 22 inmates whose sentences will get a hearing at the Shelton correctional facility next month.
Refining reviews
The Maykowskyjs said they weren't informed of Delgado's request until late January and were initially told to appear at a board session for victims about two weeks later. That wasn't enough time, they told the board, and they got a two-month extension. They used that time to research the law, hire an attorney and prepare a presentation.
George Maykowskyj, Mike's father, said Delgado isn't like the person that prompted the Supreme Court ruling in Miller v. Alabama. The defendant in that case, Evan Miller, was 14 when he was involved in a robbery and beating that resulted in a man's death. Delgado was 17 and a juvenile at the time of the murder, but he was an adult at 18 when he accepted the plea bargain to avoid the death penalty, he said.
If the board releases Delgado and he kills again, "the blood will be on your hands and you will never be able to wipe it clean," said Lisa Buschner, Maykowskyj's former fiancee.
The Maykowskyjs said the new law essentially puts the burden on victims' families to prove a murderer shouldn't be released. But board members tried to assure them Delgado's release isn't guaranteed. None of the inmates who have applied for review have been released, and a decision on Delgado is months away.
"Our hands aren't tied" by the court ruling and the law, Tom Sahlberg, a retired Spokane police officer who is now a board member, assured them. "Your information is important. This is not just a review and a rubber stamp."
Sen. Jim Hargrove, D-Hoquiam, sponsored the bill that last year gave the board the task of reviewing these cases. He said the Legislature had no choice because of the Supreme Court decision.
The state is still refining the process, Hargrove said. Monday the Senate passed and sent to Gov. Jay Inslee legislation that requires the Department of Corrections to supervise any prisoner placed in a community release program and return them to prison for violating the terms of their release.
Legislation can't address the problems the Maykowskyjs had with lack of notification, Hargrove said, but his office has intervened for several victims' families, and he is pushing the board and the department to be as flexible and sensitive as possible to the needs of victims.
Local journalism is essential.
Give directly to The Spokesman-Review's Northwest Passages community forums series -- which helps to offset the costs of several reporter and editor positions at the newspaper -- by using the easy options below. Gifts processed in this system are not tax deductible, but are predominately used to help meet the local financial requirements needed to receive national matching-grant funds.
Subscribe now to get breaking news alerts in your email inbox
Get breaking news delivered to your inbox as it happens.
---