A&E > Food
Author finds way to connect whiskey, pie and the written word
Wed., April 22, 2015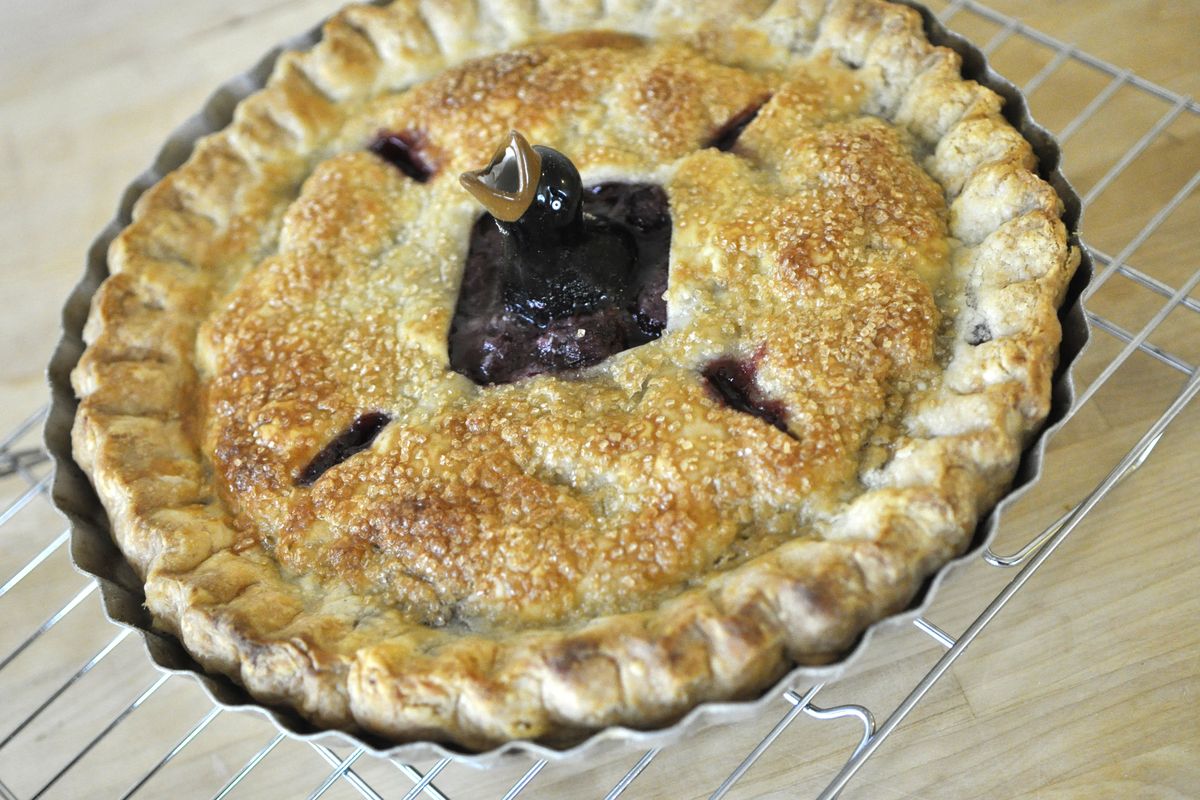 Kate Lebo has written two books about pies, and along with Sam Ligon, helps host Thursday night's Get Lit Pie and Whiskey Reading. (Adriana Janovich photos)
Kate Lebo likes lard and rolling pie dough right on the counter with a liberal sprinkling of flour, preferably King Arthur brand. She doesn't bother with wax paper.
Pie-making takes hours, so saving minutes here and there is a gift. It means cutting into that crust and plopping a forkful in the kisser earlier than expected. This is also something Lebo likes – along with unsalted European butter, kosher salt, pastry scrapers and pie birds.
But forget the food processor. Lebo combines dough by hand, measuring ice water not by tablespoons but by the feel of the dough.
"That's the secret ingredient, basically: how you touch the dough," the writer and pie-baking instructor said. "You want to touch it enough to rub the fat into the flour and evenly distribute the water, but not so much that it gets tough."
The author of two books about pie, Lebo also helped create one of Spokane's pie-centered events. Pie and Whiskey melds three of the things that she and fellow poet and writer Sam Ligon hold near and dear: whiskey, pie and the written word.
They say all three have something in common: They're better when shared with others.
"Pie itself is a social treat. It's eight slices. You can (eat it all yourself) but you won't feel very good. Whiskey is the same," said Lebo, 32.
Ligon, 51, concurred: "It's more fun to have whiskey with somebody else. It's more fun to have pie with somebody else."
Plus, he said, "The combination is just killer. When you put pie and whiskey together, it's better than pie and coffee."
Their fourth annual Pie and Whiskey reading, held in conjunction with Get Lit, is Thursday night. To prepare, the pair – along with up to a half-dozen other literary helpers – will bake 20 pies.
"If you like high-pressure baking, you'll love our kitchen," said Lebo, who oversees all of the baking and co-hosts the reading with Ligon, who teaches fiction at the Inland Northwest Center for Writers at Eastern Washington University.
They'll make five different flavors. For sure, there'll be huckleberry because, Ligon said, "That's my pie."
Ligon and Lebo met five years ago while teaching at the Port Townsend Writers' Conference. They ran into each other at a coffee shop and got to talking about the pies in the pastry case.
"I had been obsessively making pie when I wasn't writing," Lebo said.
And Ligon had "just mastered" the crust for that huckleberry pie he loves.
They decided to bake a pie together. Shopping for ingredients at the Jefferson County Farmers Market, Lebo looked for lavender and ginger, and Ligon realized he was in over his head. "I realized Kate has technique," he said. "I didn't know anything about technique."
They invited other writers over for pie and whiskey, and had such a good time they did it again the next year. In fact, they still host the informal Pie and Whiskey during the summertime conference.
In 2012, they collaborated on the first formal event in Spokane, hoping 70 people might show up. They were ready with 10 pies and eight fifths. Three hundred people came.
"We ran out of everything when people were still standing in line," Ligon said.
The idea was guests would get to eat pie and drink whiskey while writers read original works inspired by the rich, buttery, sweet dessert and caramel-colored spirit.
"Readings are often boring," Ligon said. "If you give people pie and whiskey at a reading, it's better."
This is what he tells the writers: "This event is about pie first. Then it's about whiskey. You're last. We want ego out of this equation. This is about community."
Last year, they went through 20 pies and two cases of Dry Fly. That's the plan for this year, too. It just about hits Lebo's limit. "Twenty-two is the most pies I can make in one day without my head exploding," she said.
Originally from Vancouver, Washington, Lebo moved to Spokane in March.
This month, her 2013 book, "A Commonplace Book of Pie," was rereleased. The whimsical contemplation of pie and pop culture – part poetry, part recipes – is punchy and eclectic. It was a precursor to the longer 2014 "Pie School: Lessons in Fruit, Flour and Butter."
In it, Lebo writes, "Pie can seem like impossible magic." That old idiom – easy as pie – is a lie.
"You don't run the risk of ruining anything until you add the water," Lebo said.
That step follows combining flour, sugar and salt, then rubbing fat into the dry mixture with your hands. After that, catastrophe can strike. Cookbooks can help.
"Pie School" contains plenty of practical tips – some of which are shared here – as well as 50 recipes. It also references Don McLean ("American Pie"), Def Leppard ("Pour Some Sugar on Me"), Warrant ("Cherry Pie") and the TV show "Portlandia." The "How to Put a Bird on It" section discusses the proper way to place ceramic funnels, or pie birds, in the center of a pie.
Still, Lebo insists the best way to learn the art and craft of pie-making is from someone else. "It's a folk art," she said. "It's best taught person to person."
Pie-making is "hard the way knitting is hard. Once you know how to use your hands, you're fine."
Lebo will come to your kitchen – often clad in a vintage-y dress and carrying a pile of aprons – to lead a session with three or more people for their own private pie school. She starts with ice water – filling a pitcher with ice cubes and water, and placing it in the freezer until a sheer layer of ice forms on top. Keeping pie dough cold is important; if it starts to warm up, Lebo puts it in the fridge.
She doesn't bother with gadgets. You must use your hands. "They make better pie crust," Lebo said as she demonstrates "the most important gesture" by drawing her thumbs outward over her fingers. "It's not claw hands. They're up and open."
Although she won her first pie-baking contest with a Crisco crust, Lebo isn't into vegetable shortening. "Crisco's super-flaky, but it doesn't have any taste," she said. Instead, Lebo likes butter or a combination of butter and organic, leaf lard.
Once the fat is rubbed into the dry ingredients, it's time to add the ice water. It makes sense to want to measure out 6 to 8 perfectly level tablespoons, but Lebo advises against this. Although it seems counterintuitive, "You get the right amount of water by not measuring," Lebo said.
Do it by feel, adding water little by little until the consistency is "just right. It's a Goldilocks thing," Lebo said.
Whatever you do, never knead. "Kneading is a bread verb," Lebo said. "With pie, you toss."
Keeping your fingers open and apart, toss and repeat until the mixture coheres. Test it by throwing a dough ball into the air; if it sticks together, it's ready.
If you're using alcohol in your filling, rye whiskey and brandy generally work best. And, if you mess up, don't fret.
"The oven will heal all," Lebo wrote in "Commonplace."
Still, you must be patient and let the finished product cool for one to two hours so the filling can set. Then, invite friends over for whiskey and a slice. As Lebo writes – "Pie, like any good dish, unfolds like an event."
(She's My) Sour Cherry Pie with All-Butter Piecrust
From "Pie School" by Kate Lebo
Use tart or sour cherries for this pie. Lebo found a bag of frozen tart cherries at Costco when we baked this beauty.
"Never bake with Bings or Rainiers," Lebo said. In general, "If it tastes sweet and juicy, eat it; don't bake it."
For the crust
2 1/2 cups flour
1 tablespoon sugar
1 teaspoon salt
1 cup (two sticks) well-chilled unsalted butter
For the filling
5 cups (about 2 pounds) pitted, fresh or frozen, sour or tart (but not sweet) cherries
1 cup granulated sugar
1 teaspoon freshly squeezed lemon juice
1/2 teaspoon almond extract
Pinch of salt
Pinch of ground nutmeg
5 tablespoons flour
2 tablespoons chilled, unsalted butter, cut into small chunks
Egg white wash (1 egg white beaten with a teaspoon of water)
Demerara sugar, for sprinkling
Make the dough: Fill a spouted liquid measuring cup with about 1 ½ cups of water, plop in some ice cubes and place it in the freezer while you prepare the next steps of the recipe. The idea is to have more water than you need for the recipe (which will probably use ½ cup or less) at a very cold temperature, not to actually freeze the water or use all 1 ½ cups in the dough.
In a large bowl, mix the flour, sugar and salt. Cut ½- to 1-tablespoon pieces of butter and drop them into the flour. Toss the fat with the flour to evenly distribute it.
Position your hands palms up, fingers loosely curled. Scoop up flour and fat and rub it between your thumb and fingers, letting it fall back into the bowl after rubbing. Do this, reaching into the bottom and around the sides to incorporate all the flour into the fat, until the mixture is slightly yellow, slightly damp. It should be chunky – mostly pea-size with some almond- and cherry-size pieces. The smaller bits should resemble coarse cornmeal.
Take the water out of the freezer. Pour it in a steady thin stream around the bowl for 5 seconds. Toss to distribute moisture. You'll probably need to pour a little more water on and toss again. As you toss and the dough gets close to perfection, it will become a bit saggy and slightly tacky to the touch. Press a small bit of the mixture together and toss it gently into the air. If it breaks apart when you catch it, add more water, toss to distribute the moisture, and test again. If the dough ball keeps its shape, it's done. (When all is said and done, you'll have added about 1/3 to ½ cup water.)
With firm, brief pressure, gather the dough in 2 roughly equal balls (if one is larger, use that one for the bottom crust). Quickly form the dough into thick disks using your palms and thumbs. Wrap the disks individually in plastic wrap. Refrigerate for an hour to 3 days before rolling.
Roll out the bottom crust and place it in a 9- or 10-inch pie plate. Tuck the crust into the plate and trim the edges. Refrigerate the crust while you prepare the next steps of the recipe.
Make the filling: In a large bowl, combine the cherries with the granulated sugar, lemon juice, almond extract, salt and nutmeg. Taste and adjust flavors as needed. Stir in flour and butter and set the filling aside.
Preheat oven to 425 degrees.
Roll out the top crust and cut into strips for a lattice (if you wish). Retrieve the bottom crust from the refrigerator.
Pour the filling into the bottom crust, mound it with your hands and drape the top crust over it. Trim, fold and flute the edges, if you like. Cut generous steam vents (if you're not making a lattice), brush the crust with the egg white wash and sprinkle it with demerara sugar.
Bake the pie in the middle of the oven for 15 to 20 minutes, until the crust looks blistered and blond. Reduce the heat to 375 degrees. Bake another 35 to 45 minutes more, rotating the pie front to back about halfway through to ensure even baking, until the crust is deeply golden and the juices are thickened and bubble slowly through the vents.
Cool the pie before serving, at least a few hours. Store leftovers on the kitchen counter loosely wrapped in a towel for up to three days.
Yield: 1 double-crust pie
These Instagram videos show Kate Lebo making pie, step-by-step
Local journalism is essential.
Give directly to The Spokesman-Review's Northwest Passages community forums series -- which helps to offset the costs of several reporter and editor positions at the newspaper -- by using the easy options below. Gifts processed in this system are not tax deductible, but are predominately used to help meet the local financial requirements needed to receive national matching-grant funds.
Subscribe to the Spokane7 email newsletter
Get the day's top entertainment headlines delivered to your inbox every morning.
---