Sports
Buffaloes' redshirt freshman quarterback Cade Apsay a mystery to Cougars
Wed., Nov. 18, 2015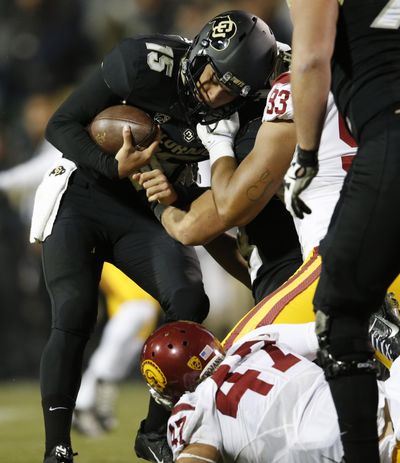 PULLMAN – The Buffaloes were on the brink of finally breaking through, against USC no less, thanks to a career night from Sefo Liufau. Then Colorado's starting quarterback went down, ending his season and subjecting his teammates to yet another close loss in a season full of near misses.
But wait, the Lisfranc injury that will sideline Liufau for 6 to 8 months occurred on the last play of the first quarter, with CU leading 7-3. So how did the Buffaloes lead 17-6 at halftime, and only lose 27-24 to the No. 22 Trojans?
Those facts are testaments to the play of backup quarterback Cade Apsay, a redshirt freshman from Canyon Country, California, who filled in once Liufau went down.
Buffaloes coach Mark MacIntyre says that Apsay will have to "learn while playing sad," meaning he's going to experience letdowns and setbacks in his first career start on Saturday against Washington State.
The Cougars will surely be happy to give him as many lessons as he needs, provided he learns them while throwing interceptions and suffering sacks – USC brought him down five times in three quarters.
"You've got to change the looks and get them in pass situations," said Washington State inside linebackers coach Ken Wilson, whose Cougars will almost certainly face three consecutive freshman quarterbacks to conclude the season.
"We can use our whole package," Wilson said. "And make his decision-making a little bit harder than he wants it to be. "
Apsay may need to learn to handle pressure better. MacIntyre said after the game, "He should have gotten the ball out of his hands a couple times a little bit quicker … when it wasn't right there, or thrown it away."
USC did not make it easy for the freshman, blitzing more often once Liufau left the game.
But MacIntyre also spoke very highly of Apsay's throwing accuracy, and the numbers seem to bear that out. Apsay completed 18 of 23 passes for 128 yards and two touchdowns against USC and never turned the ball over.
"Of course it's going to be a little bit different because Cade is coming in and doesn't have that much experience," running back Phillip Lindsay told reporters. "Once he got the hang of it, it started clicking again. It was tough at the beginning, losing Sefo with the momentum like that."
Apsay committed to Colorado in 2013, choosing the Buffaloes over the Arizona Wildcats, and began the season as the third quarterback on the depth chart. He beat out junior Jordan Gehrke for the backup spot, and while MacIntyre said they would prepare Gehke to play as well, the plan is for Apsay to be CU's starting quarterback for the remainder of the season.
The Buffaloes new quarterback is a mystery. The Cougars know Liufau, even though they haven't faced him in his two years as the starting quarterback. But the injured starter played his high school ball for Tacoma's Bellarmine Prep, losing to WSU linebacker Peyton Pelluer and the Skyline Spartans in the State 4A championship game.
Even the Pac-12's other freshmen quarterbacks – Oregon State's Seth Collins, UCLA's Josh Rosen and Washington's Jake Browning – have played enough games and put enough plays on tape that preparing for them is no different than any other passer.
But Apsay is an enigma. Liufau could run – he had 38 runs of five or more yards this season. Apsay hasn't shown that ability, but he was a threat with his legs in high school, once ripping off a 55-yard touchdown on the ground.
His longest pass this season is just 20 yards, so the Cougars can't be certain if he has the ability to take the top off the defense with deep vertical bombs.
In some respects, the Cougars will be the ones to write the book on Apsay. They just have to make sure it's not a heroic tale.
Local journalism is essential.
Give directly to The Spokesman-Review's Northwest Passages community forums series -- which helps to offset the costs of several reporter and editor positions at the newspaper -- by using the easy options below. Gifts processed in this system are not tax deductible, but are predominately used to help meet the local financial requirements needed to receive national matching-grant funds.
Subscribe to the sports newsletter
Get the day's top sports headlines and breaking news delivered to your inbox by subscribing here.
---