A&E > Food
Team behind Syringa, Garnet open Bluebird restaurant in CdA
Thu., Aug. 4, 2016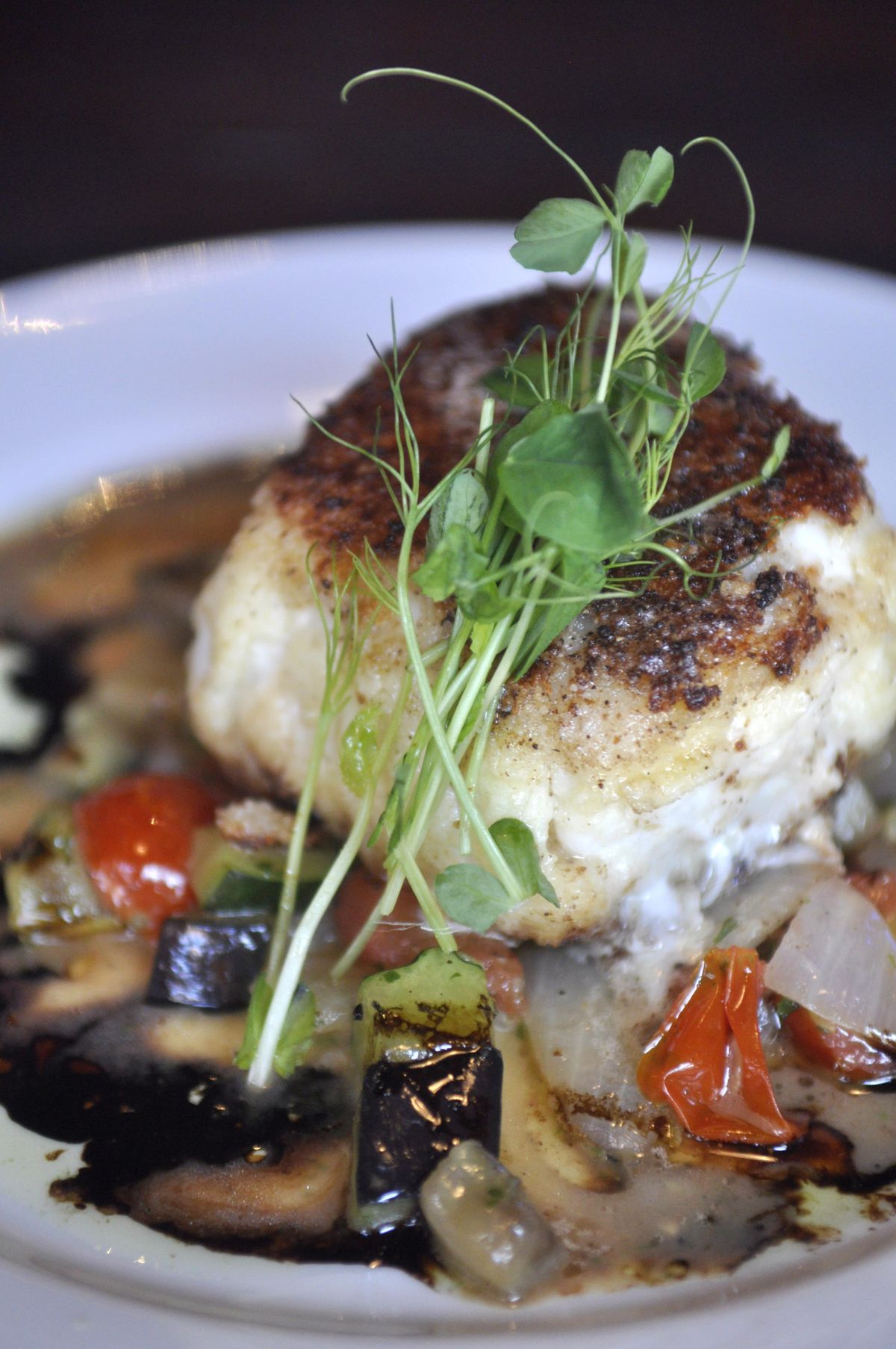 Halibut from Bluebird in Coeur d'Alene. (Adriana Janovich / The Spokesman-Review)Buy a print of this photo
First, there was Syringa, the Idaho state flower. Next, there was Garnet, the state gem. Now, there's Bluebird, the official bird of the Gem State.
The latest restaurant from husband-and-wife restaurateurs Viljo and Autumn Basso opened in midtown Coeur d'Alene in May and features eclectic Pacific Northwest fare with Asian and French influences. The menu is a collection of the couple's favorite dishes, from fancy toast and a pickle plate to Parmesan-encrusted halibut and charred octopus.
"It's a culmination of our dining experiences of 20 years of being together," Autumn Basso said. "It's the things we like and the things that have stood out over our dining adventures."
The Bluebird's menu is seasonal, and ingredients are "as local as we can get and organic when we can find it."
The halibut, served with ratatouille, is a top-seller. Look, also, for seared scallops with green garbanzo bean puree and balsamic reduction that's a special so often that Viljo Basso plans to put it on the menu.
He's the chef. She, according to her husband, is the "bookkeeping goddess."
They're particularly proud of their banh mi sandwich, inspired by the ones they used to buy for a buck and a half when he was working in kitchens in Seattle in the late 1990s and early aughts. Viljo Basso's 2016 version costs $11 and features pork belly and beef tongue.
"I love beef tongue," he said. "We used to have it on the Syringa menu." It's slow cooked, then skinned, then slow-braised. "It comes out like a nice beef roast."
The charred octopus is set on a bed of rich white beans with herbed mascarpone. The tater tot poutine features pork belly and Cougar Gold cheese. Traditional peas and carrots get spiced up with sambal, an Indonesian chili-garlic sauce, and hazelnuts. The toast trio changes daily.
Add halibut, prawns or chicken to any salad. The frisee features endive, fried egg, lemon-thyme vinaigrette and crispy pig's ear. The radicchio includes pea shoots, pork belly, apricots, Parmesan and honey miso.
Rounding out the menu are Muscovy duck confit, Northwest bouillabaisse, Kurobuta pork tenderloin, and fried chicken with a pickle and honey miso. Mains are listed under Briny, Raw and Crunchy; Leafy and Liquid; and Forks, Spoons, Knives and Fingers.
Desserts – there are four – are found under After. Look for a cheese plate, crème brulee, bread pudding and doughnuts served with jam, mascarpone and chocolate-hazelnut spread. They're inspired by the made-to-order doughnuts at Lola, a Tom Douglas restaurant in Seattle. Similarly, the Parmesan-encrusted halibut is inspired by a place Viljo Basso used to work in Portland.
The Bassos moved there in 1996, shortly after they met while working at a restaurant in Coeur d'Alene, where they both grew up. He graduated from Coeur d'Alene High School in 1990; she's class of 1993.
From Portland, they moved to Seattle, where she attended the Art Institute and he worked at Rover's, Cascadia, Mashiko and Saito.
After eight years in Seattle and nearly a decade away from CdA, they returned to the Inland Northwest with their son Ezra, now 12, and opened Syringa Japanese Café and Sushi Bar in 2006. They owned and operated the Garnet Café next door for a couple of years before selling it in 2013.
Since opening the Bluebird, Viljo Basso has been spending mornings and early afternoons at Syringa and late afternoons and evenings at the new eatery, home of the former Mid City Pub.
"This place kind of fell into our lap," he said.
It was move-in ready, too.
"We were very fortunate," she said. "It's a seriously cozy little restaurant."
The Bassos added some pillows and decorative bluebirds, but other than that, there wasn't too much work to do. Even the old-timey black-and-white photos on the wood-lined walls were already hanging there.
Corrugated metal is used for wainscoting in the long rectangle of a dining room, which seats 46. Sidewalk seating holds 16.
Fridays and Saturdays are busiest, and there's live music Saturday nights. The Bluebird serves beer and wine, but weekend lunches also feature mimosas, bellinis and Bloody Marys made with sake.
For lunch – menu headings include Handheld and Not Sure – there are oysters with tomato relish for $2 each, Cougar Gold mac-and-cheese and an Idaho po' boy with trout, tarter and slaw. The bibimbap features duck confit, rice, daikon, carrot, pea vine, egg and kimchee.
"It's stuff we like when we go out to eat," Autumn Basso said. "And so far the response has been super amazing."
Local journalism is essential.
Give directly to The Spokesman-Review's Northwest Passages community forums series -- which helps to offset the costs of several reporter and editor positions at the newspaper -- by using the easy options below. Gifts processed in this system are not tax deductible, but are predominately used to help meet the local financial requirements needed to receive national matching-grant funds.
Subscribe to the Spokane7 email newsletter
Get the day's top entertainment headlines delivered to your inbox every morning.
---