Sports > Seattle Seahawks
Seahawks running back Thomas Rawls back at practice
Tue., Aug. 9, 2016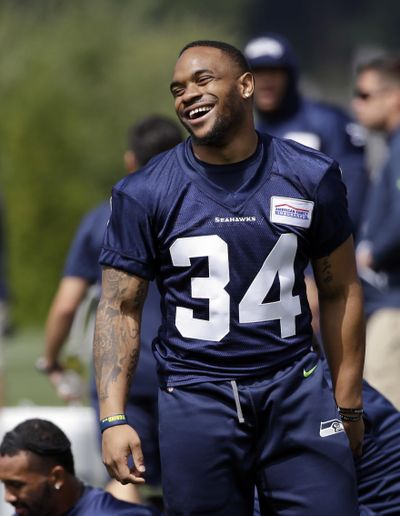 RENTON, Wash. – Seahawks running back Thomas Rawls carried a football Tuesday for the first time since a broken ankle ended his rookie season last December.
Rawls was limited to individual work in his first practice with Seattle since being activated from the physically unable to perform list on Sunday, but to Rawls it was a big step toward getting back to where he wants to be.
"I think it fit real good in the timeline. Just taking it day by day and getting better," Rawls said after practice. "Just visualizing and getting my feet wet a little bit out there and I'm so excited and glad to be out there with the fellas."
Though he passed his physical and was eligible to practice Sunday, the rest of the team was having a "mock game" scrimmage which made it unfeasible for Rawls to begin his first work of camp then.
Rawls suffered a broken ankle and ligament damage in a game against the Baltimore Ravens in December. After gaining 44 yards on six carries on Seattle's opening possession, Rawls was engulfed by Brandon Williams and Chris Canty, who fell on him with his ankle caught underneath.
The injury ended a stellar rookie campaign that made Rawls the clear choice to replace a retiring Marshawn Lynch. He rushed for 830 yards and four touchdowns in 13 games with seven starts in place of an injured Lynch. His 209-yard effort against the San Francisco 49ers ranks second in a game in franchise history, trailing only Shaun Alexander's 266 yards in 2001.
"In the last couple days we've seen him really take off in burst and he's worked so hard. He's ready to be out there," Seahawks head coach Pete Carroll said. "We still just have to work him into it and wean him, but it's really exciting to have him back."
Carroll and general manager John Schneider have repeatedly said Rawls and tight end Jimmy Graham are expected to be ready for the Sept. 11 season opener against the Miami Dolphins. Carroll said Tuesday that Graham (knee) is close to being activated from the PUP list as well.
"Give us a couple of weeks. There's plenty of time here. We'll figure it out. I'm sure (Rawls) is going to be chomping at the bit come by the last preseason game, at least, if not sooner," Carroll said.
Rawls and three other running backs were unable to participate in Sunday's mock game. Christine Michael sat out because of illness. Third-round pick C.J. Prosise and seventh-round pick Zac Brooks were sidelined with hamstring injuries.
Michael returned to practice Tuesday. Prosise and Brooks are both expected back within the next week.
Despite his strong rookie campaign, Rawls isn't taking his early success for granted. He feels he has to win the job all over again.
"We're going to compete," Rawls said. "I don't feel established. I'm going to always be a hard worker. I'll always be a leader and I'm going to always congratulate guys whenever guys go out there and do some of the amazing things that they do."
Local journalism is essential.
Give directly to The Spokesman-Review's Northwest Passages community forums series -- which helps to offset the costs of several reporter and editor positions at the newspaper -- by using the easy options below. Gifts processed in this system are not tax deductible, but are predominately used to help meet the local financial requirements needed to receive national matching-grant funds.
Subscribe to the sports newsletter
Get the day's top sports headlines and breaking news delivered to your inbox by subscribing here.
---