A&E > Entertainment
Spokane Civic Theatre presents "It's a Wonderful Life" as a live radio play
Thu., Dec. 22, 2016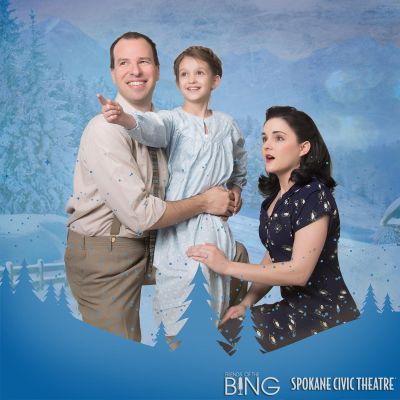 It was common practice in the 1940s and '50s to adapt popular movies into hourlong radio dramas. Frank Capra's 1946 classic "It's a Wonderful Life" was one of those films, with Jimmy Stewart and Donna Reed reprising their roles in several radio programs following its original release.
That broadcast of "It's a Wonderful Life" has since been transferred to the stage by playwright Joe Landry, and you can see it this weekend at the Bing courtesy of Spokane Civic Theatre.
The production is designed to make you feel like you're in a '40s recording studio. The actors stand in front of old-timey microphones and read directly from their scripts. Some members of the cast play multiple roles, there are live sound effects to complement the action, and recreations of commercials from the era break up the action.
"I always encourage audience members to, at some point, close their eyes and let their imaginations fill in the gaps. It's a lost art," said director Lenny Bart. "Generations before us, when radio was such a strong medium, did that. They envisioned these atmospheres. You'd create these beautiful, warm homes in your mind, and it can really do so much more than a scene designer could possibly do."
Civic staged the "Wonderful Life" radio play last year, and the Christmas Eve performance will again be simulcast live on 91.1 FM. Although this is Bart's first local directorial credit since he was named the Civic's artistic director, he's previously directed radio play-style adaptations of "Dracula," "Miracle on 34th Street" and "The Shop Around the Corner."
"It's a fun art form to work in," Bart said. "It's a short rehearsal period. … Particularly in this holiday season, it's an easy commitment from the actors, to get them to do something heartwarming without completely taking them away from their families."
For anyone who has somehow avoided annual re-runs of Capra's holiday drama, "It's a Wonderful Life" concerns family man George Bailey (played by Chris Taylor in the Civic production), who has become suicidal after losing a small fortune to slumlord Mr. Potter (Ben Dyck). After taking out his frustrations on his wife Mary (Kelsi Blaser), George's attempt to kill himself is thwarted by a guardian angel named Clarence (Gary Pierce), who proves to George that he's had more of an impact on the world than he previously thought.
"It's one of my all time favorite movies," Bart said. "There's so much pressure in the holiday season to be cheery … and what so liberates us at the end of this movie is we get the sense that small, random acts of kindness do have an impact on the world. It inspires me to be a better person all year long, and hopefully others feel that."
Capra's film, which turned 70 this week, runs 130 minutes, but Bart says this version clocks in around 70. The adaptation still captures the film's bittersweet tone, though, and it allows Capra fans to experience a classic story in a different medium.
"It's something every family can relate to," Bart said, "and we're lucky to be able to present it at the Bing downtown, which is such a beautiful setting."
Local journalism is essential.
Give directly to The Spokesman-Review's Northwest Passages community forums series -- which helps to offset the costs of several reporter and editor positions at the newspaper -- by using the easy options below. Gifts processed in this system are not tax deductible, but are predominately used to help meet the local financial requirements needed to receive national matching-grant funds.
Subscribe to the Spokane7 email newsletter
Get the day's top entertainment headlines delivered to your inbox every morning.
---