Sports
Rosauers Open attracts another talented pool
Tue., July 12, 2016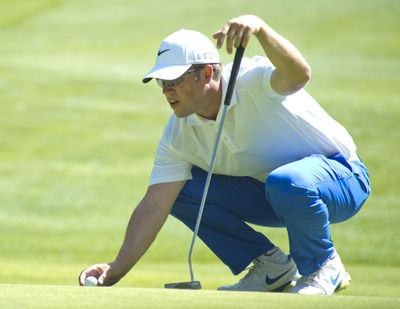 MeadowWood pro Bob Scott's favorites for the Rosauers Open Invitational began with a handful of the usual suspects. Upon further review, it had reached double digits.
He listed past champions, including Manito assistant pro Corey Prugh, the tournament's only four-time winner. He mentioned several other pros who always seem to be on the leaderboard. And don't forget the amateurs, who occupied six spots in last year's top 10.
The Rosauers always attracts a deep pool of contenders. The richest PGA sectional tournament in the nation features a pro-am Wednesday and Thursday, followed by the 54-hole tournament Friday-Sunday. It was announced several months ago the tournament would move from traditional host Indian Canyon to MeadowWood. Rosauers COO Mike Shirts said at the time that future tournaments would probably rotate among several area courses.
"MeadowWood is pretty user friendly," Scott said. "If you strike the ball well and putt well, you're going to score well. There are just a lot of strong players and these young kids hit it so far. With so many good players, it just depends on who gets hot."
Seattle's Tim Feenstra scorched MeadowWood with a closing-round 61, matching Prugh's course record set four days earlier, to win the 2014 Rosauers. Feenstra finished 54 holes in 16-under 200.
Other past champions include Prugh, who has won on the last four odd-numbered years, three-time champ Jeff Coston, David Phay (2012), Kyle Kelly (2010) and Ryan Benzel (2005). Prugh and Phay were part of a four-way tie for third at 12 under two years ago.
"The guys that have seen (MeadowWood), I would venture to bet 20-25 under should win it," Prugh said, "but numbers like that are hard to do. You're talking about shooting 7, 8, 9 under every day. It's probably easier to do that at MeadowWood, even though you could do that at the Canyon."
The majority of the 114 pros entered figure to have familiarity with MeadowWood, but it should be noted that Feenstra hadn't played the course before the first round in 2014.
"I know I'll be more comfortable with the course (after playing it in 2014)," said Tacoma pro Shane Prante, who tied for third at the 2013 Rosauers and shared second at last week's Lilac City Invitational at the Fairways. "It's a different type of course than Indian Canyon.
"Indian Canyon was probably more demanding, your all-around game had to be more precise, but MeadowWood has its own challenges. It's longer, more water and if it's windy it's not as protected as Indian Canyon."
Local journalism is essential.
Give directly to The Spokesman-Review's Northwest Passages community forums series -- which helps to offset the costs of several reporter and editor positions at the newspaper -- by using the easy options below. Gifts processed in this system are not tax deductible, but are predominately used to help meet the local financial requirements needed to receive national matching-grant funds.
Subscribe to the sports newsletter
Get the day's top sports headlines and breaking news delivered to your inbox by subscribing here.
---