News > Spokane
Suspected norovirus sickens dozens at the House of Charity
Sat., Nov. 12, 2016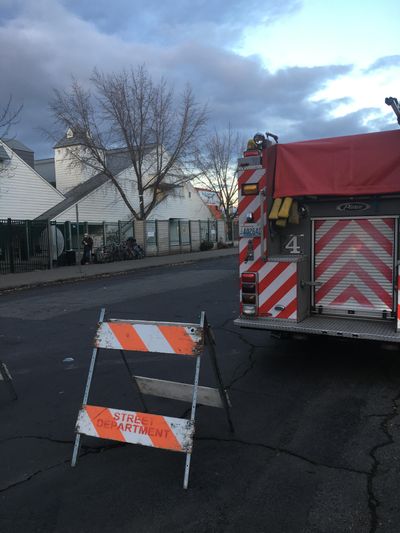 Two homeless shelters in downtown Spokane were under quarantine Saturday after more than 60 people got sick from a suspected norovirus outbreak.
City officials made plans to erect a giant tent in the street to house homeless people who hadn't shown symptoms, which include severe nausea and vomiting.
Norovirus is highly contagious and can be spread person to person, through food and water or by touching contaminated surfaces. It's typically seen on a cruise ship because it spreads rapidly in enclosed environments with a lot of people. People typically see symptoms 12 to 48 hours after being exposed.
"It comes on quick and you can't keep anything down – food or drink," said Catholic Charities Director Rob McCann. Catholic Charities operates one of the shelters affected, the House of Charity. The other is the Union Gospel Mission.
It's possible more people will get sick, since people who recently stayed at either shelter might not be showing symptoms. House of Charity officials are encouraging anyone who left the shelter and who is not feeling well to return for care. The shelter housed 210 men, women and pets Friday night, McCann said.
A specialized cleaning crew was called in Saturday to sanitize the House of Charity, McCann said.
Every effort is being made to keep the 40 sick clients and 10 sick staff members separate from people who haven't shown symptoms, either in the tent or on a separate floor of the shelter, he said. "It's not an option to close the shelter tonight" because the homeless have nowhere else to go, McCann said.
The Spokane Fire Department planned to have a paramedic on site overnight and portable bathrooms and hand-washing stations have been set up, said Assistant Chief Brian Schaeffer. The tent was set up in the middle of Pacific Avenue just east of Division Street, so the street was closed.
The fire department also was called to the Union Gospel Mission, where about a dozen illnesses were reported. Most of those people already have started to recover, Schaeffer said.
The special cleanings and quarantine will continue at least through Sunday or until the outbreak is over, McCann said.
He added, "I've been here 17 years and I've never seen anything like this."
Mayor David Condon said the city, including the police and fire departments, is working with Catholic Charities during the outbreak in an effort to provide the homeless with a safe place to sleep. The Spokane Regional Health District is coordinating testing to confirm the norovirus diagnosis.
The best way to prevent getting sick is to wash hands thoroughly, particularly after using the bathroom or before eating. The illness is not life-threatening but can lead to dehydration.
McCann asked the community to be on the lookout for homeless people who may be sick and need help.
"Keep an eye on your neighbors," he said.
While the shelter normally welcomes people who drop off donations for its clients, McCann said people should stay away for now.
"We don't want this to spread any more," he said.
Local journalism is essential.
Give directly to The Spokesman-Review's Northwest Passages community forums series -- which helps to offset the costs of several reporter and editor positions at the newspaper -- by using the easy options below. Gifts processed in this system are not tax deductible, but are predominately used to help meet the local financial requirements needed to receive national matching-grant funds.
Subscribe to the Coronavirus newsletter
Get the day's latest Coronavirus news delivered to your inbox by subscribing to our newsletter.
---