A&E > Entertainment
Bonnie Raitt's still 'Something to Talk About'
Thu., Sept. 8, 2016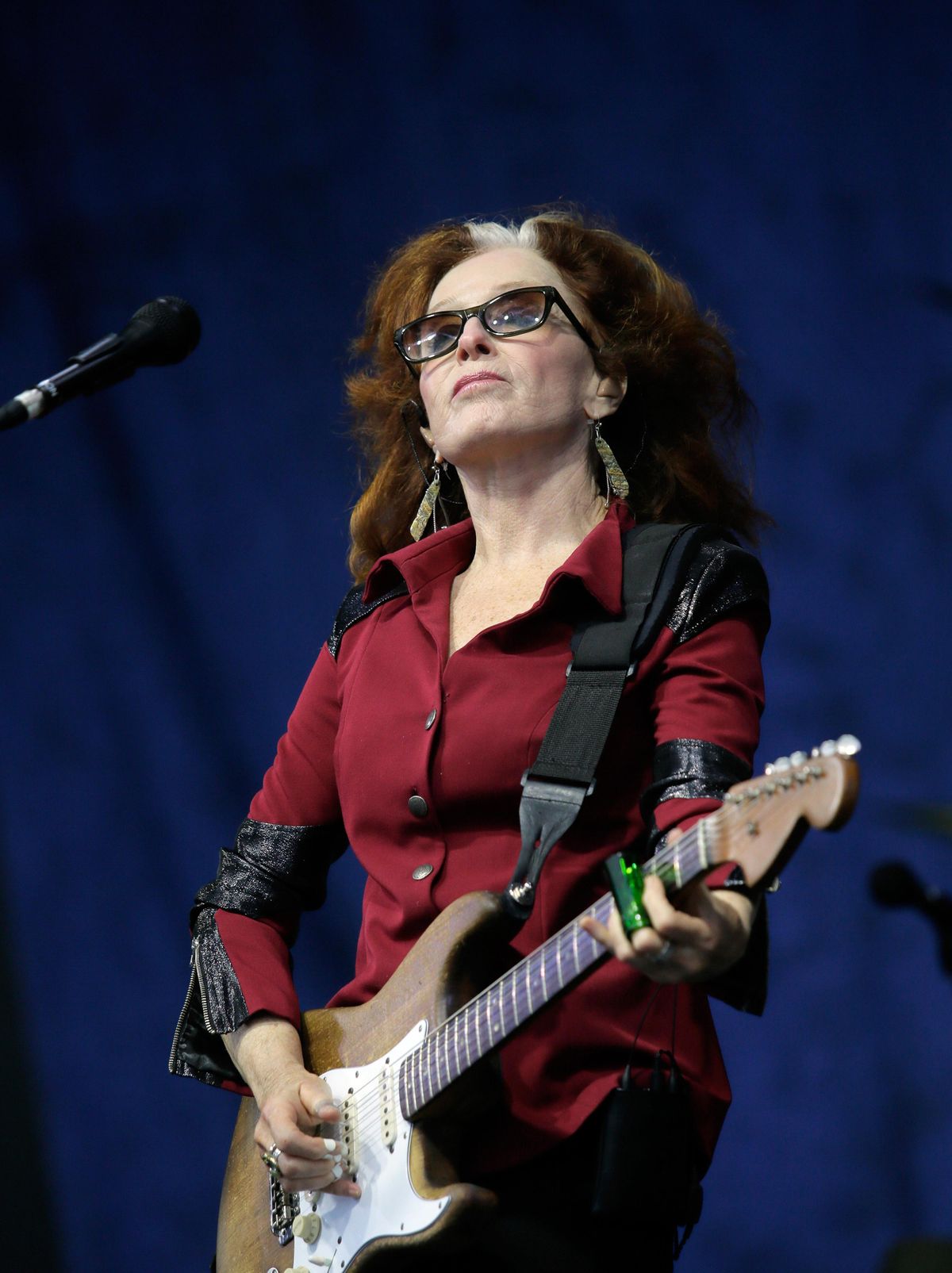 Bonnie Raitt performs on the Gentilly Stage during second Sunday of the New Orleans Jazz Fest at the Fair Grounds, Sunday, May 1, 2016. (David Grunfeld / Associated Press)
Bonnie Raitt has been recording and touring for four decades, and her goal as an artist has always been simple: Never do the same thing twice.
"The only real drive I have is to not repeat myself," Raitt said during a recent phone interview. "After this many records, I've covered a lot of aspects of (being) brokenhearted and angry and all the juicy themes that make for great soul music, and we've covered a lot of musical territory. So for me, the most important thing going into a new record is to come up with a fresh set of ideas, musically and lyrically."
The celebrated singer and guitarist is currently touring behind her 17th studio album, "Dig in Deep," and she makes a stop at the INB Performing Arts Center on Wednesday. Raitt has been on the road since the record was released in February, and she'll likely be on the road through next year.
"I make the records so I can go on the road, not the other way around," Raitt said. "I take a year to get ready to record, and then we're only in the studio for a couple of months. … It's two years off the road, then two years on the road, and it's pretty much been that way since my first album."
It's a busy lifestyle, but it's changed considerably since Raitt was an up-and-coming singer-songwriter scraping together a living in blues clubs.
"I work about five nights a week, and we never do more than two in a row because it's a two-hour show," Raitt said. "In the '70s, we'd sometimes play clubs and do two shows a night, and that is blessedly not happening right now. I don't know how Bruce Springsteen does four-hour shows, but I don't have that kind of voice.
"For the last 30 years or so, we've been driving at night, which gives us a chance to have a life in the daytime. I do yoga five times a week with a friend on Skype, then I ride my bike for about an hour while I warm up my voice in neighborhoods and parking lots. Thirty years of sobriety means you're up in the daytime. The first 17 years were more like driving (into town) the day of the show and being up all night."
Raitt's self-titled debut was released in 1971, and her approach to the blues, equal parts winsome and fierce, made her an instant critical darling. She broke through in the late '80s with the record "Nick of Time," a No. 1 hit and a Grammy winner for album of the year, and later scored huge singles with the pop-rock earworm "Something to Talk About" and the ballad "I Can't Make You Love Me."
As an artist, Raitt has never been confined to a single genre – her songs often possess the twang of country, the grit of blues and the polish of pop – and that versatility is what has given her longevity.
"Everything I do is kind of bluesy, (but) I don't think there's an out-and-out blues song on this record, and I don't think that's ever happened before," Raitt said. "I'm certainly blues- and R&B-influenced to a great extent, but I wouldn't say it's the only thing that's represented on the record. … Even if people tend to download one song at a time, my fans, I think, still appreciate an album. I put it together like I put together a show. There's a certain pacing to it, where you don't want to put too many ballads in a row."
Raitt recorded "Dig in Deep" with her longtime backing band, which includes guitarist George Marinelli, bassist James Hutchinson and drummer Ricky Fataar. Most of the tracks were recorded live with the occasional musical overdub, and much of that recording was done in a matter of weeks.
"I do the work of finding the songs, and when I think I've got a good batch, I call the band together," Raitt said. "I show them my arrangement ideas and we kick ideas around. They've got tremendous input after some of them have been with me for over 30 years, so we have a language that we don't really have to say out loud."
That process results in albums that capture the energy of Raitt's live shows, and she says that she has a few surprises in store for the Spokane audience.
"We're going to dip back into some songs from the '70s," Raitt said, "and we'll be featuring about half a dozen songs from the new record. … I try to keep it interesting for the fans. I take a look at the set list I played the last time I was in Spokane, and I make sure that if we ended with one thing, this time I'm going to pick a different one of those up-tempo numbers. But I play 'Angel from Montgomery' and 'I Can't Make You Love Me' and 'Something to Talk About.' I think people would throw things onstage if I didn't do those."
Local journalism is essential.
Give directly to The Spokesman-Review's Northwest Passages community forums series -- which helps to offset the costs of several reporter and editor positions at the newspaper -- by using the easy options below. Gifts processed in this system are not tax deductible, but are predominately used to help meet the local financial requirements needed to receive national matching-grant funds.
Subscribe to the Spokane7 email newsletter
Get the day's top entertainment headlines delivered to your inbox every morning.
---