A&E > Food
Best patios for outdoor dining
Wed., Aug. 2, 2017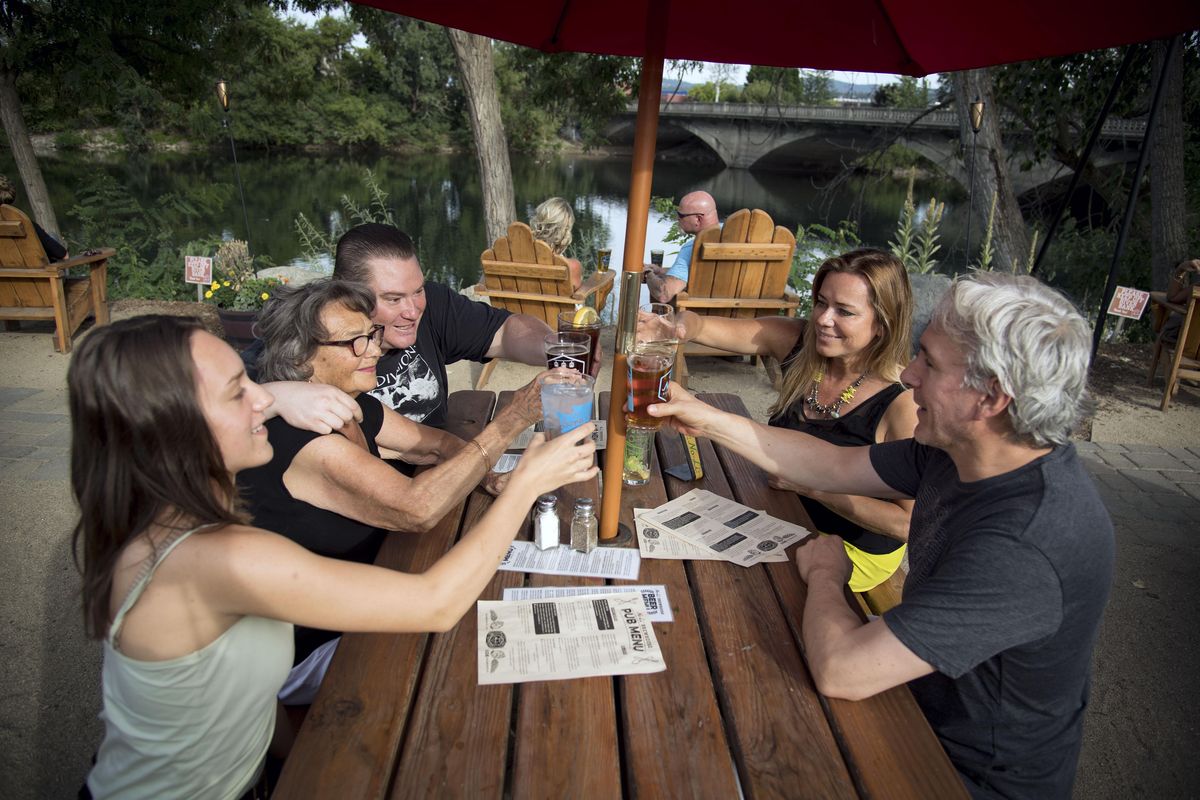 No-Li Brewhouse features outdoor seating along the Spokane River. (Colin Mulvany / The Spokesman-Review)Buy a print of this photo
It's difficult to believe, during these dogs days of summer, that fall – then freezing – temperatures loom on the horizon.
Summer's officially over in a month and a half. And the kids go back to school much sooner than that. Both milestones signal the same thing: the opportunities for alfresco dining are dwindling.
Soon, meals – even merely a glass of wine – on the patio will give way to strictly indoor dining and the summer of 2017 will become a memory. The season – along with the allure of eating and drinking in the open air – is fleeting.
Take advantage of the last weeks of extra light and warmth. While it remains sunny and sultry and still stays light out late, opt to dine outdoors. Foliage and water views – be it the lake or the river or even a man-made pond – enhance the experience, along with cozy cushions and nooks and strings of lights.
Here are some of the restaurants with the best decks and patios for outdoor eating and drinking in the Inland Northwest.
Lakes and ponds
Cedars Floating Restaurant: Watch guests arrive by boat at this floating eatery, buoyed by some 600,000 pounds of Styrofoam encased in concrete. Founded in 1965 where the Spokane River meets Lake Coeur d'Alene, The Cedars has long been a popular destination dining experience. It features a comprehensive wine list, an array of steaks and seafood, classic American fare and outdoor seating in summer. 1514 N. Marina Drive, Coeur d'Alene. (208) 664-2922. cedarsfloatingrestaurant.com
The Floating Restaurant: Affectionately dubbed "The Floater" by regulars, Lake Pend Oreille's only floating restaurant offers outdoor deck seating right on the lake. Open from Easter to mid-October, this local landmark serves lunch, dinner and Sunday brunch. Look for seafood, salads, burgers and regional fare; buffalo, steelhead, morels, huckleberries pepper the menu. It's located about 20 minutes past Sandpoint. 47392 State Highway 200, East Hope. (208) 264-5311. hopefloatingrestaurant.com
Cavanaugh's at Priest Lake: The deck at this lakeside resort offers spectacular water views. "No extra charge for the sunset," the website teases. No reservations, either. Colorful umbrellas provide shade for the sun-filled seating area, open for lunch and dinner. Favorites include fish and carne asada tacos. Look, also, for an array of salads, sandwiches, burgers, halibut-and-chips and pasta. Cav's is 80 miles northeast of Spokane and 30 miles west of Sandpoint. 40 Vacation Court, Coolin, Idaho. (208) 443-2095. cavsresort.com
Hill's Resort: From the deck at this popular Priest Lake destination, guests can enjoy sweeping water views along with regional and modern American fare. Look for burgers, tacos and sandwiches along with specialties such as wild game ravioli, stuffed salmon, chicken-and-morel linguini, smoked trout, huckleberry ice cream and huckleberry pie. The restaurant at Hill's Resort, located some 80 miles north of Spokane, is open daily from mid-May through early October and Christmas through New year's Day, and weekends most of the rest of the year. It's closed during March and April. 4777 W. Lakeshore Road, Priest Lake. (208) 443-2551. hillsresort.com
Boar's Nest Lakefront Bar and Grill: This one-time road house and dance hall at Sadlmayer's Resort on the tranquil shores of Spirit Lake was recently renovated. Today, the bar and gastro pub specializes in brisket, baby back ribs, ribeye steak, slow-smoked tri tip, pulled pork and pizza. There's a full bar, too, and a dozen beers on tap, plus live music or karaoke on weekends and, always, spectacular lake views. Eagle sightings aren't unusual. 7712 W. Spirit Lake Road, Spirit Lake, Idaho. (208) 623-3877.
Tony's on the Lake: It's separated from the lakeshore by the roadway. Still, it isn't difficult to pretend the patio – with its strings of lights, rows of umbrellas and Italian-inspired cuisine – lies on the edge of Italy's Lake Como. Start with house-pulled mozzarella, then move onto traditional Italian favorites such as osso buco, saltimbocca, top sirloin with gnocchi in Gorgonzola cream sauce, mushroom ravioli and an array of other pasta dishes. 6823 Coeur d'Alene Lake Drive in Coeur d'Alene. (208) 667-9885. tonysonthelake.com
Wandermere Twigs Bistro and Martini Bar: The expansive patio at this location of the popular locally based Twigs chain overlooks a pond with a waterfall feature and landscaping. Sitting under the shade of the red umbrellas, it's easy to forget the development sits in a parking lot alongside the busy north-south U.S. Route 395. Nosh on the restaurant's signature fries or loaded waffle fries or Kalua pork or fish tacos. The ample menu also features pizza, salads, hand-helds, entrees and a selection of gluten-free options. 401 E. Farwell Road. Note: the Twigs location on Spokane's South Hill also sits near a – albeit much smaller – pond. 4320 S. Regal Road. (509) 443-8000. www.twigsbistro.com
Embers by the Lake: Blankets are provided for those who sit outside at this casual pizza place at Hauser Lake. Patio seating features romantic lake views accented with whimsical strings of lights. Pizza is hearty and gourmet. 12008 N. Woodland Beach Drive in Hauser. (208) 262-8219.
Bardenay Restaurant and Distillery: The patio overlooking the pond in the Village at Riverstone – with its shade sails and umbrellas – is a perfect perch for enjoying cocktails made with house-made spirits. Try the Basil Instinct with Bardenay's own gin or a huckleberry lemon drop with Bardenay's lemon vodka. Share a cheese board, calamari or popular bruschetta pomodoro before noshing on something heartier. Bardenday's comprehensive menu includes an array of satays, soups, sandwiches, burgers, tacos and more. 1710 W. Riverstone Drive in Coeur d'Alene. (208) 765-1540. bardenay.com
Anthony's at Coeur d'Alene: The Coeur d'Alene location of this regional chain of seafood restaurants offers outdoor diners sweeping views of Riverstone Pond from its patio. Two outdoor fire places add to the ambiance at the restaurant, which opened last year. 1926 W. Riverstone Drive. (208) 664-4665. anthonys.com
River
Anthony's at Spokane Falls: Watch water rush over the rocky Upper Falls of the Spokane River from one of about two dozen tables on the patio at this popular seafood restaurant, tucked just past the Post Street bridge. This particular location of the regional chain overlooks Spokane's iconic Riverfront Park as well as the river and falls. The four-course $23.95 Sunset Menu is popular. So is happy hour on the patio. 510 N. Lincoln St. (509) 328-9009. anthonys.com
Clinkerdagger: The best two tables on this two-tiered patio are at the tail end of the uncovered section, where the cool breeze off the Spokane River is welcome on a hot summer's day. If the flow is heavy, guests might even feel spray from the rushing water. It's a long drop down. But from this perch, which juts out from the old Flour Mill, the views of the river, its bridges and Riverfront Park are spectacular. Seating is first-come, first-served, and it can fill up quickly, especially for happy hour. The top tier is covered, protecting guests from the sun and wind. Clink's has been a Spokane favorite for more than 40 years. Fare is classic American, with a mix of salads, seafood, pasta and surf-and-turf combination plates. The rock salt roasted prime rib is a signature dish. 621 W. Mallon St. (509) 328-5965. clinkerdagger.com.
No-Li Brewhouse: Picnic tables and Adirondack chairs abound along the tranquil, tree-lined banks of the Spokane River behind this popular Spokane brewery and gastro pub. Have a beer or two and watch the river run. There's plenty from which to choose, or get a sampler if you can't decide. The menu also includes fish tacos, cavatappi mac-and-cheese, salads, burgers and sandwiches, such as pulled pork and a Reuben. 1003 E. Trent Ave. (509) 242-2739. nolibrewhouse.com
Le Peep: This breakfast and lunch spot, part of a chain founded in Colorado more than 40 years ago, offers an expansive deck with great views of the Spokane River not far from its headwaters. The menu includes breakfast staples such as pancakes, crepes, combos, Benedicts, omelets and skillet breakfasts. 1884 W. Bellerive Lane, Suite 101, Coeur d'Alene. (208) 664-0404. lepeep.com
Kendall Yards: West Summit Parkway winds through this growing development on the bluff overlooking the north bank of the Spokane River. The south side of the street is lined with eateries and drinkeries with sweeping views of the waterway, downtown skyline, Centennial Trail, and Monroe and Maple street bridges.
Central Food, the first restaurant to locate in the new neighborhood back in 2012, offers a cozy, orange umbrella-ed patio along with an eclectic mix of dishes with Inland Northwest and Asian influences and local and seasonable ingredients. 1335 W. Summit Parkway. (509) 315-8036. eatcentralfood.com.
Nearby Veraci is one of the best wood-fired pizza places in town. Pies are Neapolitan-style with thin, charred, crispy crusts and a signature three-cheese blend: Romano, Parmesan and Mozzarella. 1333 W. Summit Parkway. (509) 389-0029. veracispokane.com.
Nectar Wine and Beer next door lets guests bring in pizza to enjoy along with some 300 wines and 100 beers in the retail section of the shop or 32 wines by the glass and 16 rotating beers on tap. 1331 W. Summit Parkway. (509) 290-5239. nectarkendallyards.com
Gardens, nooks and other crannies
Luna: Climbing plants and fragrant flowers help hide the traffic on 57th Avenue from the lovely, enclosed patio at one of the most romantic and best fine-dining restaurants in Spokane. Dishes are scratch-made. Ingredients are local and regional; some come from as close as the garden out back. Expect an extensive wine list and mains such as grilled ribeye, pan-seared suck, locally raised pork chop, salmon, lacinato kale salad with shaved Parmesan and a creamy vinaigrette, and an array of wood-fired pizza. 5620 S. Perry St. (509) 448-2383. lunaspokane.com
Clover: A cozy patio surrounds this romantic restaurant, tucked into a turn-of-the-century Craftsman-style bungalow near the Gonzaga University campus. It's one of the region's best for fine dining. It also offers a lovely backdrop for brunch. The sun-soaked patio is bench-lined, with umbrellas and strings of lights. Clover is known for its scratch-made dishes featuring locally sourced ingredients, house-made breads and dressings, and craft cocktails. Start with the charred octopus appetizer before moving onto a main such as seared scallops or piri piri chicken. 913 E. Sharp Ave. (509) 487-2937. cloverspokane.com
Mizuna: The brick-lined alleyway adjacent to this longtime downtown restaurant offers an intimate space for outdoor dining during the summer months. Enclosed by wrought iron fencing and illuminated with romantic strings of lights, this seating area evokes a sense of cafés in pedestrian-only streets in the historic hearts of European cities. It also feels somewhat secluded; tall downtown buildings act as barriers, offering a bit of privacy. 214 N. Howard St. (509) 747-2004. mizuna.com
The Grand Terrace Bar: It almost seems like you can reach over and touch the top of the Clocktower from this perch atop the second-floor rooftop of the Davenport Grand Hotel in downtown Spokane. Take a seat on the collection of low-slung couches set around fire features and enjoy the view of Riverfront Park and downtown. There's no table – couch? – service; it's a walk-up bar. And it's open late afternoons and evenings, weather permitting, through the summer season. 333 W. Spokane Falls Blvd. (509) 598-4200. davenporthotelcollection.com
Chaps: When the weather's warm, opt for sunlit seating in the grassy garden in front of this popular café and bakery, tucked away in the Latah neighborhood near the base of Eagle Ridge development. There's plenty of greenery to shelter guests from the sights and sounds of the parking lot in the shopping complex where Chaps is located. Plus, there's a sandbox for the kids. The ambiance – eclectic farmhouse chic, with a whimsical, modern-vintage vibe – is accented with an antique car and cake stands, chalkboards and Mason jars. 4237 Cheney-Spokane Road. (509) 624-4182. www.chapsgirl.com
Crafted Tap House and Kitchen: Strings of lights illuminate the long and wide patio in front of this newer and popular gastropub in downtown Coeur d'Alene. Seating is a mix of tables and chairs as well as benches set around fire features, perfect for large groups of friends – or making new ones. Half of the patio is covered, and the overall vibe is hip, casual and relaxed. There are 50 beers on tap along with a half-dozen handhelds – think big burgers and oversized sandwiches – as well as an array of appetizers, salads and desserts. 523 Sherman Ave., Coeur d'Alene, (208) 292-4813. craftedtaphouse.com
Missed a spot? Please let us know by posting a comment on the story online. Or, Food editor Adriana Janovich can be reached at adrianaj@spokesman.com or 999 W. Riverside Ave., Spokane, WA 99201. For the complete Spokane Eating Guide, visit www.spokesman.com/eating-guide.
Local journalism is essential.
Give directly to The Spokesman-Review's Northwest Passages community forums series -- which helps to offset the costs of several reporter and editor positions at the newspaper -- by using the easy options below. Gifts processed in this system are not tax deductible, but are predominately used to help meet the local financial requirements needed to receive national matching-grant funds.
Subscribe to the Spokane7 email newsletter
Get the day's top entertainment headlines delivered to your inbox every morning.
---