News > Business
Lucky Friday miners rally at Hecla headquarters in Coeur d'Alene
Aug. 2, 2017 Updated Wed., Aug. 2, 2017 at 10:34 p.m.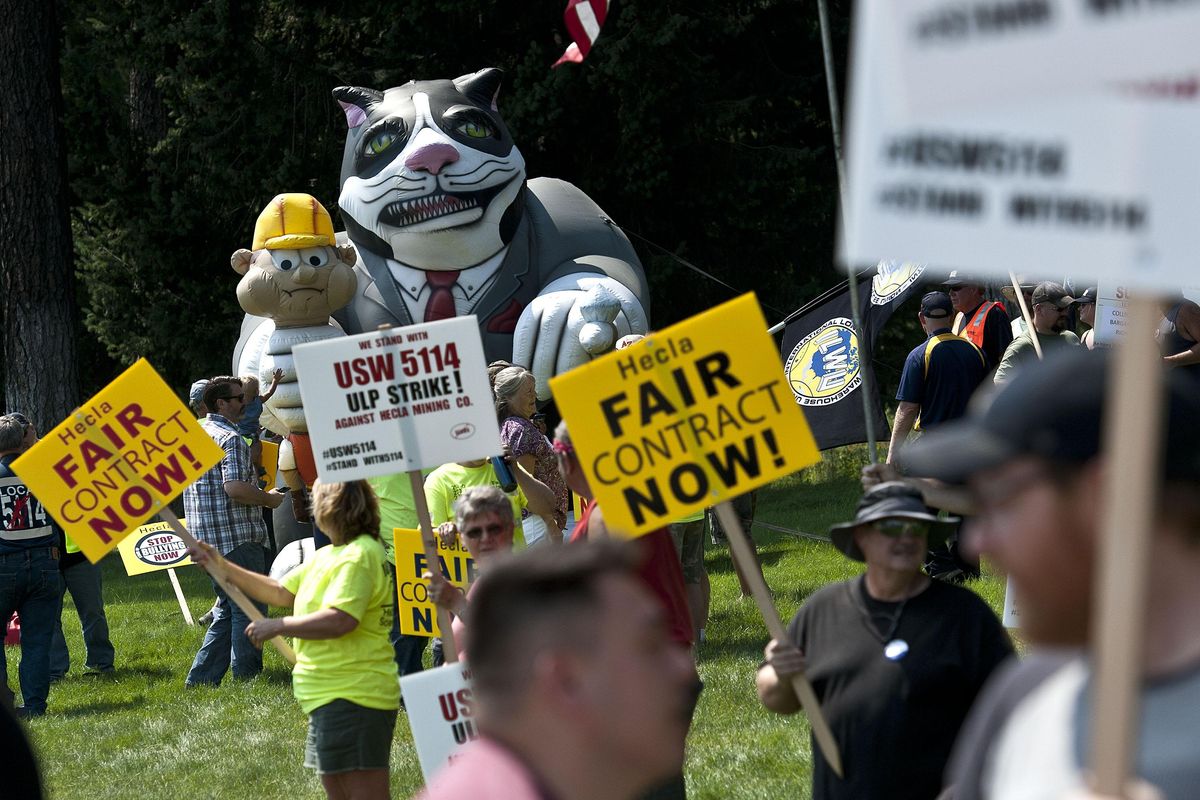 An inflatable "Fat Cat" looms above the crowd as United Steel Workers members and supporters rally at Hecla Mining Co.'s headquarters in Coeur d'Alene on Wednesday, Aug. 2, 2017. The miners of the Hecla's Lucky Friday mine in Mullan have been on strike since March 12. (Kathy Plonka / KATHY PLONKA/The Spokesman-Review)Buy a print of this photo
It's been 143 days since Bob Clark has stepped foot in Silver Valley's Lucky Friday mine.
And the same can be said for many of his co-workers, who voted 230-2 in favor of striking on March 12. In doing so, not only did they agree to hold out indefinitely, but they also agreed to trade in their paychecks for picket signs – at least until a deal with Hecla Mining Co., the owner of the mine, could be reached.
So, the 26-year-old from Osburn, Idaho, has dug in, scraped by on jobs where he can, and picketed as often as he has the time. He said it's tough supporting his wife and two young children, especially since one was born just three months before the vote. But it's been worth it to stand up to a company he deems to be the definition of "corporate greed."
"They're trying to kill the American Dream," he said, holding his son Hanley to his chest. "Corporate greed is killing America."
Clark and more than 100 of his coworkers and their families, retirees and union workers from across the U.S. gathered Wednesday to rally in front of Hecla's corporate headquarters in Coeur d'Alene. With a giant inflatable cat dressed in a business suit squeezing a union worker's neck as a backdrop, the group spent the better part of two hours in the hot, muggy weather hoisting signs, shouting for a fair contract and cheering whenever a car or 18-wheeler on U.S. Highway 95 honked in support.
"Hecla, Hecla, you can't hide, we can see your greedy side," miner Mike Zielinski shouted into a microphone, leading the crowd in a chant. "One day longer, one day stronger."
Many were dressed in bright neon green shirts, the words "Family Values" on the front and a short list of demands from the union on the back: health benefits, schedule wages, vacation and a "bid system." Some brought children, who were handed free shirts signifying their parent is a Lucky Friday worker; others brought their dogs that laid in the shade.
They were all there for the same thing: to pressure Hecla management into meeting and agreeing on a new contract. Since negotiations began after the previous six-year contract ended in April, the union has contended it is not asking for anything new – rather, it would like things to stay the way they've been for the past 75 years.
Hecla, on the other hand, wants to do away with a silver premium paid to miners and convert the bonus into an increase in base wages. And, to replace the "bid system" – where miners pick their crew – with a system that falls in line "with mining industry standards," said Luke Russell, Hecla's vice president for external affairs.
"They're not budging on wanting to keep it," Russell said. "But we hope those ideas we've introduced will move us forward."
In 2016, Hecla lost about $3 on each ounce of silver mined at the Lucky Friday, Russell said. The changes to the contract, he said, were to try to make the mine more profitable and lower production costs where possible.
The two sides have agreed to two meetings since the strike began in March. On Thursday, a third is planned – the same day Hecla is releasing its second-quarter earnings report, which will provide a look at how the strike is affecting the company's bottom line.
Phil Epler, president of United Steelworkers Local 5114, said he doesn't think there will be an agreement "anytime soon."
"All we can do is feel optimistic that the company will come and talk to us," he said.
Epler said United Steel Workers has a national strike and defense fund that has helped some workers pay their bills and not lose their homes. And even though he's had to pick up a second job, he said he's hopeful the union will stick together until the company decides to negotiate.
"It's like that saying: 'One day longer, one day stronger,' " he said.
Also at the rally were family members of miners caught in tragedy. Don Marek was there to support his brother, Larry Marek, 53, who was killed in 2011 when a section of mine he was working in collapsed, trapping his body for nine days. Don, who was younger than Larry when he died, but is now 55, said he makes it a priority to support the other workers whenever they need it.
"I don't like the way the company treats its people," he said. "They need a fair contract."
Teresa Koskimaki, who was animated and shouting near the front of a picket line, lost her husband, Dan, on July 12 to a heart attack.
"We had just addressed finances that morning," she said, eyes welling with tears. "I left to see my son, I came back and he was gone."
She said Dan was a month away from working 20 years for Hecla when the strike began. In the weeks after, she said, the stress of no income and having just purchased a homestead in Pinehurst may have contributed to his untimely death.
"He was desperate," she said. "How are we going to survive?"
Local journalism is essential.
Give directly to The Spokesman-Review's Northwest Passages community forums series -- which helps to offset the costs of several reporter and editor positions at the newspaper -- by using the easy options below. Gifts processed in this system are not tax deductible, but are predominately used to help meet the local financial requirements needed to receive national matching-grant funds.
Subscribe now to get breaking news alerts in your email inbox
Get breaking news delivered to your inbox as it happens.
---