A&E
Teens tinker to design Car-Aid device for disabled drivers
UPDATED: Mon., Dec. 11, 2017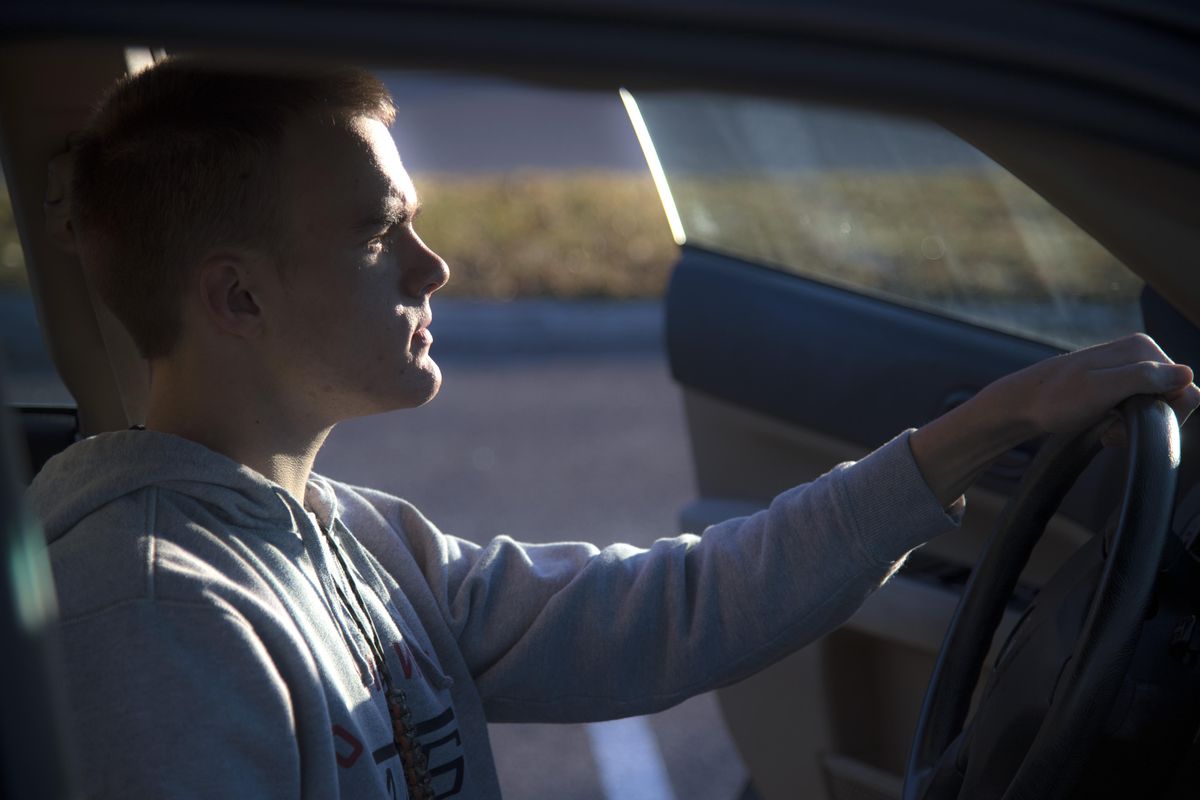 Hayden Stipe, 17, sits behind the wheel of a 2003, Subaru Forester that he hopes to drive with the help of the Car-Aid device. Stipe has cerebral palsy and the technology will allow his to drive through the use of a joystick. (Dan Pelle / The Spokesman-Review)
Like all his friends now behind the wheel, Spokane Valley teenager Hayden Stipe wants to drive.
Living 17 years with cerebral palsy, Stipe has difficulty with fine motor skills and walking. Though he can drive by using an existing hand-control system that a professional installs in a car, Stipe wants to develop something he can't find on the market. It's a portable, user-friendly joystick device to aid him and other disabled motorists.
Stipe and classmate Jake Windhorst, both Spokane Valley Tech juniors, have built a prototype of their Car-Aid device. They'll tinker after school to develop a full version of that design, and they have a GoFundMe goal of $8,000 to build and test it in a recently purchased 2003 Subaru Forester.
"We set out to build a device that will control the brake and throttle of a car via a joystick," Stipe said. "We're planning to have something usable in the car by May for testing purposes."
But he acknowledges such technology must pass multiple safety requirements before it hits the road.
"This is going to be tested with the car at a test facility, so it won't be on the road until it's approved. We're working with people who are certified, and we'll have various safety features."
Windhorst, who befriended Stipe 10 years ago at Summit School, jumped on board with the project last year to help. Both have experience from robotics competitions and have done complex programming work.
"This quickly became a passion project," Windhorst said. "We're both hoping this device will help anybody with a lower body impairment.
"On weekends, after school, every waking hour outside of school, we're working on this."
Developing adaptive technology is both a passion and desired career goal for Stipe.
Born 13 weeks premature, he underwent specialized therapy overseas as a toddler. By high school, he felt drawn to study engineering and to develop plans for vehicle hand-control adaptations.
"I'm at the age where all my friends have started to drive, and it bothered me that I have to rely on other people to get around," he said. "With existing hand controls, they all lack in some way. A technician has to install them. They're not portable. You have to drill holes to install them and then they're stuck in that car.
"In our area, we'd have to take the car all the way to Seattle for installation of existing hand controls. They're expensive; they can cost over $1,000. I thought, I can't be the only one going through this."
By making a device portable and easier to install, he and Stipe also hope Car-Aid in the marketplace eventually can be used by disabled drivers who need to rent or borrow a car.
The teens' vision is to make the device customizable, so individual drivers can adjust fittings to their needs, such as different shapes for joysticks or changes is how sensitive the controls are. It would plug into a vehicle's on-board diagnostics port located under the dash.
"It isn't only a solution that will help me, but it could be adapted to any user, so it could help countless people with anything from lower paralysis to spina bifida," Stipe said.
They researched best vehicle options, landing on the Subaru model purchased the end of last month on Craigslist when the GoFundMe account reached $3,000. The Forester also has roof-top rails that Stipe can hold onto as he moves from the back of the rig to the driver's seat.
"We've battled the 'check engine' light," said Stipe, who added that he and Windhorst have automotive skills too. "We want to get it into top mechanical shape before testing the device.
"The joystick would be mounted somewhere on the center console," he said. "That will control the actuators that are down near the pedals, so when you push forward for the gas, it moves the vehicle forward. There's a back motion for the brake, but there's also a quicker response, a side motion, should you need to brake suddenly."
Stipe and Windhorst plan to do other car modifications to the car as a secondary focus for Stipe's use, such as a pull-out rack to hold his wheelchair in the back and an automated lift gate operated by remote control.
Some people have asked the teens about whether or not a self-driving car makes more sense.
That technology is still being developed and requires an able-body driver to be behind the wheel, if something were to go wrong, Windhorst said, and they're very expensive.
While developing the Car-Aid project, Stipe still plans at least in the interim to use one of the existing hand-control systems to drive when he turns 18.
"When I turn 18, I plan to get a driver's license, and I will use one of the existing solutions," Stipe said. "Those solutions work; it's just I want to make something better in terms of it being accessible to everyone and adaptable to the user."
Added Windhorst, "Hayden's ultimate goal is to be able to drive himself places independently of having to rely on others. And we're hoping this device will help others."
Local journalism is essential.
Give directly to The Spokesman-Review's Northwest Passages community forums series -- which helps to offset the costs of several reporter and editor positions at the newspaper -- by using the easy options below. Gifts processed in this system are not tax deductible, but are predominately used to help meet the local financial requirements needed to receive national matching-grant funds.
Subscribe to the Spokane7 email newsletter
Get the day's top entertainment headlines delivered to your inbox every morning.
---