News > Spokane
Ginger Ewing merges creativity and culture through art to better Spokane
Fri., Dec. 29, 2017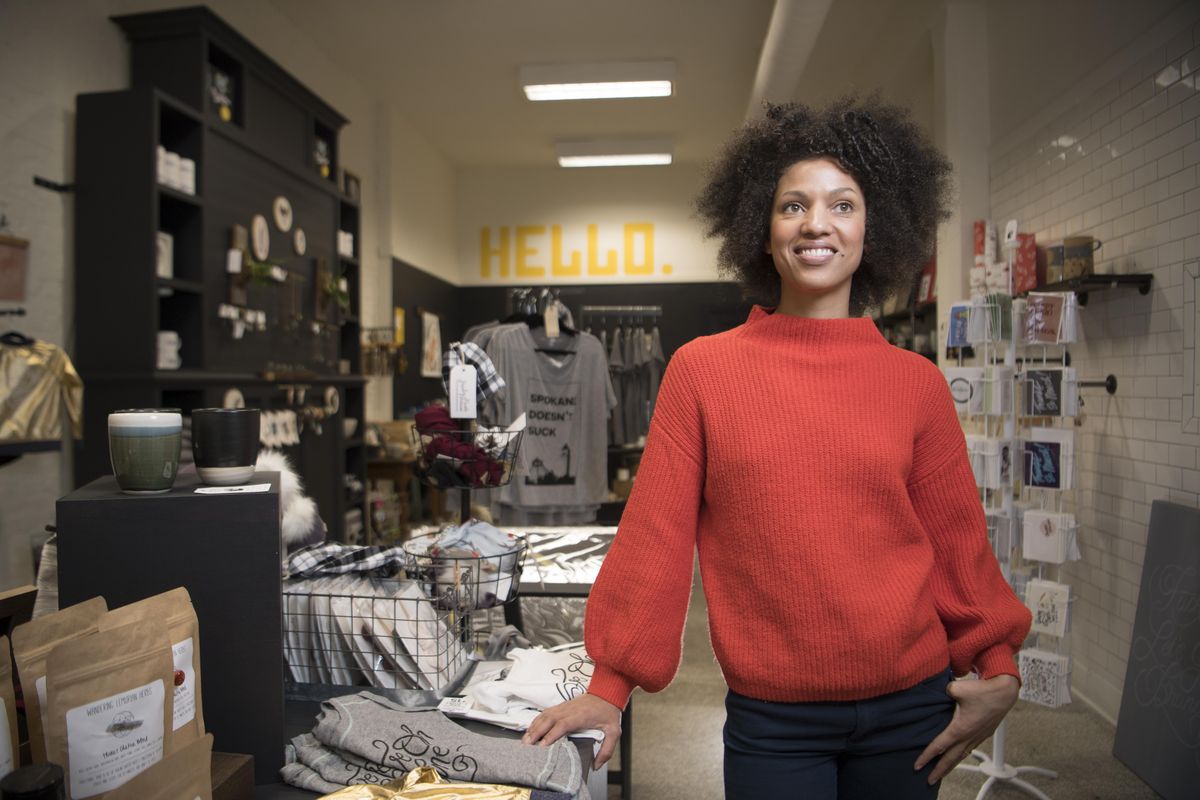 Ginger Ewing, an artist and organizer who started putting art installations into empty downtown storefronts, has offered business classes for artists who want to expand. Twenty-five of them are partners in the Pop Up Shop in the Steam Plant. (Jesse Tinsley / The Spokesman-Review)
If you've admired Ginelle Hustrulid's soundwave, made from more than 1,200 paint samples and located on First Avenue, thank Window Dressing.
Or if you stopped by the Music City building to look at Viza Arlington White's ink bubble animal paintings, thank Window Dressing.
And if, while walking down Main Avenue, you stopped to take in Melanie Lieb's collection of paintings called "Young at Heart," thank Window Dressing.
More specifically, thank Ginger Ewing, the founder and director of the storefront program that brings art to unused spaces.
Ewing is no stranger to the Spokane art community, having worked as a museum educator at the Northwest Museum of Arts and Culture and co-founding Terrain, a non-profit organization of which she is vice-president.
Window Dressing began as "a side project of a side project," if that's any indication of how busy Ewing is.
When Terrain was still being held in the Music City building, the building owners approached Ewing and told her they loved the vibrancy and energy the event brought to the venue and wondered if there was anything she could do to keep that up the other 364 days of the year.
After reflecting on a complaint she often heard from artists about a lack of exhibition space, something she feels is still needed in Spokane, Ewing came up with the idea behind Window Dressing.
After doing some research, Ewing found that organizations like Smartworks Tacoma and Renew Newcastle in Australia were already organizing similar programs in their cities and looked to them for guidance.
Ewing had little trouble finding property managers or building owners willing to participate in the first arm of Window Dressing, Artscapes.
The program is free for property managers, and Window Dressing takes on liability insurance for the space. The 13 locations that have held Artscape installations have also seen vandalism reduced to zero.
Most of all, Artscapes also gives potential tenants a chance to see a once-empty space in a new light.
"It's this broken window concept where if something looks neglected or something looks unkempt, then people are going to treat it that way," Ewing said. "If something seems vibrant and activated and cared for, then people will treat it that way."
With property owners on board, Ewing set to work contacting artists. Similarly, Ewing had no problem finding artists for each location.
In the beginning of Window Dressing, Ewing experimented with both site-specific installations and traditional whitebox gallery installations.
Over time she found that the site-specific installations were more compelling to audiences and began to reach out to artists who were versed in site-specific installations. Artists submitted works and they were juried in by a panel of experts.
If an artist creates a site-specific installation, they receive a bare minimum stipend of $500 for their time and materials. If the artist is using pre-existing artwork, they are given the display space for free.
Since forming in 2014, Window Dressing has placed more than 40 installations in 13 locations around downtown Spokane.
About a year ago, Ewing began implementing the second arm of Window Dressing, Creative Enterprise, which gives local artists and makers low-cost retail space to test out ideas with little risk.
"The businesses range from anything from really good idea to an existing business who thinks they're ready for the next level…," Ewing said. "In my mind, it turns around the notion of who can and can't start a business, at least within a retail storefront space and gives people the flexibility to experiment within that on multiple levels."
The program also involves a 12- to 14-week intensive professional development course in which participants meet once a week for three hours while also working with their own coach outside of class.
Local business owners, including Joel Barbour of the Great PNW, Celeste Shaw of Chaps and Kris and Andy Dinnison of Atticus and Boo Radley's, also act as guest speakers.
"The tangible end result of the curriculum is a fully fleshed out business plan," Ewing said.
Kelsey Jo Flatoff, the owner and creator of KJ Pottery, was part of the first group of business owners and artists to go through the Creative Enterprise program.
Seeing the impact Terrain had on Spokane interested Flatoff in participating in the program.
"For as long as I've been doing my business, I've known that however I can be involved in Terrain, I want to do that because it's good for the community, it will be good for my business, it's good for Spokane," she said.
Along with introducing her to a community of like-minded artists, with whom she still keeps in touch, Flatoff credits the program with giving her more confidence.
"I already had my feet under me but it helped me as a business owner gain confidence and the knowledge and know-how of 'OK, I can do this,' " she said.
After the first Creative Enterprise cohort completed the program, six business owners approached Ewing about a collaborative retail space.
From that request, the Pop Up Shop at 159 S. Lincoln St. was born.
The store currently sells products and art from 25 different artistsakers, 10 of whom have participated in the Creative Enterprise program.
"In my mind, this is the breeding ground, for lack of a better description, of giving people, specifically creative people, the resources and the tools and the infrastructure needed in order to successfully launch their businesses in Spokane and also stay in Spokane," Ewing said.
Flatoff, who has sold her pottery in the Pop Up Shop since it opened in April and in her own space since the summer, said it's been great to have multiple avenues of exposure as a business owner.
"If there's art sold in the community, then the community is healthy and the economy of the community is healthy because art is kind of a luxury purchase, but at the same time so good and rich and healthy for a community, so props to Ginger for all that she does," she said.
In the last year or so, Ewing has gone from focusing solely on Window Dressing, which now falls under the umbrella of Terrain, to taking on other Terrain duties full-time and as a result has cut down on the number of Artscapes locations and is instead focusing on activating the Ridpath.
Ewing hopes to increase the number of Artscape locations in 2018, including a few in Kendall Yards.
All the while, Ewing hopes to continue down the path of empowering and investing in culture creators, which she defines as anyone – artists, musicians, those in the food industry – who creates the soul of a city.
"I think fundamentally, I've fallen into this work because I absolutely adore my city and I believe, and also the organization believes, incredibly strongly that if we are going to be a vibrant city, if we are going to be an empathetic city, if we are going to be a compassionate city, if we're going to be a city that tech companies want to come to or locals who've lived here for 30, 40 years want to see thrive, that we need a strong cultural scene and a creative scene and creative economy," she said.
She hopes too that city leadership joins her, Window Dressing and Terrain on that path, furthering what Ewing has heard referred to as the renaissance of Spokane.
"My hope is that city leadership and the people who really care about and love Spokane would buy into this idea, both in terms of financial buy-in but also when we're looking at the overall success of our city and what that looks like, that our cultural creators and the creative economy are a big piece of that puzzle."
Local journalism is essential.
Give directly to The Spokesman-Review's Northwest Passages community forums series -- which helps to offset the costs of several reporter and editor positions at the newspaper -- by using the easy options below. Gifts processed in this system are not tax deductible, but are predominately used to help meet the local financial requirements needed to receive national matching-grant funds.
Subscribe now to get breaking news alerts in your email inbox
Get breaking news delivered to your inbox as it happens.
---