News > Spokane
Spokane Airport eyeing major improvements
Wed., July 19, 2017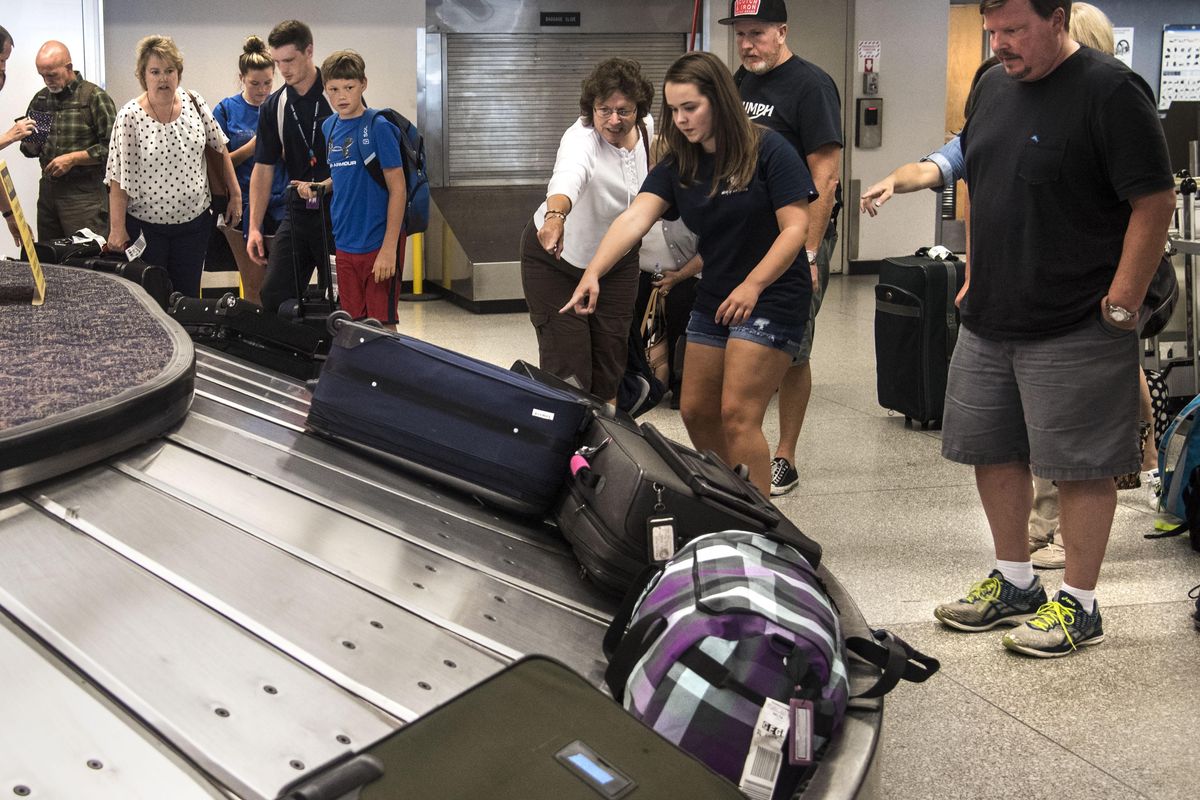 Delta passengers from Salt Lake City identify their luggage at the Spokane International Airport baggage claim on Tuesday. Airport officials are talking about a $110 million program to update airport facilities, including having a new central baggage claim area. (Dan Pelle / The Spokesman-Review)
Spokane International Airport officials are considering a $110 million expansion and renovation with construction starting as early as 2019.
From a passenger perspective, the heart of the proposed improvements would be a relocated and centralized baggage facility near the center of the airport.
Also in the plan would be more spaces for food and other concessions in areas outside of security.
The Spokane Airport Board on Thursday will consider a resolution applying with the Federal Aviation Administration to use the existing $4.50 passenger facility charge to raise some of the financing for the project.
If the FAA approves, then the airport would ask its architectural team to complete up to 30 percent of the design.
Once that design detail has been done, then airport officials could choose from a menu of potential projects.
"We can build it incrementally as we have money," said Larry Krauter, airport CEO during a board study session on Tuesday.
The idea of the Terminal Renovation and Expansion (TREX) is to respond to growth in airline travel at the same time preserving convenience and customer service, Krauter said.
"We want to continue to make (the airport) a pleasant experience," he said.
"We want to continue to be known for easy-in, easy-out," he said.
Large airports around the country have long ago lost the ease of movement because of crowding and outdated facilities, he said.
Spokane airport traffic was up 7.8 percent in the first half of 2017, largely due to new flights to major cities as well as overall growth in travel.
At $54 million, the new central baggage claim would amount to nearly half of the total cost of the projects.
It would consolidate the two existing baggage areas into a centrally located bag claim with five carousels.
There was a general consensus among airport passengers waiting for their luggage in baggage claim that the current baggage claim system works fine, but there's always room for improvement.
"This is a good airport," said Caryl Johnston, a Hayden, Idaho resident who flies about 10 times a year. "It definitely needs expansion."
Rob Lowrey, a frequent flier who lives in Sagle, Idaho, said "Anything that makes it easier is good."
Also on the drawing board are expansion of Concourse C; renovation of Concourse A-B; construction of an airport operations center; creation of a new concourse connector that is wider and more convenient; installing a new terminal canopy at the curb side; construction of a new office building for airport administration; and a new and expanded second-floor waiting area behind security in Concourse C that will be capable of serving both ground boarding and airport bridge boarding aircraft.
A new office building would offer the opportunity to include an airport conference center on the ground floor, officials said.
Spokane City Council President Ben Stuckart, who serves on the Airport Board, said he likes the modular nature of the proposal that allows for choices on options.
He pointed out that the Spokane airport has a relatively low operating cost of $6 per boarding passenger, which is below the average for similar mid-sized airports across the country.
The average cost nationwide is $7.81 cents at similar airports.
The Airport Board in recent years has paid down its bonded indebtedness and now has room to sell bonds for financing the projects, according to a financial analysis.
The Spokane airport also has an A+ bond rating, which will help in keeping interest costs down, officials said.
Revenue bonds would be combined with bonds backed by the passenger facility charge. Only part of the passenger facility charge would be used to retire bond debt, leaving money in that fund for other airport needs such as new snow removal equipment.
One of the projects that would be included is creation of a wider hallway connection from both ends of the airport.
Krauter said that would then allow for the use of more electric carts to move passengers and others from one side of the airport to the other, particularly people landing at Concourse C and needing to go to the rental car counters.
Airport officials plan to ask the airlines to extend their current airline operating agreement for one more year to allow the TREX program to take shape with 30 percent design, Krauter said.
Airlines have already been consulted about the project, but they will have a chance to negotiate changes when a new airline operating agreement comes up for discussion after the one-year extension.
Jim Suehiro, principal architect for Suehiro Architecture in Seattle, has been hired to work on the project.
Suehiro has vast experience on airport projects mainly in the U.S. and Canada.
The TREX project is seen as a medium-range growth plan for coming years.
Eventually, the long-range plan calls for moving the terminal to the west so that it can serve two parallel runways on either side of the terminal.
Krauter said the projects dovetail with the airport master plan done in 2013.
That plan outlined a new terminal in 2030 or later at an estimated cost of $250 million.
Improvements at the Concourse C area could be incorporated into a new relocated terminal.
Krauter said that use of the original Concourse A-B will eventually come to an end because of the age of the facility.
As a result, he said he doesn't think the airport should spend a lot of money on that facility, although renovation is included in the latest plans for TREX.
Local journalism is essential.
Give directly to The Spokesman-Review's Northwest Passages community forums series -- which helps to offset the costs of several reporter and editor positions at the newspaper -- by using the easy options below. Gifts processed in this system are not tax deductible, but are predominately used to help meet the local financial requirements needed to receive national matching-grant funds.
Subscribe now to get breaking news alerts in your email inbox
Get breaking news delivered to your inbox as it happens.
---