A&E > Food
Davenport Hotel's famous brunch draws fans from near and far
Mon., May 8, 2017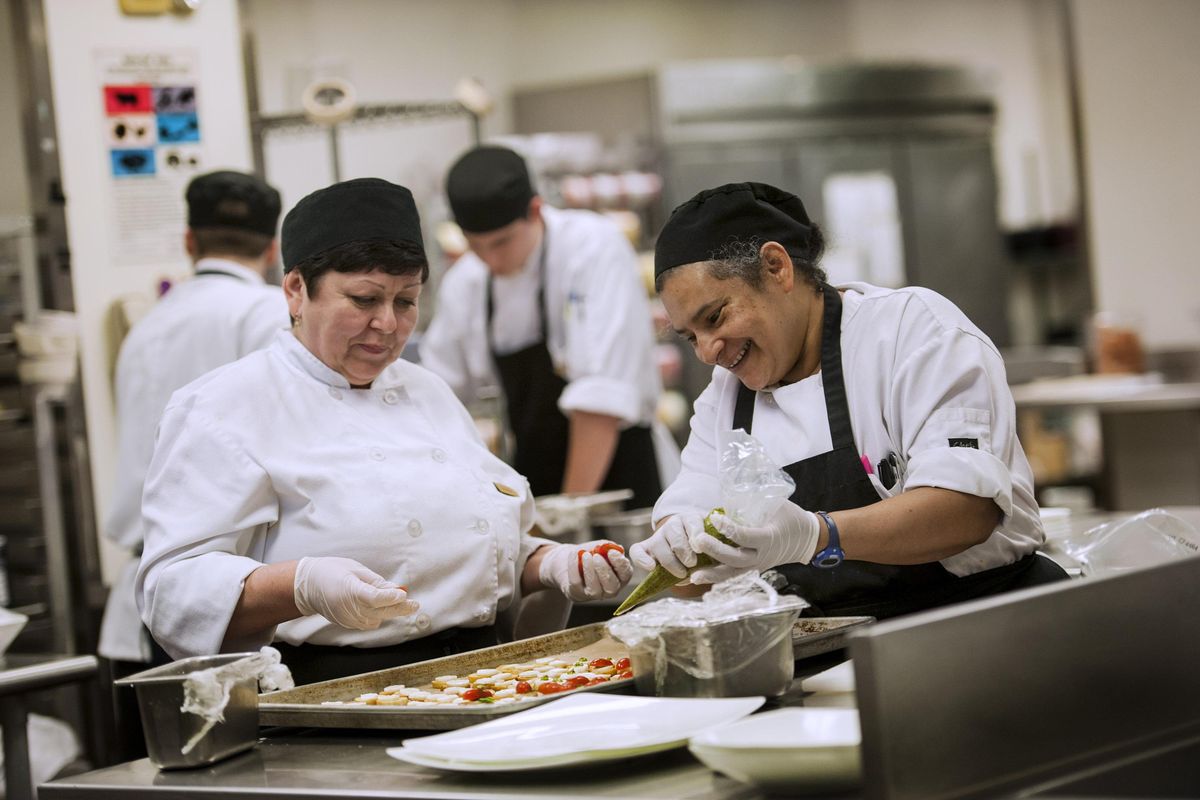 Cold cooks Valentina Gavulovici, left and Candida Pethers work on hors d'oeuvres in the kitchen at The Davenport in Spokane on Saturday, April 8, 2017. (Kathy Plonka / The Spokesman-Review)
They sit in Mama Mary's section every time they dine.
They love her personal touches – the red rose petals on the white linens, her attentive service, the pesto couscous that isn't usually on the menu but that she arranges for anyway. They had it at their wedding.
Andrew and Sarah Fuller were married right here, in the Isabella Ballroom, two years ago come October, after first visiting Spokane's Historic Davenport Hotel in 2012. It was love at first sight with the ornate boutique hotel. Brunch sealed the deal.
Sunday best, indeed.
There's the ambiance – gilded accents, sparkly chandeliers, a wall of windows that makes the space seem reminiscent of the Hall of Mirrors at Versailles.
Of course, there's the cuisine, too – the signature prime rib, apple-wood smoked bacon, freshly made crepes and waffles, a chocolate fountain accompanied by a pineapple tower pinned with fresh fruit and marshmallows.
And there's Mama Mary.
"She's the best," said Sarah Fuller, who made sure to invite their regular server to their wedding. "She's like our Spokane mom."
The Fullers are such big fans of the Historic Davenport that, they estimate, they stay overnight an average of 25 to 40 times per year, driving up to seven hours one way from their home on the outskirts of Bellingham. They plan their visits around Sunday brunch, an iconic cultural affair in the Inland Northwest and one of the benchmarks of hospitality at the landmark hotel.
"All the detail is just insane," Andrew Fuller said.
The detail is the doing of Walt and Karen Worthy, who launched Sunday brunch at the Davenport when the couple reopened the hotel in 2002. In the 15 years since then, it's become one of Spokane's quintessential experiences, a decadent dining tradition that promises vast but high-quality consumption in a resplendent setting.
"We try to make the brunch special each Sunday," Walt Worthy said. "I'm not sure we make much money on it, to be honest with you. But we think it's good advertisement for the hotel, and we really pride ourselves on doing the brunch for the community. We look at it as much more of an amenity for the community than a profit center. We think people enjoy it."
The Worthys certainly do. The couple patterned their Sunday brunch after one of their all-time favorite dining experiences: Sunday brunch at The Breakers in Palm Beach, Florida, where the buffet is $110 per person, plus tax and a service charge, and $50 per child.
Adults here pay the child price there, and multiple trips to the buffet tables are expected. The meal is meant to be long, leisurely and luxurious, an occasion that requires guests to slow down, loosen their belts and save room for dessert.
"I think our dessert table is virtually unsurpassed," Worthy said. "All of our desserts are made in house. We're really proud of them."
The strawberry crepes, "they're just delicious."
The Champagne, it's "free flowing."
And, "Last but not least, we do a chocolate fountain that is among the nicest in the country. Kids and adults both love the chocolate fountain."
The Worthys spent two years and a reported $30 million restoring the Historic Davenport Hotel, which initially opened in 1914 – immediately becoming a cornerstone of the city. But by the time the couple acquired the property, the once-grand dame had seen better days, sitting largely unused since closing in 1985.
The Worthys gutted the upper floors to make way for modern lodgings and hired craftsmen and artists to restore the glittering lobby and ballrooms, including the exquisite Isabella, done in Italian Neoclassical decor and located right off the lobby. Most Sundays, this is where brunch is held.
Reservations are highly recommended, especially for large groups. June through mid-September – the height of wedding season – brunch at the Davenport sees large parties every Sunday. Staff members can accommodate parties of as many as 40 or 50, often the morning after a wedding at the hotel.
The Isabella Ballroom, the hotel's original dining room, holds some 150 to 200 brunch-goers every week. But attendance more than triples for some holiday weekends – as well as basically every Sunday in December – when brunch moves to the Grand Pennington Ballroom. It holds just over 600 people.
Easter sees the most brunchers. Nine hundred to 1,000 people is normal, said Matt Jensen, corporate director of sales and marketing. Mother's Day and Thanksgiving are next, with about 700. That's followed by Christmastime, when it isn't unusual to see 500 guests for Sunday brunch. Father's Day weekend is also big, with anywhere from 400 to 500 guests.
Holiday weekends, reservations are required. Brunch has been known to sell out. Tables hold anywhere from two to 10 people. And the last seating is at 12:45 p.m., or 15 minutes before the end of brunch.
"Just before we close down the food, we make sure everyone has a full tummy," Jensen said.
Strategy depends on who you talk to.
"I always start with the meat," said Josh Garcia, who brings his family to Sunday brunch "at least once a month." The 43-year-old Spokane radiologist guesses he makes "six or seven" trips to the buffet tables compared to his wife's "three or four." But he won't likely eat again until "maybe 8 or 9 o'clock" that night.
His girls – second-grader Julianne, who turns 8 on May 24, and 6-year-old Vivienne, a kindergartner – get sparkling cider while their mom prefers chamomile tea and their dad opts for bubbly.
"They get excited if I say, 'You want to go to the buffet?' They love coming here," Garcia said, looking at both from across the table during a recent Sunday brunch. "You have to behave though."
They know, Dad.
"You walk," Vivienne said. "You can't run and knock everything down."
Julianne's favorite: "the dessert table." Vivienne is more specific: "the chocolate fountain." And even more specific: "the marshmallows."
The girls would make a beeline for them if they could. But, their mom said, "We usually make them eat eggs or something first."
Rosy Garcia, 39, said the family avoids making reservations for busy holiday weekends. Other than that, "We have no reason to stop coming. We love it. The service is very good. We love the crepes."
The crepe, waffle and omelet stations can be counted on each week. So can table-side mimosa service, classic eggs Benedict, a chilled seafood display, and assorted salads, cheeses, breads and baked goods. Look, also, for lox arranged into the shape of roses, ahi tuna appetizers and, on the dessert table, that hallmark chocolate fountain, accompanied by assorted cakes, cheesecakes, cupcakes and a pineapple tower, lined with marshmallows, strawberries and pineapple pieces.
"This is one of Walt's favorite things," said pastry chef Janet Price, 43.
"It looks so cool out there," agreed executive banquet chef Adam Swedberg, 38.
There are so many menu options done on such a grand scale that meal prep typically begins Friday and continues through Saturday. It's akin to catering a wedding reception every week.
It's also an opportunity for hotel staff – from chefs and servers to bartenders and managers – to demonstrate the full extent of the hotel's hospitality and creativity. When Swedberg's crew isn't preparing Sunday brunch, they're generally catering for weddings, wedding tastings and private events at the hotel.
While there are a number of signature brunch staples, many offerings change seasonally, even week to week. Swedberg likes to create themed menus, meeting on Mondays to make a plan.
"I get my sous chef and my lead cooks in the office, and we think about what we want to do," he said. "It's fun. Brunch gives us a chance to play around a bit. It gives us the opportunity to show the public a sense of what we can do."
It generally takes 10 chefs two to four days to complete brunch prep in the spacious 7,500-square-foot kitchen. For Easter and Mother's Day, cooks might start prepping as early as Wednesday.
On a recent prep day, a saucier was in the middle of making five different stocks and sauces: peppercorn demi-glace for the prime rib, mint jus for six crown roasts of lamb, vegetable stock, tomato sauce and ragout. The berry compote and lemon-thyme sauce were already done. And a seafood sauce was in the works at nearby station where another chef was in the middle of peeling 40 pounds of jumbo prawns, which are served with cocktail sauce that's made in house.
In one of the three walk-in refrigerators, four prime-rib roasts were already rubbed down and waiting. So were red country potatoes, cut and cubed and spread on sheets, ready for the oven. Trays of bacon, sausage and pre-poached eggs also lay in wait, ready for a Sunday morning steaming.
Price was in the process of making 100 swan-shaped cream puffs. For Easter, Mother's Day and other busy holidays, she produces 350 to 400 of them. "They're very popular."
So are mini cupcakes, one of her specialties. She also makes five to 10 cheesecakes for a regular Sunday – or 20 to 25 for a busy one. Flourless chocolate cakes are another staple, and she usually makes five: three conventional and two with the hotel's signature peanut brittle. For a busy Sunday, she makes 10 of each.
"I like being part of brunch," Price said. "I want people to come in and look at everything and say, 'I want one of each of those.' I want everything really elegant-looking. I want people to save room (for dessert)."
The couple who drives from Bellingham love "the variety of everything," said Sarah Fuller, 34. She and her husband, Andrew Fuller, 39, discovered the Davenport online in 2012, a decade after it reopened. Three years later, they got married there. And the next day they continued the celebration with Sunday brunch for a few dozen friends and family members.
These days, "This is the only brunch we go to," said Sarah Fuller, noting she especially enjoys the sausage, crepes and chance to see Mary Stratton, aka Mama Mary.
Stratton, 55, has worked at the Davenport since the hotel reopened. She typically works 50 Sundays a year. The two Sundays that the beloved server doesn't work, she's here, too – brunching alone with her husband and again with their family.
"Everyone has to do it at least once," she said.
Some guests come solely for the bloody mary bar. Brunch-goers can tack on a trip for an additional $10. Located in the lobby, the station features an array of hard cheeses, charcuterie, shrimp, chili flakes, hot sauces, assorted flavored vodkas as well as other spirits, minced garlic, celery, cucumbers, lemon and lime wedges, and fresh thyme, rosemary, basil and cilantro.
"I do all the prep myself," said server Terrie Cramer, 52. "I cut everything fresh every Sunday. I'm always the Sunday bloody mary bartender. This is one of my great prides. This is my little niche in the world."
One of her favorite add-ons is blue cheese. "I'm really known for putting blue cheese in bloody marys," she said. "I make it memorable. If you come here for brunch on Sunday, you want to feel special, and I want to make you feel special."
That sentiment is echoed throughout the service.
"From the first table to the last table, we want to keep that experience consistent for everyone," Jensen said. "You can't let your guard down on something like this. This is not an inexpensive thing. This is one of our signature items. There's the peanut brittle, the Davenport bed, the Davenport wedding and Sunday brunch.
"It's kind of sensory overload," Jensen said. "You don't eat the day before, and you don't eat the day after."
And if you overdo it, well, "We always like to promote this: You can take the elevator home."
Local journalism is essential.
Give directly to The Spokesman-Review's Northwest Passages community forums series -- which helps to offset the costs of several reporter and editor positions at the newspaper -- by using the easy options below. Gifts processed in this system are not tax deductible, but are predominately used to help meet the local financial requirements needed to receive national matching-grant funds.
Subscribe to the Spokane7 email newsletter
Get the day's top entertainment headlines delivered to your inbox every morning.
---