Inside Spokane's best Airbnbs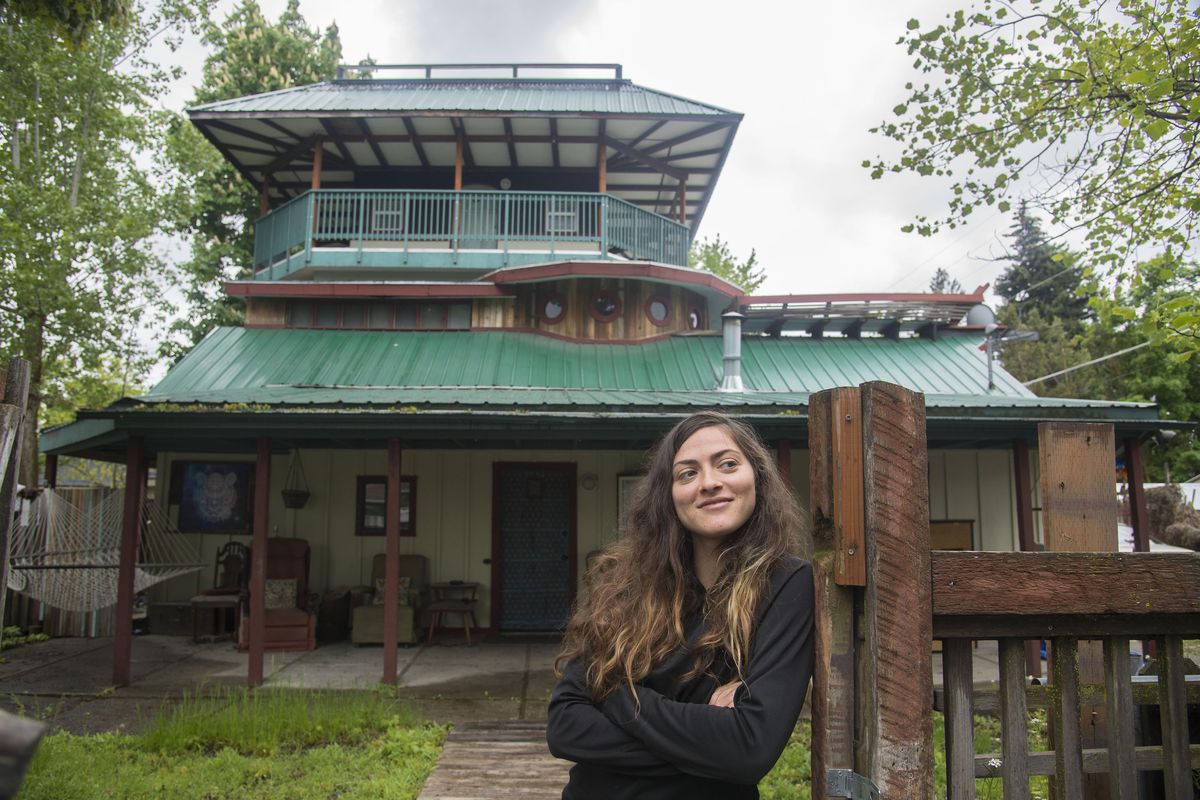 For less than $200 a night visitors to Spokane County can stay in a home with a helipad on the roof, a converted historic electrical substation, or accommodations with Disney flair.
It's all part of the new travel wave led by the likes of lodging upstarts Airbnb and VRBO.
Airbnb is widely accessible in Spokane with more than 300 listings; VRBO, which stands for vacation rental by owner, has 70.
While many of the rooms and homes listed are simple and cheap, there are plenty that are unusual.
Angie Kochan and Randy Watts know visitors want to have fun, so they offer a pair of distinct houses: The Birdhouse and The Beehive.
Kochan says her most recent guests were in Spokane visiting family, attending Gonzaga's graduation and running in Bloomsday. Last fall, they hosted a local family who needed a place to stay while refurbishing their house.
Kochan and Watts moved to Spokane four years ago from Arizona. She recently stopped working for the Spokane AIDS Network and now devotes her time to managing their Airbnbs, while he is a writer and previously worked for the Walt Disney Co.
The connection to Disney is unsurprising considering the pair's love for themes and eye for perfection.
Here's a list of some houses that popped from a list. They range in price, size, convenience and whimsy, depending on the needs and desires of renters:
For $120 a night, you can walk through a white picket fence, past a birdbath in the center of a well-trimmed lawn, and enter a 1924 cottage decorated with bright colors and birds galore.
The Birdhouse, 804 E. 34th Ave., has three bedrooms, furnished respectively with queen, king and trundle beds, alongside two bathrooms containing all-natural soaps. It has a fully stocked kitchen, a laundry room and a family room equipped with an AppleTV.
Dogs are welcomed to The Birdhouse with a special display of toys and treats.
Children compete to see who can count the most birds.
The guest book slowly fills up with thankful remarks and children's drawings after each stay.
Kochan and Watts invite guests to "Buzz on in" to The Beehive through their website.
Built in 1910, this two-bedroom cottage at 1023 E. 14th Ave. is within walking distance of the South Perry district.
The hosts looked for "a quiet street near a main street" for both of their Airbnbs.
The Beehive is dog-friendly and equipped with the same amenities as The Birdhouse.
Landscaping is in the works and will be completed in a few weeks.
This addition may raise the value of a night's stay above the current $99, but not by much, because making money isn't the purpose of Airbnb for Kochan and Watts.
"We do this because we adore it," said Watts.
Airbnbs are cleaned between each stay, and Kochan and Watts take this very seriously. They attempt to maintain the illusion of perfection in their cottages.
Kochan said she cleans the sheets, baseboards, floors, walls, thresholds and windows every time. Watts explained that part of the experience they offer comes from perfection, like in a Disney hotel room.
In the neighborhoods of their two properties, Kochan and Watts turned blemishes into gems. They said their neighbors express appreciation for the care given to The Birdhouse and The Beehive.
The hosts also voiced their love for the city of Spokane.
"We try to always be missionaries for Spokane," Watts said. There is "a goodhearted, relaxed atmosphere you find in Spokane."
"We feel more at home here than where we're from," Kochan added.
If a child were given free rein to design a house, the "Funky House" would be the result.
"It's a hub for unique, out-of-the-box-thinking eccentrics," said Bekha Davis, who bought the Funky House, 7518 E. Bridgeport Ave., six years ago.
The charm of the Funky House is natural and raw. The overgrown lawn looks ethereal and repurposed materials live on throughout the property.
"The skeleton was there," she said, "I saw what it could be."
Piece by piece, Davis has added to the funkiness of the house.
Future plans suggest a fully functioning, perhaps untamed imagination. A piano porch, zip line and treehouse may pop up soon.
Bekha described her Airbnb as a "playhouse." KHQ once called it "Spokane's Most Unique Home."
For Davis, Airbnb is "more about giving an experience than getting money."
Online, the price is $171 per night, but the host sometimes lets guests stay for free if they provide a service in exchange – some have paid with handy skills and others with materials.
It's "more a bartering house than an Airbnb," she says.
The house currently sleeps 16 people. There are two loft beds, one hanging bed, one bed inside a real boat attached to the house, one normal bed and multiple air mattresses. There are two ladders, one spiral staircase, a balcony, a canoe on the roof and a helipad. The helipad was built by previous owners. Davis said she's "doubtful it's ever been used."
She accepts guests "if they're willing to participate and be a model for thinking outside the box," she said.
A group of rock climbers stayed there most recently. One of the girls, an engineer, wants to return and install a compost-fueled water heater for the house.
For another unique experience in Spokane, stay in what once used to be an electrical substation for Washington Water Power/Avista.
In the last decade, owners Shannon Bedard and Sali Combelic renovated the building into a tiny, quirky home. The price: $88 a night.
Bedard and Combelic purchased the property in 2015.
Author and comedian Julia Sweeney, a onetime frequent Airbnb user, once stayed in the substation on a visit back to her hometown. She wrote on her blog that staying at the former substation made her weekend stay in Spokane "twice as good."
The hosts of the Lil' House Substation, at 4128 N. Monroe St., inspired Kochan and Watts to set up The Birdhouse and The Beehive.
South of Spokane, the Schierman family offers 40 acres of private camping on the rolling Palouse.
The land near the Whitman County town of St. John has been owned by Tom Schierman's family since 1916. It used to be a farm. And then during the past half-century, the property has been turned into a conservation park, the Schierman Sanctuary.
Guests camp on the grounds for $20 per person. Cabin-building plans are in the making, but right now the Airbnb offers what the family calls an "exclusive rustic retreat and private campground."
The owners of La Cabina designed the South Hill home for romantic getaways reminiscent of Tuscany.
The one-bedroom house has draping curtains and an outdoor patio. The kitchen and dining area entertain up to six people.
La Cabina, which is located just east of Spokane city limits not far from Chase Middle School, has a more rural setting and costs $145 a night.
This lake house, built about 15 years ago, sleeps 20 people with five king or queen beds and four sets of bunk beds, one of which is four levels high.
Guests can enjoy two canoes, a private dock and a fire pit next to the water.
The kitchen and dining room area allow for large get-togethers in Liberty Lake at 2401 S. Pine Terrace Lane.
The nightly rate is $951, so bring plenty of guests.
---