Sports > Gonzaga basketball
Josh Perkins displays range to lead Gonzaga to 97-69 season-opening rout of Texas Southern
Fri., Nov. 10, 2017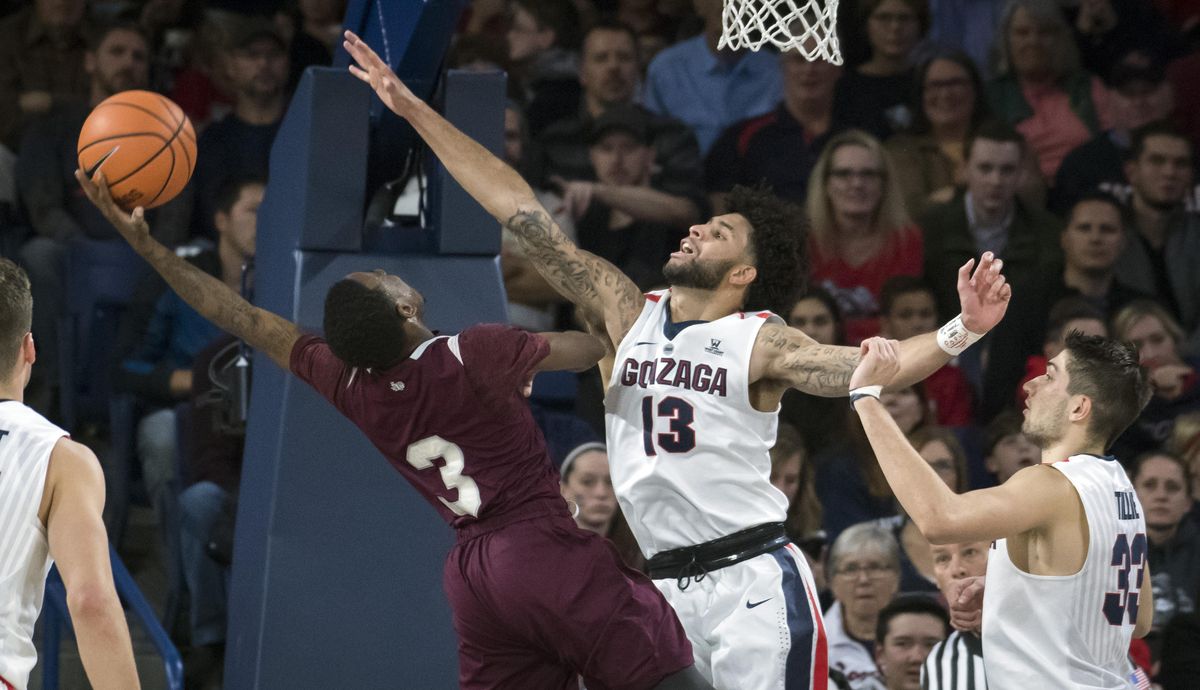 Gonzaga guard Josh Perkins (13) defends against a shot by Texas Southern guard Demontrae Jefferson (3) during the first half of a college basketball game, Fri. Nov. 10, 2017, in the McCarthey Athletic Center. (Colin Mulvany / The Spokesman-Review)
Josh Perkins' ears aren't listed on the injury report, but they have been getting quite a workout.
From the offseason into the preseason and through last Saturday's exhibition game, Gonzaga's coaching staff has been vocal with Perkins about being aggressive offensively and looking more for his shot.
The junior point guard's stroke was pure Friday as he knocked down six 3-pointers and scored 20 points in the 18th-ranked Zags' 97-69 season-opening rout over Texas Southern in front of 6,000 at the McCarthey Athletic Center.
"He's really one of those guys that gets a real rise out of making a pass," coach Mark Few said. "I think he's coming to the realization that he's an elite-level shooter and play off that first, and second maybe explore those other things."
Message received.
"They let me know a lot and I appreciate them letting me know," Perkins said. "For me, being aggressive is better for the team and it showed tonight."
He paused and added with a smile, "They're pretty good coaches. I should probably listen to everything they say. Not a bad idea to listen to what they say."
Perkins was fairly quiet in Gonzaga's exhibition victory over College of Idaho last Saturday. He picked up two first-half fouls and spent some time on the bench. He finished with four assists but attempted just three shots.
"I wanted to put that one behind me," Perkins said.
Perkins connected on his first 3-pointer with 15:40 left in the first half. His back-to-back treys put Gonzaga up 32-20 and he repeated the feat late in the half as the margin grew to 48-29.
On a couple of occasions, Perkins' growing confidence was evident with a couple of quick catch-and-release 3-pointers.
In between his 3-point bursts, Perkins had a couple of sloppy turnovers in the first half that prompted coaches to send in a sub.
"We want him to focus more on (hunting his shot) as opposed to making fancy passes and trying to cross guys over," Few said. "He had 13 (points) at half in the national championship game, that puts you in rarified air.
"He had a little rough spot (with turnovers) in the first half but I thought he managed the game pretty well."
The Zags aren't abandoning the pound-it-inside offense that has been so successful the last few seasons, but they will have a different look this season. The 3-pointer could become an important weapon for a squad stocked with capable perimeter shooters.
Gonzaga launched 25 3-pointers, making 11. Five different Zags hit at least one 3, including Silas Melson, Johnathan Williams, Corey Kispert and Zach Norvell Jr.
"So many guys can get them up there and shoot them with confidence," Perkins said. "I'm taking those shots all day."
Part of Gonzaga's defensive strategy was not letting Texas Southern do the same. The Zags knew the Tigers would be a handful with dribble penetration, but they limited the damage from the 3-point line. TSU made just 4 of 21 from distance.
"They run an offense that spreads you out and they're going to attack off the dribble," Few said."Our defense is built on making people take tough 2s.
"Over the course of 40 minutes, it's going to be hard to beat you making tough 2s. We did a nice job of taking that (3-pointers) away except for that spurt in the second half when we went zone."
Five Zags reached double figures and two more, Killian Tillie and Jacob Larsen, each had nine points. Tillie grabbed 12 rebounds as Gonzaga dominated the glass 57-35.
Gonzaga had just three second-half turnovers after committing 11 in the opening half. The Zags also started winning the majority of the 50-50 balls.
"I don't expect us to be perfect anytime soon," guard Silas Melson said, "but one thing I do expect is trying to get better every day and playing tougher, harder and more physical than the opponent."
Local journalism is essential.
Give directly to The Spokesman-Review's Northwest Passages community forums series -- which helps to offset the costs of several reporter and editor positions at the newspaper -- by using the easy options below. Gifts processed in this system are not tax deductible, but are predominately used to help meet the local financial requirements needed to receive national matching-grant funds.
Follow along with the Zags
Subscribe to our Gonzaga Basketball newsletter to stay up with the latest news.
---