Sports > Gonzaga basketball
No. 17 Gonzaga avoids meltdown, tops Texas 76-71 in overtime at PK80 – with highlights
UPDATED: Sun., Nov. 26, 2017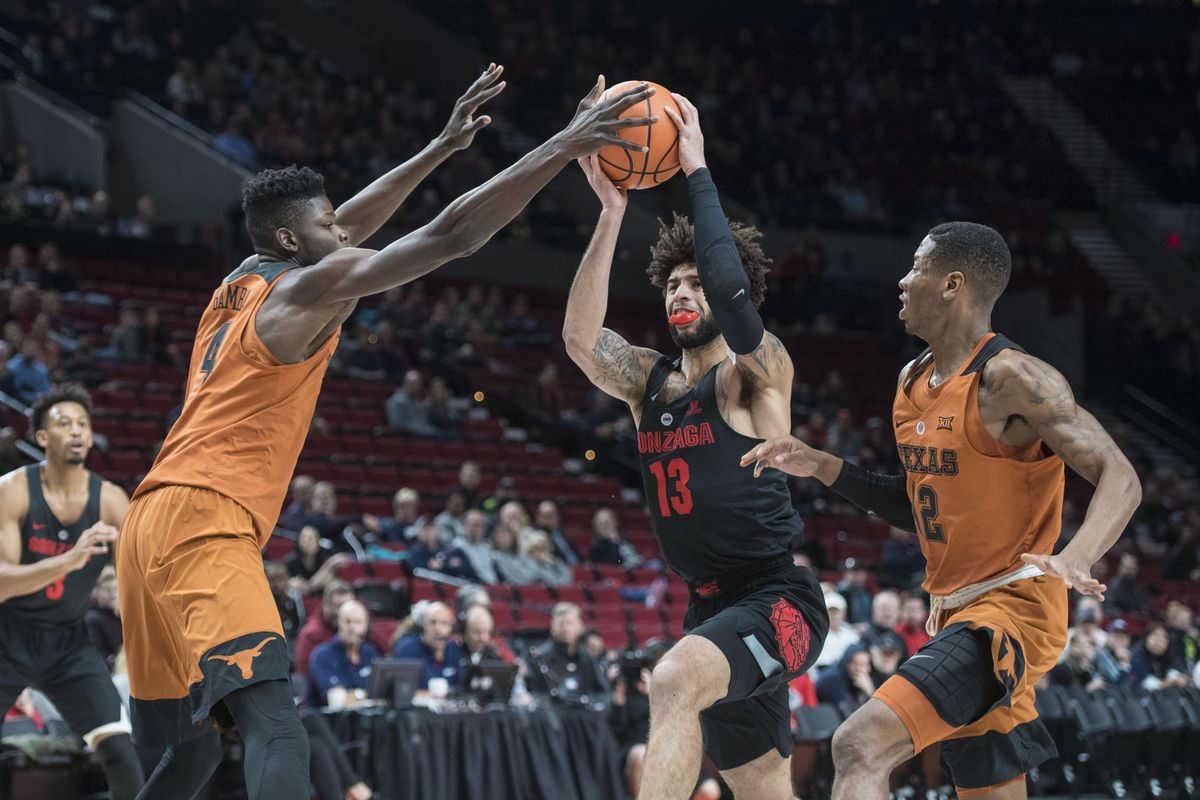 Gonzaga guard Josh Perkins drives on Texas forward Mohamed Bamba (4) and guard Kervin Roach II, Sunday, Nov. 26, 2017, in the Moda Center. (Dan Pelle / The Spokesman-Review)
PORTLAND – Rui Hachimura scored a game-high 20 points off the bench as No. 17 Gonzaga topped Texas 76-71 in overtime after losing an 18-point lead Sunday at the PK80 Invitational in the Moda Center.
Texas' run came in the final 10 minutes of regulation after a switch to a full-court press defense forced 14 Gonzaga turnovers in 22 possessions. Up 67-64 with six seconds remaining, Gonzaga's Josh Perkins made an errant inbound pass, leading to the Longhorns' game-tying 3-pointer.
The Bulldogs (5-1) regained their composure in the overtime period though, forcing three Texas turnovers. The Zags also turned to Johnathan Williams, who had struggled offensively during regulation, as the senior forward scored four of his 10 points in the extra period.
Gonzaga finished with a season-high 24 turnovers, while forcing 20 by Texas (4-2). The Bulldogs were also beat on the glass by the Longhorns 38-36.
Joining Hachimura and Williams in double figures for the Zags were Killian Tillie (10) – who received treatment after falling awkwardly in the second half – and Perkins (16).
Perkins also knocked down a game-high five 3-pointers while dishing out seven assists.
Gonzaga finished third in the PK80's "Motion" bracket, and will now return home for a 6 p.m. game Wednesday against Incarnate Word (3-2).
Ovetime
Final – Gonzaga 76, Texas 71: Bulldogs get it turned around in the OT period behind big plays from Williams and Kispert.
Not an ideal ending to the PK80, but still a 2-1 finish with wins over Texas and Ohio State.
2:13 – Gonzaga 71, Texas 69: Big slam by Johnathan Williams with a foul puts the Zags back up. Bulldogs still looking for an offensive spark.
Second half
End of regulation – Gonzaga 67, Texas 67: Another Gonzaga turnover against the press is followed by a last-second 3-pointer and the Longhorns have battled back to force overtime.
Questionable decision making from the Zags down the stretch here as they led by as many as 18 points.
33.4 – Gonzaga 66, Texas 61: Massive 3-pointer by Melson gets things going in the right direction for the Zags, but they're still struggling to stop the Texas offense.
Bulldogs just need to avoid turnovers and make free throws here to seal the deal.
2:08 – Gonzaga 63, Texas 59: Tillie knocks down a big three, but Texas answers back. Zags really struggling against the Longhorn press both in the back and frontcourt.
Two more turnovers turn into Texas layups and the Longhorns are right back in it.
Zags turnover counter now at 22. Bulldogs have turned the ball over 14 times in the last 22 possessions.
4:00 – Gonzaga 60, Texas 51: Texas goes into the full-court press and forces a pair of Perkins turnovers.
Gonzaga shooting under 30 percent this half.
5:23 – Gonzaga 58, Texas 47: Lid on the hoops for the Zags right now, while Texas is cutting into the lead.
Tillie is back out on the floor for the Bulldogs, but they still can't get much going. 17 turnovers now for the Zags.
7:57 – Gonzaga 57, Texas 42: Tillie takes a hard spill during a rather sloppy stretch for both teams and heads to the locker room.
Neither team scored over a three-minute stretch out of the last media timeout. Both teams up to 14 turnovers. Bulldogs shooting 46 percent from the floor while holding Texas to 33 percent.
11:36 – Gonzaga 57, Texas 40: Thank you for visiting the Rui Hachimura live updates.
The 6-8 sophomore from Sendai, Japan is up to 20 points and eight rebounds.
Perkins up to 15 after his fifth 3-pointer. Matt Coleman leads Texas with 15 points, the only Longhorn player in double figures.
15:42 – Gonzaga 48, Texas 33: Turnovers on three straight possessions opens the second half before a Tillie bucket starts the Zags scoring.
Gonzaga still tough on defense, holding the Longhorns off the board for the first three minutes.
Hachimura also gets back on the score sheet quickly, as he's up to 16 points.
Halftime
Gonzaga 42, Texas 28: Rui Hachimura took advantage of some key early minutes to score 12 points and pull down six rebounds in the first half of the PK80 Invitational third-place game against Texas on Sunday at the Moda Center in Portland.
After a sluggish start, the Bulldogs rattled off a 25-0 run in the middle of the half – most of which was done without starting center Killian Tillie, who was called for two early fouls.
Josh Perkins continued his hot shooting from 3-point range, knocking down 4 of 4 from deep to match Hachimura's 12 points.
The Bulldogs have committed 10 turnovers so far, but are outrebounding the Longhorns 18-17.
First half
Halftime – Gonzaga 42, Texas 28: When even Hachimura his hitting a 3-pointer, you know things are going right.
Portland-native Silas Melson follows up Rui's three with one of his own.
Hachimura up to 12 points – his third game in double figures this season (Texas Southern 11, Howard 12).
Texas ends the half on a positive note with a big alley-oop, but that half was all Gonzaga.
3:49 – Gonzaga 34, Texas 21: All Zags right now and its not even close.
Bulldogs can't miss, Texas can't buy a basket. Gonzaga shooting 67 percent from deep.
Perkins up to a game-high 12 points for the Bulldogs. Turnovers still a problem though, as the Zags have committed nine so far. They're on a 26-5 run.
7:48 – Gonzaga 23, Texas 16: Bulldogs getting it going from deep as Perkins hits his third and Williams gets on the board.
Make that a 16-1 run for the guys from Spokane.
The only troubling news on the Bulldog bench is Killian Tillie has taken a seat after his second personal foul. Rui Hachimura and Jacob Larsen will see some minutes this half.
Perkins up to nine points – all from deep – along with three assists.
10:28 – Texas 16, Gonzaga 15: A touch of pep in the step of the Bulldogs after the first media timeout, especially on the defensive end.
Two days removed from a career-high 39 points against Florida, Gonzaga's Johnathan Williams has yet to get it going offensively. The big man is 0-2 from the floor with a pair of turnovers. He has blocked two shots on the other end of the court though.
Despite turning the ball over five times already, the Bulldogs went into the timeout on a 7-0 run which included another Perkins 3-pointer and a Corey Kispert and-one layup. Defense turning to offense for the Zags.
15:51 – Texas 9, Gonzaga 5: Texas pounding it inside early and often to start, scoring its first six points under the basket before hitting its first 3-pointer of the game.
Sloppy start for the Zags offense outside a Josh Perkins 3-pointer.
The Bulldogs have already turned the ball over twice and have only pulled down one rebound.
Our own John Blanchette and Jim Meehan can probably relate to the slow start after covering the Apple Cup last night in Seattle
Gonzaga announces starting five
Gonzaga, Texas try to rebound from tough losses
PORTLAND – Gonzaga and Texas meet Sunday in the PK80 Motion Bracket's third-place game, informally known as Which Team Will Rebound From Heartbreak.
The Zags (4-1) came up short in a double-overtime thriller to No. 7 Florida in Friday's semifinals. The Longhorns (4-1) lost a 16-point second-half lead and fell in overtime to No. 1 Duke. | READ MORE »
Longhorns' Mohamed Bamba poses sizable challenge for Gonzaga
After facing a string of guard-driven opponents in their first five games, the Zags encounter a sizable challenge from Texas. Mohamed Bamba, a 6-foot-11 center who was No. 6 on ESPN.com's Top 100, isn't a prolific scorer yet but he's a game-changer defensively. He has 15 blocks in 100 minutes this season. | READ MORE »
NCAA men's basketball
At Rose Garden, Portland
➤ Sunday, Nov. 26: Texas Longhorns (4-1) vs. No. 17 Gonzaga Bulldogs (4-1), 10 a.m. PT TV: ESPN Online: Watch ESPN
Local journalism is essential.
Give directly to The Spokesman-Review's Northwest Passages community forums series -- which helps to offset the costs of several reporter and editor positions at the newspaper -- by using the easy options below. Gifts processed in this system are not tax deductible, but are predominately used to help meet the local financial requirements needed to receive national matching-grant funds.
Follow along with the Zags
Subscribe to our Gonzaga Basketball newsletter to stay up with the latest news.
---