News > Spokane
Suspect named in Carl Sims shooting as former teammates express sorrow, disbelief
Oct. 11, 2017 Updated Wed., Oct. 11, 2017 at 11:02 p.m.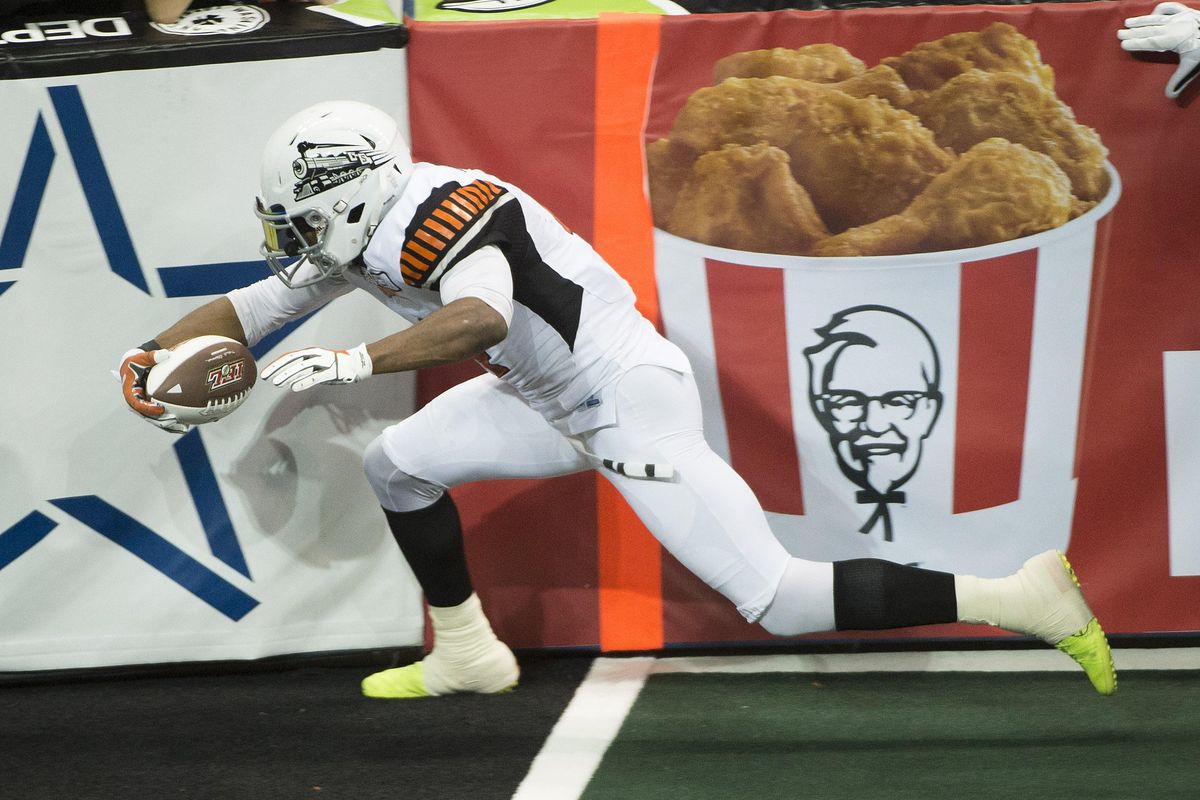 Empire wide receiver Carl Sims (4) scores a touchdown during the second half of a IFL arena football game, Friday, April 29, 2016, in the Spokane Arena. Sims was shot and killed early Sunday morning, though few details of the incident are yet known. (Colin Mulvany / The Spokesman-Review)
Roy Polite's cellphone buzzed incessantly Wednesday morning as group text messages bounced between 16 current and former Indoor Football League players.
One of the league's most decorated wide receivers, former Spokane Empire star Carl Sims, was shot and killed in downtown Spokane early Sunday morning, former Empire coach Adam Shackleford confirmed Tuesday.
Each ex-teammate shared kind memories of Sims, Polite said, and two glaring questions: Who would do this? And why?
"(Sims) was the type to shy away from situations like that. He was very laid back," said Polite, a Jacksonville, Florida, track and field coach who teamed up with Sims in 2013 with the Sioux Falls Storm. "We all want some closure, so what happened?"
The Spokane Police Department Wednesday night released the name of the alleged shooter, 25-year-old Ricky L. Tanner of Spokane.
Tanner, who was arrested Wednesday, faces a charge of second-degree murder.
According to police, an argument around 1 a.m. near downtown businesses on Sprague Avenue and Washington Street escalated when a man allegedly displayed a knife. Tanner then fired a gun and a third male was struck by the bullet, police said.
The Spokane County Medical Examiner has yet to officially release Sims' name.
Shackleford said Sims, 31, died after being shot in the leg.
Employees of Monterey Cafe, a bar and restaurant, said an altercation started around the corner in front of Lucky's Bar and spilled out near Monterey Cafe, where Sims reportedly entered after being shot.
This isn't the first time Tanner has been accused of gun violence.
In 2015, Tanner was the primary suspect in a gang-related drive-by shooting in Hillyard. He plead guilty to the charge. He was charged with multiple crimes in 2013, including second degree robbery.
Shackleford, who coached Sims during the 2016 season and half of 2017, said Sims was one his most well-liked players and wasn't the confrontational type.
"But he would certainly stick up for someone," Shackleford said. "I hope that's not what led to this situation."
Sims, second all-time in IFL career receiving yards (5,046) and third all-time in touchdown receptions (111), came to Spokane in the latter stage of his career.
In 2016, Sims led the Empire in receiving with 822 yards and 20 touchdowns. He was released midway through the 2017 season due to a wrist injury, but was able to finish the season with another IFL squad, the Nebraska Danger.
Shackleford said Sims, a Milwaukee, Wisconsin, native, recently moved back to Spokane even though the Empire ceased operations after the conclusion of the 2017 season.
Sims starred at Western Illinois University (1,724 career yards and 11 touchdowns), where he graduated in 2008 with a degree in African-American studies.
Hundreds of friends and former teammates took to social media to remember Sims, including former Green Bay Blizzard coach Aaron Zepnick.
"Prayers and I will always remember you Carl Sims! C4 and the Sims Shuffle is always going to live on. One of the best players I have seen with my own eyes," Zepnick posted.
"God speed my friend! Prayers to the Sims family as well as former teammates, coaches, and friends! Carl was a great man! May he RIP."
Polite, one of Sims' close friends, is trying to make sense of the tragedy.
"I've had friends that have passed away to where I wasn't surprised they were shot, because they were living that kind of life," Polite said. "This was a big surprise. This really hurt."
Local journalism is essential.
Give directly to The Spokesman-Review's Northwest Passages community forums series -- which helps to offset the costs of several reporter and editor positions at the newspaper -- by using the easy options below. Gifts processed in this system are not tax deductible, but are predominately used to help meet the local financial requirements needed to receive national matching-grant funds.
Subscribe now to get breaking news alerts in your email inbox
Get breaking news delivered to your inbox as it happens.
---