News > Spokane
Ridpath's revival into small downtown Spokane apartments attracts renters
Wed., Oct. 11, 2017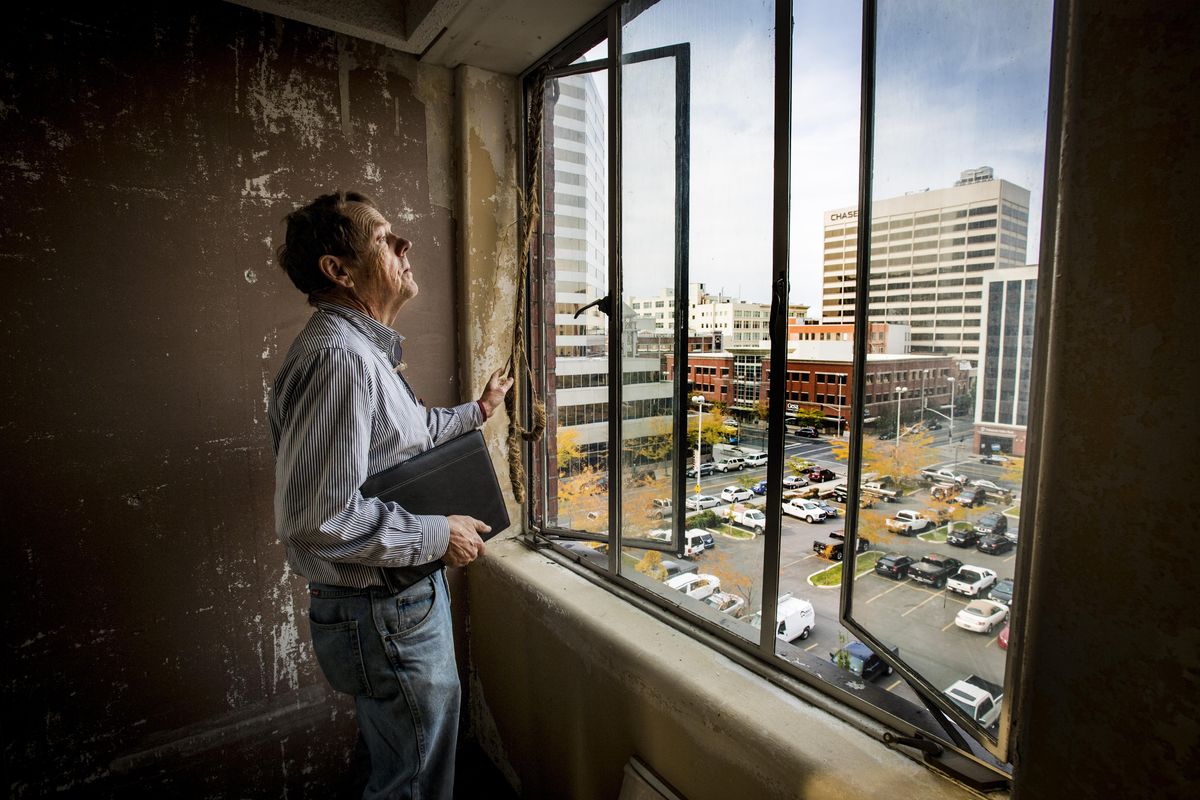 Ron Wendle, project architect for the Ridpath project checks out the view from one the hotel rooms being converted into an apartment. The renovation project is moving along, with the first units becoming available mid-December. Colin Mulvany/THE SPOKESMAN-REVIEW (Colin Mulvany / The Spokesman-Review)
Nearly 10 years after the last hotel guests checked out, downtown Spokane's Ridpath Hotel is getting new tenants. And they pay rent.
Renovations to the 65-year-old tower building, and the adjoining 111-year-old Y Building, have sped along since they began in June, and about 30 apartment units will be available for a Dec. 15 move in, said Ron Wells, who bought the Ridpath with several partners this spring after years of legal wrangling.
"We have a very active Ridpath," Wells said, adding that the Ridpath Club Apartment's 206 units will be completely renovated and ready for renters by May.
The units will range in size and price, from "micro-apartments" to one bedrooms, and with a monthly rent between $495 and $1,575. Eighty percent of the units will be reduced in price as workforce housing, and be open to people who earn between $20,000 and $29,000 a year. Full-time workers earning minimum wage will qualify for the rent reduction.
The remaining units, less than 40, will be market price.
Ron Wendle, the project's architect, said the renovation was to begin in May, but the hotel's furniture remained and had to be disposed of or donated.
"The beds were there. The bedspreads. The coffeemaker. The Folgers packets," Wendle said.
Since June, Wendle has lead a speedy renovation that he likened to an "overgrown bathroom remodel."
But with project cost of $22 million, it's no small task. Floors are getting replaced, walls painted, and utilities completely updated. Some walls have been knocked out to create one bedroom units. Kitchens getting installed.
The micro-apartments average 220 square feet and amount to a refurbished hotel room with a kitchenette, including a stainless steel sink, two-burner cook top and fridge. A combined microwave and convection oven is also included. They'll rent for between $495 and $850.
The building's studio apartments are a bit bigger, averaging 300 square feet, and range from $550 to $1,080.
The one bedroom apartments are as large as nearly 1,000 square feet, and will rent for between $550 and $1,575.
Utilities are included in the rent, as is fiber internet. Each unit will have new wood-like "luxury vinyl tile" flooring and gray quartz counter tops.
The second-floor mezzanine in the tower will be maintained as a community space, and Wendle said the goal of the renovation was to keep the Ridpath's character intact. As such, the front desk is preserved with its lit sign announcing the 1904 date of establishment.
"The building will speak for itself," Wendle said.
That may be more than enough. Derek Weese, the NAI Black leasing manager for the building, said he put a post on Craiglist last week soliciting applications and has struggled to keep up with the interest.
"I put the first ad up at the end of Thursday and I've basically been answering calls ever since," he said, estimating he's heard from 70 people.
Wells, who is partners in the project with Paul Mann, Mickey Brown and Jim Topliff, acquired the building after "five years of litigation and court cases, and $1,760,000 in legal fees," he said.
"It's pretty hefty, but it's what it took to clear the deck," he said. For years before Wells got the building, a convoluted condominium ownership structure prevented a single owner from moving forward with renovations. Former Ridpath owner Greg Jeffreys is in prison on a variety of fraud charges, including some related to Ridpath deals.
But Wells was confident about the future of the building and the future of downtown Spokane.
Jeremy and Kate Hansen, who own Santé Restaurant & Charcuterie and several other local restaurants, plan to open the French-themed Ridpath Brasserie on the hotel's first floor, Wells said. Part of the 5,900-square-foot space will become the Octopus Gin Bar, which will be similar to the couple's Hogwash Whiskey Den in the Washington Cracker Co. builing and is also singularly focused on one type of liquor.
Besides the Ridpath, a number of new buildings geared to downtown living have opened or are planned to open soon.
The Chronicle Apartments, in the historic Spokane Chronicle newspaper building, opened this year with 32 units, and more are planned on the building's second floor. The old Macy's building is currently being renovated, and it will have 105 apartments when complete in the spring. Both buildings are owned by Centennial Properties, a subsidiary of Cowles Co., which also owns The Spokesman-Review.
The old Otis Hotel is also being worked on, with plans for more than 100 apartments.
And there's room for more. A recent housing study showed vacancy rates hovering around 2 percent for downtown Spokane's 2,500 units.
One of the newest units that won't be vacant for long sits on the southeast corner of the Ridpath's third floor. It's the old room 352, has one bedroom and a large soaker tub.
"The Elvis suite," Wendle called it, referring to Elvis Presley's storied stays at the hotel in 1957 and 1973. Wendle noted the "Presidential Suite" had another famous guest, for tenants who had more sedate musical tastes. "Lawrence Welk stayed here, too."
Local journalism is essential.
Give directly to The Spokesman-Review's Northwest Passages community forums series -- which helps to offset the costs of several reporter and editor positions at the newspaper -- by using the easy options below. Gifts processed in this system are not tax deductible, but are predominately used to help meet the local financial requirements needed to receive national matching-grant funds.
Subscribe now to get breaking news alerts in your email inbox
Get breaking news delivered to your inbox as it happens.
---