News > Spokane
Loss of Glacier National Park's Sperry Chalet leaves supporters wondering how to rebuild
Sept. 1, 2017 Updated Fri., Sept. 1, 2017 at 10:28 p.m.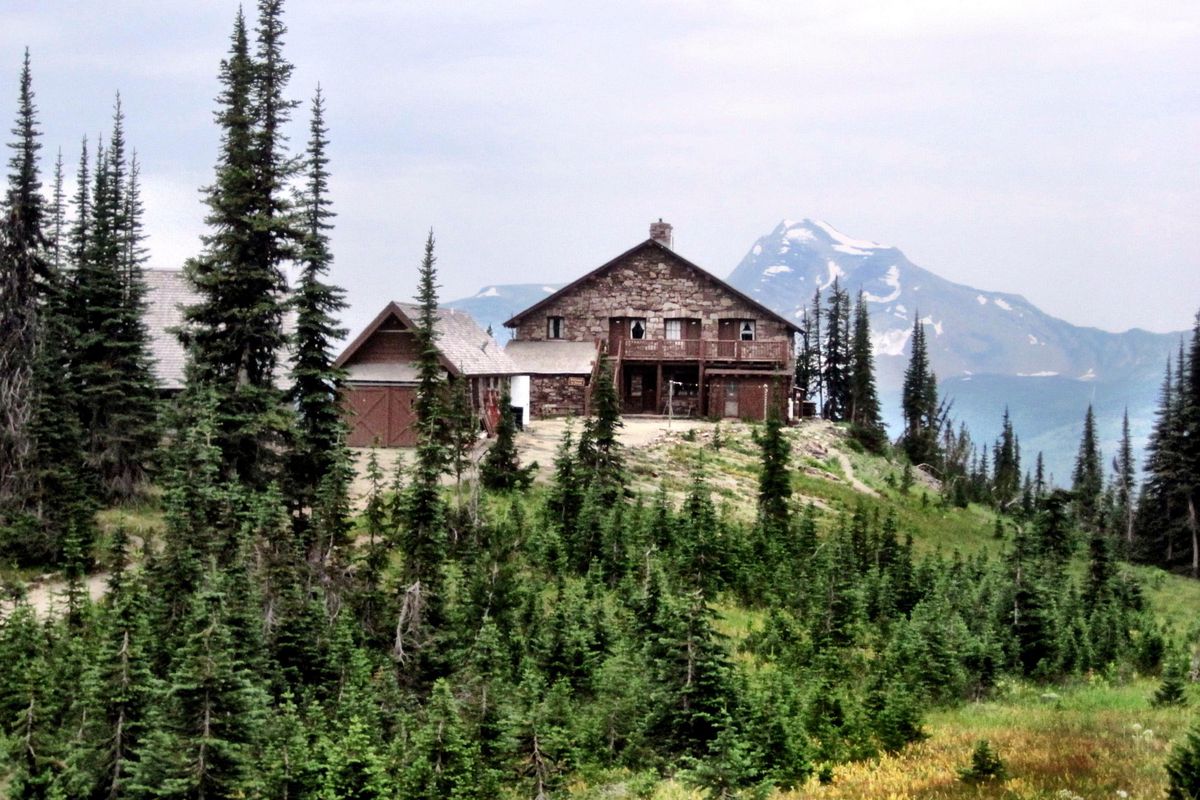 This 2014 file photo shows Granite Park Chalet towards on Heaven's Peak in Glacier Mational Park, Mont. The main building of an historic, backcountry chalet in Glacier National Park in northern Montana burned in a wildfire Thursday, Aug. 31, 2017. (Erin Madison / Erin Madison/Great Falls Tribune)
After wildfire burned Glacier National Park's historic Sperry Chalet on Thursday evening, hikers and supporters recalled fond memories of the backcountry lodge and began wondering if – and how – it might be replaced.
Firefighters trying to guard the chalet made a "valiant" effort to save the two-story lodge, according to park officials. They were a "highly skilled group" that had been guarding the chalet for the past week with hoses, sprinklers and a water-pumping system.
Yet the lightning-caused Sprague fire, driven by winds into a 3,275-acre blaze by late Thursday afternoon, couldn't be stopped.
"The hotel building was rapidly engulfed by fire," park officials said Friday morning, noting the flames were first noticed coming from within the building.
Firefighters were spraying water on the chalet's cedar shake roof at about 6:10 p.m. to fight a shower of embers, according to an account in the Flathead (Mont.) Beacon newspaper. Fire managers told the paper that they noticed puffs of smoke under an eave, and after spraying it with water, flames erupted. A window broke out, flames from inside the building were reaching the eaves and shortly after, that "the chalet was engulfed."
Reaction to the news was swift.
"It's a shame," said David Taylor, of Coeur d'Alene.
He hiked to the chalet for a two-night stay in early August, recalling the vistas, wildflowers and wildlife.
"It was kind of one of those things on my bucket list," he said of his stay.
The main building had no plumbing or electrical wiring. It was a simple stone-and-wood structure erected with on-site materials in 1913 to offer park visitors arriving via the Great Northern Railway rugged yet spectacular accommodations. Other than a modernized kitchen and the new composting restroom facility, the interiors and exteriors – including the cedar shake roof – remained much as they were built.
Taylor said he hopes the National Park Service can find the money and means to rebuild.
Guests could reach the chalet over 6.7 miles of steep trail, gaining 3,300 feet of elevation from the Going-to-the-Sun Road near Lake McDonald. Some guests then took hikes to see and learn about the Sperry Glacier, one of the park's last remaining and largest glaciers.
Joan Ahl called the fire heartbreaking after hiking to the chalet last summer.
"Sad to learn this historic Chalet is gone," she shared in a note.
The Sperry area was closed Aug. 15 as the fire advanced, having been first reported on Aug. 10.
High winds on Wednesday and Thursday pushed the blaze. Pictures of the fire burning in the mountains above Lake McDonald during the night underscored its intensity.
The firefighters were able to save the restrooms and the dining hall buildings at the chalet site with an assist from four helicopters. No one was hurt as the building ignited and wildfire swept past.
On Facebook, people recalled Sperry as among their most memorable hikes and were dismayed the chalet burned.
"So sad," posted Thomas Bristol. "It was one of the best hike-to-arrive places ever."
"We stayed there twice – once in 1986 and again in 1990. Some truly great memories," wrote Laura Bjorkman.
Sperry is one of the park's two backcountry chalets. While guests at the park's other chalet, Granite Park, hiked in with their own food, those at Sperry were provided meals, drinks and bed linens.
The backcountry comfort was not cheap: The overnight cost was $222 per night for one person and $150 for each additional person in the same room.
The chalet has been operated by concessionaire Belton Chalets Inc. since 1954.
Glacier Park officials announced in a news release that they needed to assess the damage before determining the future of visitor services at the chalet location.
The Glacier National Park Conservancy noted in a statement that while it's too early to predict what needs to happen at the Sperry Chalet site, staff were asking supporters to be ready for help.
"We stand ready to help meet the needs identified by the park as to how we deal with the loss of this iconic landmark that means so much to so many," it said in a statement.
As news of the Sperry Chalet loss was absorbed, firefighters were bracing for more challenges, including protection of the Mt. Brown lookout in the area.
There have been 20 fires in Glacier during what has been a severe drought and fire season across Montana.
Spokesman-Review Outdoors Editor Rich Landers contributed to this report.
Local journalism is essential.
Give directly to The Spokesman-Review's Northwest Passages community forums series -- which helps to offset the costs of several reporter and editor positions at the newspaper -- by using the easy options below. Gifts processed in this system are not tax deductible, but are predominately used to help meet the local financial requirements needed to receive national matching-grant funds.
Subscribe now to get breaking news alerts in your email inbox
Get breaking news delivered to your inbox as it happens.
---