A&E > Food
Chef Spotlight: 20 questions and a recipe with Chad White
Tue., April 17, 2018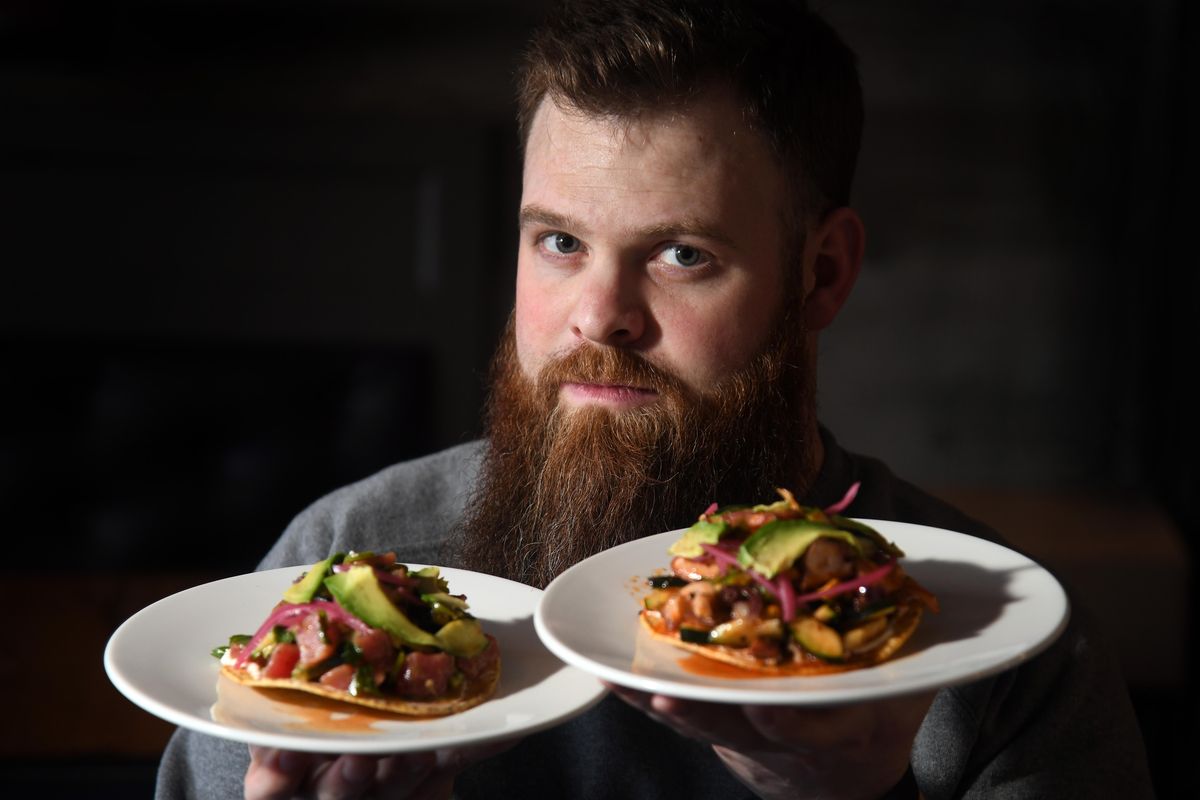 Chef Chad White holds two of the top-selling tostadas at his Zona Blanca ceviche counter in the Steel Barrel Taproom in downtown Spokane. On the left is his Baja-style tuna tostada, and on the right is his octopus-and-peanut tostada. (Dan Pelle / The Spokesman-Review)Buy a print of this photo
Chad White, owner of the Zona Blanca ceviche counter in downtown Spokane and a cast member of season 13 of Bravo's "Top Chef," is a special guest at The Spokesman-Review's upcoming Dorothy Dean Home Cooking Show.
The new event takes place May 12.
White will talk about life before "Top Chef" – growing up in the Inland Northwest, enlisting on Sept. 11, learning to cook in the U.S. Navy – as well as returning home after nearly 15 years away and opening a restaurant in downtown Spokane.
Here, we get to know White, who recently became a partner in the Spokane spice company Spiceology, a little better.
What's your favorite dish to cook at home? I like grilling. If I can be cooking over a wood fire, that's my ultimate.
Where do you eat when you eat out? Durkin's Liquor Bar, Ruins, Hogwash Whiskey Den, Chaps Diner and Bakery, Gordy's Sichuan Cafe, Churchill's Steakhouse, Zip's Drive In.
Who or what inspired you to become a chef, and how? Bobby Flay. His style was the Southwest style of cooking, but it wasn't Tex-Mex. You saw these bright orange salsas and bright green oils – all of these vibrant colors. He was the inspiration that got me cooking.
What are your go-to ingredients? Dried chilies, garlic, masa, vinegar, miso, fish sauce, cilantro, limes.
What was the first dish a customer ever sent back to you, and how did you handle it? San Diego. 2012. I was chef and owner of (the now-closed) Sea Rocket Bistro, and I sent out an order of live sea urchin. When it arrived to the person's plate, it was still moving. She didn't know what she had ordered. She left. My mom didn't like the dish, either. I mean, you can't get any fresher than alive, right?
What's a dish you've never made but would like to, and why? I want to learn to make artisanal bread. I love bread. But I have a gluten allergy. I have a gluten intolerance. I still eat bread, but it jacks me. It affects me so much.
What dish or ingredient best represents you? I identify myself with a cow, a dairy cow, because I'm nurturing, I provide food for people, I am – for the most part – happy and calm. But the octopus in me is creative – an octopus can change colors and blend in with its environment – and social. I also like to work with my hands and am typically juggling eight things at a time.
What's your favorite food pairing? Smoke, heat and acid.
What's the biggest misconception people have about you? I don't ever think about what people think about me.
What cooking show do you dream about being on? My own travel cooking show. I don't want it to be like anything that's out there. I want to go to indigenous villages and learn techniques from indigenous tribes or old ladies or wherever food got its start in that specific culture.
What are you working on? Expanding Zona Blanca to multiple states and growing Spiceology nationally.
What's your next restaurant? Don't know yet. There's so many things going on.
What are you watching? I don't have time for TV.
What's on your playlist? It'd be easier for me to tell you what's not on my playlist: opera, boy band pop, screamo.
What's on your bucket list? I want to climb Machu Picchu, and I want to cook with Virgilio Martinez, who has the No. 1 restaurant in Latin America.
Who do you follow on social media? Gary Vaynerchuk @garyvee, Enrique Olvera @enriqueolveraf, Bo Bech @bobech, Jason MacLeod @ironsidechef and Yovana Mendoza @rawvana.
What's your biggest challenge right now? My biggest challenge is always fear. It's everything. Fear is the same thing that drives me and the same thing that cripples me. I live and die by fear. In a sense, fear controls me.
What are your career goals? My biggest career goal is that I leave behind a legacy. I feel like my greatest reward is to see those who have worked for me, who I've mentored, go on to be successful.
What advice would you give to aspiring chefs? Skip culinary school. Go to business school and work as a cook to fund your education. And, when you're out, have the business sense to open your own restaurant. Go to business school to learn how to manage your assets. Work in a kitchen to learn how to cook. And remember you don't become a chef to become a celebrity. You become a chef to serve other people, to master a craft.
What do you look for when hiring staff? Good work ethic. Motivation. Positivity. I'm not looking for an individual who wants to work 9 to 5 and mail it in. Bleed for me, and I'll bleed for you.
Baja-style Tuna Tostada
By Chad White
1 1/2 pounds wild yellowfin tuna, butchered, cleaned and cut into 1-inch cubes
2 cups Baja ponzu sauce (see recipe below)
3 tablespoons guajillo chili oil (see recipe below)
2 cucumbers, peeled, halved, deseeded and sliced into 1/4-inch slices
1 cup cilantro leaves, chopped
1 cup Serrano chilies, shaved
Sea salt, to taste (White prefers Maldon)
12 tostadas (3 3 /4-inch round)
2 ounces mayonnaise (White prefers Best Foods)
1 cup pickled red onion (see recipe below)
1 1/2 avocados, sliced with spoon
In a non-reactive bowl, mix tuna, ponzu, guajillo chili oil, cucumber, cilantro, Serrano chilies and sea salt. Mix right before serving so fish doesn't "cook." Smear tostadas with mayonnaise and top with the tuna mixture, then add pickled red onions and avocado to garnish.
Yield: about 12 servings
Baja Ponzu Sauce
By Chad White
1/2 cup lime juice
1/2 cup rice vinegar
1/2 cup soy sauce
1/4 cup agave syrup
1/2 Serrano chili pepper
1 dried chili de arbol
1 dried chili de guajillo
1/8 tablespoon ginger root
1/4 teaspoon fish sauce
1/4 teaspoon wasabi powder
1/8 tablespoon Maggi seasoning
1/4 cup toasted sesame oil
Place all ingredients in blender, except toasted sesame oil. Blend for 30 seconds on high until smooth. Stop the machine to add toasted sesame oil, then blend on low for 5 seconds until well incorporated. Transfer sauce to a non-reactive container, cover and store in refrigerator until using.
Guajillo Chili Oil
By Chad White
3 dried chili de guajillo
1 dried chili de arbol
1/8 head garlic, raw
1 cup olive/canola blended oil
1/2 tablespoon Knorr tomato powder
Add all ingredients to blender and blend on high until oil is bright red and the oil is smoking and warm to the touch.
Red Pickled Onions
By Chad White
1 1/2 red onion, thinly julienned
1 cup rice vinegar
1 cup distilled white vinegar
1 cup water
1/4 tablespoon pickling spice (White prefers Spiceology)
1/4 habanero
Place red onions in a non-reactive bowl. Place all other ingredients in a sauce pot and bring to a boil. Immediately pour the pickling liquid over the top of the red onions until fully submerged. Cover with parchment paper or plastic wrap. Let sit until cooled to room temperature. Refrigerate up to 90 days.
Local journalism is essential.
Give directly to The Spokesman-Review's Northwest Passages community forums series -- which helps to offset the costs of several reporter and editor positions at the newspaper -- by using the easy options below. Gifts processed in this system are not tax deductible, but are predominately used to help meet the local financial requirements needed to receive national matching-grant funds.
Subscribe to the Spokane7 email newsletter
Get the day's top entertainment headlines delivered to your inbox every morning.
---