Sports > WSU football
Robert Lewis signed with Washington State in 2012. Six years later, the wide receiver is prepared for his second swan song with the Cougars
Aug. 5, 2018 Updated Sun., Aug. 5, 2018 at 10:12 p.m.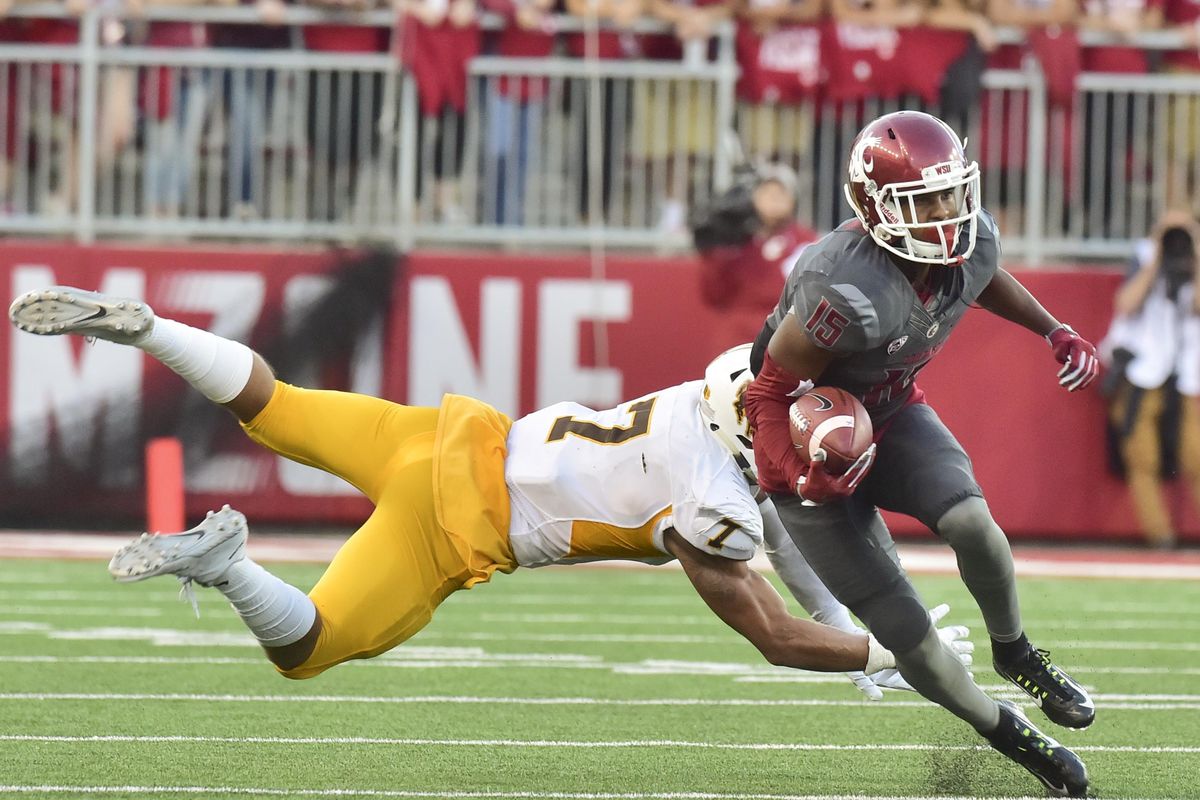 Washington State receiver Robert Lewis (15) slips a Wyoming tackle during the first half of a college football game on Saturday, Sep 19, 2015, at Martin Stadium in Pullman, Wash. (Tyler Tjomsland / The Spokesman-Review)Buy a print of this photo
LEWISTON – The notion of ever catching another pass in a crimson jersey was so far-fetched to Robert Lewis that by the time March came around, the well-traveled Washington State receiver had already begun mapping out the next phase of his football career.
Or, at least, going through the preliminary steps to ensure there even was one.
Lewis joined 17 other hopefuls at the Cougars' pro day in Pullman on March 9, looking to restore confidence in NFL scouts that he could still maneuver around a football field despite the crippling ACL tear he suffered in a scrimmage one week before the 2017 opener against Montana State, effectively ending his final season in its infant stages.
Lewis hadn't given up on football, but he'd bid adieu to his time with the Cougars.
And nobody in his camp could have foreseen the next detour.
In late April, the receiver learned the NCAA voted to approve an extension of clock waiver, affording him an additional college football season provided Lewis complete six course credits, pen an appeal letter and submit a waiver.
"Not at all," Lewis said, if he thought there was even a remote chance of this scenario playing out. "… It was a shocker to me."
"I wasn't really (confident), to be honest with you," inside receivers coach Dave Nichol added. "Just over the years, how they decide stuff, it's kind of hit or miss, so I was pleasantly surprised."
The bylaw that allowed WSU linebacker Peyton Pelluer to gain another season of eligibility didn't apply to Lewis because the receiver had only missed one season due to medical hardship, as opposed to Pelluer's two.
But a more recent provision, approved by the NCAA last spring, came to Lewis' aid. The language states that if a player has already exhausted his redshirt year, an extension of clock waiver can still be granted if injury/medical hardship is sustained before the start of the season.
"As they changed (the rule), and I read it and all that stuff, it was pretty clear," Cougars coach Mike Leach said. "He was well within it … so we're really happy to have him back."
So, if you've attended the first three days of camp and wondered about the player wearing No. 15 on offense, your eyes aren't deceiving you: It's still Lewis, the 24-year-old, sixth-year senior who has the unique distinction of being the only remaining member of Leach's original signing class in 2012, and the only Cougar receiver who's caught a pass from Connor Halliday. He and Pelluer are the only ones on the roster who'd be able to recall what Martin Stadium looked like before the school dropped a five-story, $61-million football palace into the west end zone in 2013.
"When you've been around this long you know all the secrets and spots," Lewis laughed. "The hangouts and stuff like that. It's definitely been a journey, so yeah, I've been around."
All that mileage could pay major dividends for the Cougars this season. On offense, they're ushering in a new quarterback and three new starters on the offensive line. The wide receivers aren't quite as green, but Leach's eight-man rotation could still include as many as four underclassmen – and the true freshman wideouts who don't make the cut could still gain to spend ample time in Lewis' shadow this fall.
Redshirt sophomore Renard Bell and redshirt freshman Travell Harris are a few of the players Lewis helped bring up to speed while he was sidelined last year. Now all three pass-catchers are competing for reps at WSU's "H" receiver position. Bell, in particular, seemed to inherit one of Lewis' most recognizable traits last season when he started springing other receivers free with crushing blocks, which often came against more robust defensive players.
"I think that started with Robert Lewis," Leach said. "Robert Lewis is kind of the guy that set the standard because he was the smallest receiver out there and the best blocker for a long time. Then made it very obvious to these other guys – Jamire (Calvin), Renard, Travell – that it's a matter of position and getting into somebody's body and not allowing them to have separation or space that's key to blocking."
Lewis has clocked more hours than any player Leach has had in seven years with the Cougars and the record books could begin to reflect that at the end of the 2018 season. The Los Angeles native from Watts has recorded 117 career receptions and 47 more would secure a place in the school's all-time top-10.
Mind you, that would just be icing on the cake. Lewis has already given the Cougars a boost they didn't expect, but gladly welcomed during an offseason that was highlighted by the tragic death of quarterback Tyler Hilinski.
"It was kind of like a Christmas present coming in the summer," quarterback Anthony Gordon said. "It was great to see Rob Lew come back. We crack some jokes saying he's old but we love having him back."
Added Nichol: "Him and Pelluer, man, they're like 35 years old. We joke with him. But it's good. He's smart and crafty and we'll see how it goes."
It's been approximately a year since Lewis hobbled to the turf and held his knee in agony. That's not an image that'll ever leave the longest-tenured Cougar.
"It was kind of like a roller coaster," he said. "You'd never think your senior year you'd tear your ACL a week before the game. It was rough at first, but then I kind of got over it. My dad, he was telling me there's nothing you can do about it, just rehab and come out stronger."
So dad got the first call in May, when Lewis had more uplifting news to pass along.
"He's my biggest fan, so I called him and let him know," he said. "He couldn't be any happier."
Local journalism is essential.
Give directly to The Spokesman-Review's Northwest Passages community forums series -- which helps to offset the costs of several reporter and editor positions at the newspaper -- by using the easy options below. Gifts processed in this system are not tax deductible, but are predominately used to help meet the local financial requirements needed to receive national matching-grant funds.
Subscribe to the Cougs newsletter
Get the latest Cougs headlines delivered to your inbox as they happen.
---