Sports > WSU football
Five position battles to watch during Washington State preseason camp
Aug. 6, 2018 Updated Mon., Aug. 6, 2018 at 1:52 p.m.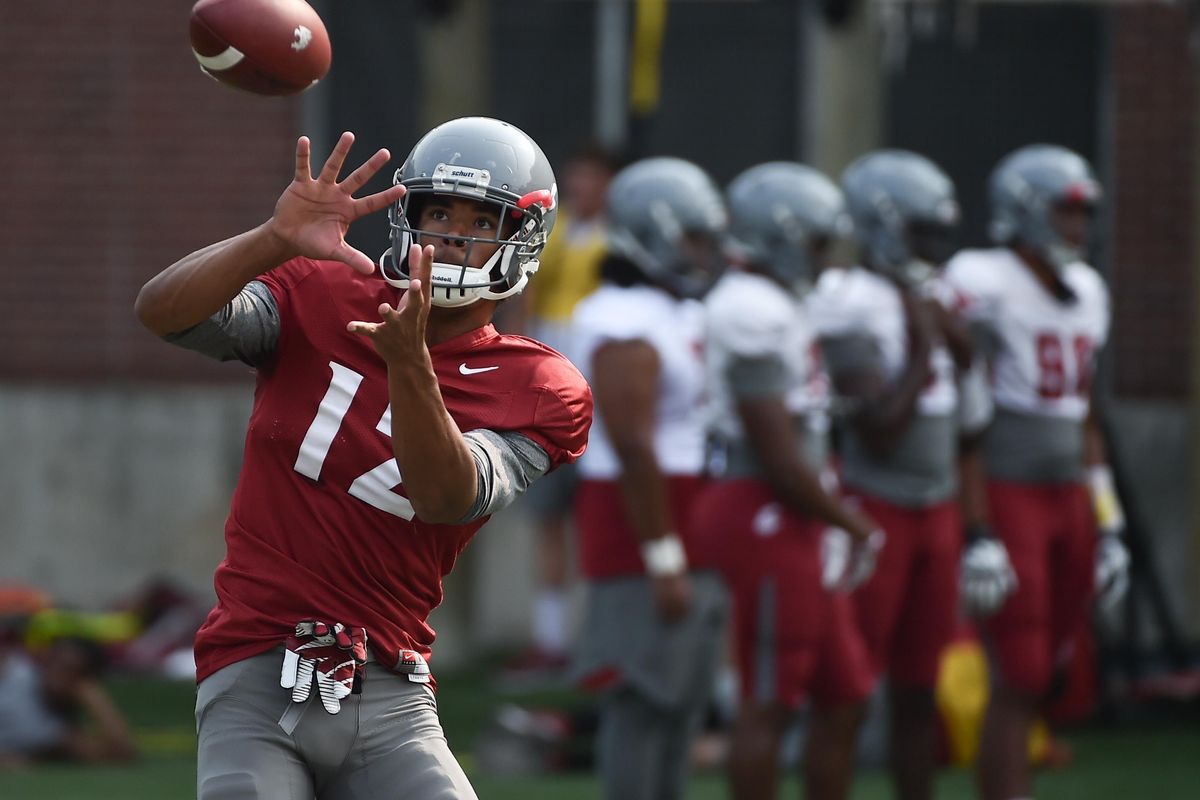 WSU's Dezmon Patmon (12) hauls in a pass during practice on Tuesday, Aug. 22, 2017, in Pullman, Wash. (Tyler Tjomsland / The Spokesman-Review)
LEWISTON – Three days of preseason training camp will hardly ever give you enough insight to fill out a complete depth chart, but it is ample time to discover what positions on a given team are the most hotly contested.
As is the case every year, Washington State coaches will have some tough decisions to make over the next 25 days before printing their own depth chat prior to the season opener at Wyoming. Beginning with the most obvious one, we take a look at five position battles that could cause a few restless nights for Mike Leach and his staff in the coming weeks.
Quarterback
Who's competing: Gardner Minshew, Trey Tinsley, Anthony Gordon
The breakdown: Don't fret, Cougar fans, Leach won't flip a coin to determine who his fourth starting quarterback at WSU will be. He might just hold a rock-paper-scissors tournament though. Not only is it unclear which QB will lead the first offensive series a month from now in Laramie, it still remains to be seen which ones will make the cut when Leach shaves the competition down to two. All three have been sharp to this point, moving the offense efficiently and without much error – none of them have thrown an interception during the 11-on-11 period. Leach has channeled the QB reps to two players each of the three days – Minshew and Tinsley Friday, Tinsley and Gordon Saturday, Gordon and Minshew Sunday – but it could still be another week before he finally whittles this thing down to two.
Our guess: Sorry, come back next week.
Will linebacker
Who's competing: Jahad Woods, Dillon Sherman
The breakdown: From the outside looking in, it may come as a surprise that Sherman is in the mix here. Woods was a 10-game starter as a redshirt freshman in 2017, an SB Nation All-Pac-12 Freshman Team choice and the player who sealed WSU's biggest win of the year when he strip-sacked Sam Darnold in the closing moments against USC. But Sherman, who also made 13 appearances as a redshirt freshman – albeit none of them in a starting role – has spent equal time with the top defensive unit in fall camp. At 6-2, 225 pounds, Sherman's mesasurables give him at least one advantage over Woods, who stands a couple inches shorter. But Woods has speed on his side, and slightly more experience.
Our guess: Woods is the player starting next to "Mike" linebacker Peyton Pelluer come week one and Sherman sees the field plenty as his top backup.
"Z" receiver
Who's competing: Dezmon Patmon, Easop Winston, Calvin Jackson Jr.
The breakdown: Leach plays eight receivers, so technically these three are actually vying for two spots, not just one. Perhaps there's room for all three, however, with their varying skill sets. Patmon, at 6-4, is the easiest to identify in a crowd and therefore the best suited to win a jump ball in traffic. It wouldn't be surprising to see the San Diego native go from zero touchdowns through his first two seasons with the Cougars, to seven or eight in his third. Patmon's wingspan allows him to get his paw on many of the balls Winston won't, but Winston's strength is his innate ability to catch anything and everything within arm's reach. At 5-10, 170 lbs., Jackson has the appearance of an inside receiver but he's looked plenty comfortable on the outside through four days. And he's the quickest of these three, which could make him WSU's top deep threat on the right side of the field.
Our guess: Patmon and Winston clamp down the rotation spots, but Jackson gets his shot at some point.
Nose tackle
Who's competing: Taylor Comfort, Pono Lolohea
The breakdown: Daniel Ekuale's impact went well beyond his numbers last season and it wouldn't be hard to argue the current Cleveland Brown left the biggest void on defense next to Hercules Mata'afa. In April, defensive line coach Jeff Phelps stated his confidence in Comfort starting between defensive end Nnamdi Oguayo and defensive tackle Nick Begg. The former walk-on enters his fifth year with the Cougars, but will have a chance to truly contribute on defense for the first time. His knowledge and experience give him an edge over Lolohea, but the junior from Maui is three inches taller, 15 pounds heavier and was a coveted JC recruit who held offers from four other Pac-12 programs. Lolohea still needs to adjust to the speed of play and refine his technique, but the raw ability is already there.
Our guess: Comfort holds onto the job for now, but Lolohea rotates in plenty when the season starts.
Kicker
Who's competing: Jack Crane, Ryan Henderson, Blake Mazza
The breakdown: Erik Powell was the most valuable Cougar at times last year and without his suddenly accurate right foot, WSU wouldn't have taken down the Trojans or beat Oregon by such a big margin. Crane was scary accurate during spring ball, making every one of his field goals in the three scrimmages leading up to the spring game when he finally missed – albeit just once. Henderson boasts a strong leg and Mazza, who transferred to Arkansas, was once rated a five-star recruit according to kicking guru Chris Sailer.
Our guess: Crane emerges as the Cougars' new placekicker and Powell's heir apparent, but Henderson handles the kickoff duties.
Local journalism is essential.
Give directly to The Spokesman-Review's Northwest Passages community forums series -- which helps to offset the costs of several reporter and editor positions at the newspaper -- by using the easy options below. Gifts processed in this system are not tax deductible, but are predominately used to help meet the local financial requirements needed to receive national matching-grant funds.
Subscribe to the Cougs newsletter
Get the latest Cougs headlines delivered to your inbox as they happen.
---