Spokane Indians fall to Salem-Keizer, stay one game back of Vancouver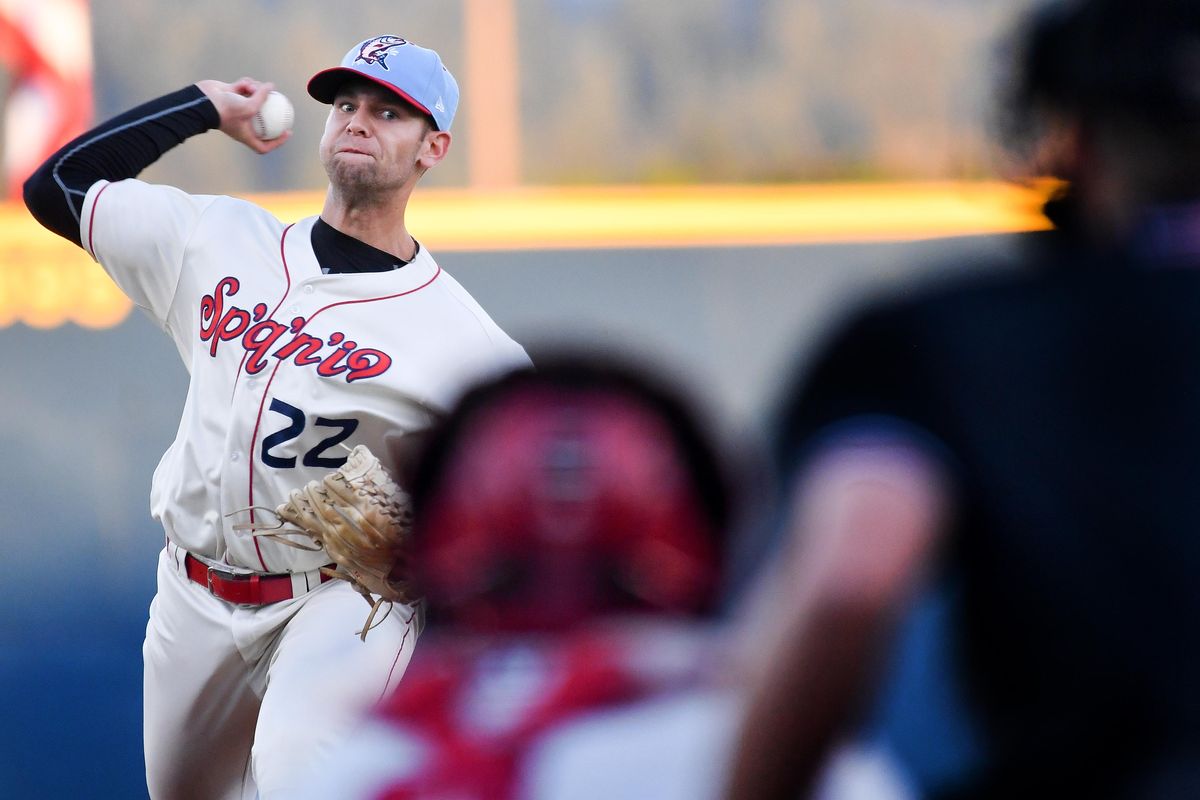 With the Northwest League season rapidly dwindling, every game, inning and play takes on a bigger meaning as the Spokane Indians try to chase down the North Division-leading Vancouver Canadians to qualify for the postseason.
A close game throughout, the visitors were was able to take advantage of an error late in the game and the Indians couldn't keep a long drive fair.
At this time of the season, that's all it takes.
Wander Franco scored on a two-out throwing error in the eighth inning and the Salem-Keizer Volcanoes beat the Indians 3-2 in the finale of a five-game Northwest League series at Avista Stadium.
The Indians (18-14) didn't lose ground, though, as Vancouver fell to Boise 2-0 to hold its one-game lead in the division with six games remaining.
Franco led off the eighth with a walk and Dalton Combs laced a single into right field off reliever Wes Robertson. Manager Kenny Holmberg called upon Emmanuel Clase to get out of the jam.
Ricardo Genoves bunted the runners up and Nico Giarratano squibbed one back to Clase for the second out.
Ninth-place hitter Jett Manning bounced a routine grounder to short but Jax Biggers' throw was high, drawing Hasuan Viera off the bag and allowing Franco to score.
Combs tried to score from second on the play, but Viera nailed him at the plate to keep it a one-run game.
Manager Kenny Holmberg played down the idea that the game hinged on that one play.
"It's easy to say that, but there were other things that happened along the way," he said. "It's not just one ground ball, one play. It just seems like it."
Curtis Terry walked to lead off the bottom half. Diosbel Arias, the league-leading hitter, smashed one down the right field line, but the plenty-long blast drifted just foul.
Arias popped out on the next pitch, then Sherten Apostel grounded into an inning-ending double play.
Arias came in with a trio of three-hit games in the series but an 0-for-4 night left his league-leading average at .373.
Jonah McReynolds took one to the wall in the ninth, but Combs settled underneath of it harmlessly.
"Just to have an opportunity to take five out of five against a team like that, just to be in that position was good for our club," Holmberg said.
Indians starter Seth Nordlin entered play without a loss since July 6 and was coming off seven shutout innings with six strikeouts against Everett last Tuesday.
He added five more scoreless innings to that total, but hit the wall in the sixth before getting the hook. He allowed two runs on five hits and three walks over 5 2/3 innings.
The 2017 13th-round pick continues to lead the NWL in strikeouts with 79.
The Indians went right to work on Salem-Keizer starter Sean Hjelle, the second-round pick of the San Francisco Giants in this year's MLB Draft.
With one down in the first, Biggers drew a full-count walk, then scored on a line-drive double to the left-field corner by Terry, the NWL RBI leader.
The Volcanoes (14-18) picked up their first base runner against Nordlin in the third on a ground ball single by Ricardo Genoves. He was immediately wiped on after Viera made a nice pick and started a 3-6-3 double play.
With one down in the fourth, Apostel was hit by a pitch, then went to third on a single through the open hole by Tanner Gardner.
McReynolds swung through strike three, but Apostel broke for home on a delayed steal and catcher Genoves threw it into left field, allowing Apostel to trot home with the second run.
Nordlin cruised, allowing just three hits through five innings. He got the first two in the sixth, including his seventh strikeout, but walked Joey Bart – the No. 2 overall pick in this spring's MLB Draft – and gave up a ground-ball double down the left field line by David Villar.
Holmberg came out to settle Nordlin down, but it didn't work. Wander Franco clubbed a double off the wall in left center to plate both runs and tie it.
"If I could blame anybody I'd blame myself there for not having the outfielders give an extra step or two," Holmberg admitted. "At his pitch count, that part of the game, that hitter. I'll take that one. He made the pitch, got a fly ball.
"If the outfielder was a little deeper he probably catches that one."
Bobby Eveld entered and issued a base on balls to his first batter, but got Genoves to roll over on one to get out of the inning.
The Indians got something going in the bottom half on back-to-back two-out singles by Gardner and McReynolds – but Viera looked at three straight strikes to end the innings and leave the runners stranded.
Holmberg said his team keeps fighting.
"These guys continue to battle and finish games."
They only have six more to try to catch Vancouver.
---