A&E > Food
Dorothy Dean presents: Aussie Bites
Tue., July 10, 2018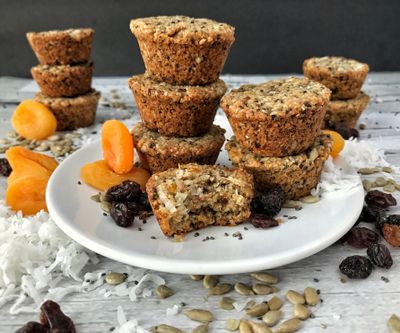 If you own that little plastic card that gives you entry into the world of bulk foods, also known as Costco, you may have seen or even had these.
They're called Aussie Bites.
Aussie Bites are a delicious and nutritious bite-sized snack. They're loaded with oats, chia seeds, nuts, honey and dried fruit. The amazing flavor and killer texture make these absolutely addicting. If an oatmeal cookie, granola bar and a muffin had a baby, this would be it. Sweet and soft, chewy and cakey.
For this copycat recipe, all the magic happens in a food processor. Part of the oats are pulverized into a flour-like consistency, then the remaining dry ingredients are blended in. Next, you add the wet ingredients and pulse just until combined. The mixture is then divided into the cups of a mini muffin tin and baked at 350 degrees for 10 to 12 minutes. Be sure to firmly press the mixture down into the cups; if you skip this, you'll end up with Aussie Crumbs instead of Bites.
This recipe is also very adaptable to add in or substitute whatever flavors you like, such as cinnamon, pecans, almonds, dried blueberries or cranberries.
Aussie Bites are great with coffee, as a healthy snack on the go or as a little guilt-free after dinner sweetness. With a smear of butter or jam, or crumbled in a bowl of Greek yogurt, these tasty morsels will go fast, so consider doubling the batch.
Aussie Bites Copycats
Adapted from seagangoose.com
1 3/4 cup rolled oats
1/4 cup granulated sugar
1/4 cup dried apricots
1/4 cup raisins
1/4 cup ground flaxseed
1/4 cup unsalted sunflower seeds
1/4 cup unsweetened shredded coconut
1/4 cup cooked quinoa
2 tablespoons chia seeds
1/4 teaspoon baking soda
Pinch of salt
1/4 cup honey
1/4 cup unsalted butter, melted
1/4 cup canola oil
1/2 teaspoon vanilla extract
Preheat oven to 350 degrees. Lightly grease a 24 count mini-muffin pan.
Add 1 cup of rolled oats into a food processor. Process for 1 minute or until oats have consistency of oat flour.
Add in the remaining 3/4 cup rolled oats, sugar, dried apricots, raisins, flaxseed, sunflower seeds, coconut, quinoa, chia seeds, baking soda and salt. Pulse until apricots and raisins are in small bits.
Add in honey, melted butter, canola oil and vanilla extract. Pulse until just combined.
Divide batter evenly among muffin tin (a cookie scoop works great for this) and, with your fingers, press each gently but firmly to pack and flatten.
Bake in the preheated oven for 10 to 12 minutes or until set and edges are golden.
Remove from oven and cool in pan for 15 minutes. Then use a butter knife to help each bite out of its tin; carefully remove and set on a wire rack until completely cool and set. Store bites in an airtight container.
Local journalism is essential.
Give directly to The Spokesman-Review's Northwest Passages community forums series -- which helps to offset the costs of several reporter and editor positions at the newspaper -- by using the easy options below. Gifts processed in this system are not tax deductible, but are predominately used to help meet the local financial requirements needed to receive national matching-grant funds.
Subscribe to the Spokane7 email newsletter
Get the day's top entertainment headlines delivered to your inbox every morning.
---